Ang Lee To Adapt Life Of Pi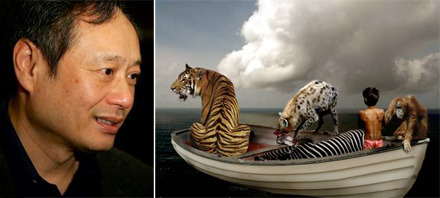 We may receive a commission on purchases made from links.
Hollywood has been trying to make a big screen adaptation of Yann Martel's novel Life of Pi since the fantasy adventure book was released in 2001. The book tells the story of Piscine "Pi" Molitor Patel, an Indian boy who survives 227 days after a shipwreck, while stranded on a boat in the Pacific Ocean with a hyena, an injured zebra, an orangutan and a hungry Bengal tiger.
A variety of directors have been attached to the project, including Jean-Pierre Jeunet, Alfanso Curson and M. Night Shyamalan (who claimed that he decided not to make the film due to the audience's expectation of a twist ending). And now Ang Lee is in talks to direct the adaptation for Fox 2000. According to Variety, Lee will supervise an entirely new take on the screenplay.
The paperback version of the book is now available on Amazon for around $10. The official book description follows:
The son of a zookeeper, Pi Patel has an encyclopedic knowledge of animal behavior and a fervent love of stories. When Pi is sixteen, his family emigrates from India to North America aboard a Japanese cargo ship, along with their zoo animals bound for new homes. The ship sinks. Pi finds himself alone in a lifeboat, his only companions a hyena, an orangutan, a wounded zebra, and Richard Parker, a 450-pound Bengal tiger. Soon the tiger has dispatched all but Pi, whose fear, knowledge, and cunning allow him to coexist with Richard Parker for 227 days while lost at sea. When they finally reach the coast of Mexico, Richard Parker flees to the jungle, never to be seen again. The Japanese authorities who interrogate Pi refuse to believe his story and press him to tell them "the truth." After hours of coercion, Pi tells a second story, a story much less fantastical, much more conventional–but is it more true?
The UK edition of the novel won the prestigious Man Booker Prize for Fiction in 2002.