GeekBomb: The Enduring Legacy Of Point Break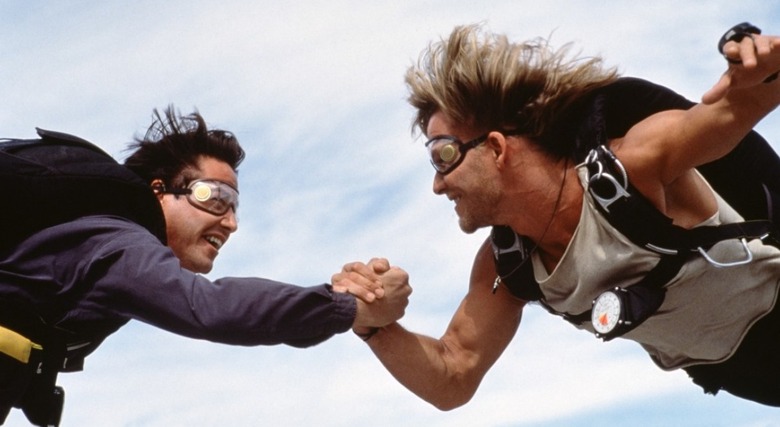 We may receive a commission on purchases made from links.
digg_url = 'http://www.slashfilm.com/2009/02/18/geekbomb-the-enduring-legacy-of-point-break/';
// –>
It's been 18 years since Point Break premiered, which is hard enough to believe in itself, but what's even stranger is the staying power this movie has. In fact, just this past weekend, two of my friends went to go see Point Break Live! in Los Angeles, which is a comedic take on the film, complete with the actors hauling an unsuspecting guest from the audience to play the part Keanu's Agent Johnny Utah. It helps that they're fairly clueless and have to read their lines from cue cards.
When I interviewed director Kathryn Bigelow last year in Toronto for her new film The Hurt Locker, I asked her about the legacy of Point Break. She said, "I don't know if it surprises me but... it's very surreal. The permutations of once something has left your hands and enters the zeitgeist and how malleable it really is." But why exactly does this movie keep popping up on the radar? Why Point Break Live! and not Reservoir Dogs Live! (note: do not steal my idea, that is going to totally be a cash cow for me) In today's GeekBomb we find out everything about Point Break that you wanted to know, and then some.
In The Beginning
Interestingly enough, Point Break first began life as Johnny Utah, and was kicking around Hollywood until it landed at Columbia Pictures. It was originally going to be directed by Ridley Scott, and would have starred Matthew Broderick and Charlie Sheen. From the Los Angeles Times on August 14th, 1988: "Johnny Utah is back on the boards at Columbia with Matthew Broderick. The thriller concerns an undercover cop looking for a killer among the surf set. Charlie Sheen was set to star for director Ridley Scott, but now producers Robert Levy and Peter Abrams are casting about for a new helmer... " Can you imagine what that would have been like? It would have been Sheen just coming off of Men at Work and The Rookie, and Broderick in Glory and The Freshman. Although it sounds pretty much like a cinematic trainwreck, I would have enjoyed seeing what Scott could have done with those two actors.
Point Break / Johnny Utah was screenwriter Peter Iliff's first script, although it wasn't the first movie that was made based on one of his works. That honor goes to 1990's Prayer of the Rollerboys, starring Corey Haim and Patricia Arquette. I swear I didn't make this up. While it also sounds like a trainwreck and features the tagline: "In the 21st Century, it's gonna take one man and his blades to save the world from another man...and HIS blades" which is yes, referring to rollerblades, it's also about someone going undercover to help the cops keep tabs on a group of baddies. That's the same theme explored in Point Break, which Iliff shares story credit for with Rick King, who directed Prayer of the Rollerboys. Maybe Iliff just rehashed his Johnny Utah idea and cycled it into the Corey Haim vehicle, as scary as that is to consider.
"Little hand says it's time to rock and roll."
Producers Peter Abrams and Robert Levy ended up turning to director Kathryn Bigelow, who had just finished filming her Jamie Lee Curtis thriller Blue Steel. It probably didn't hurt that she was married to executive producer James Cameron, either. In fact, the first week that Point Break opened, it was only number eight at the box office, with Cameron's T2 taking the top spot in it's second week of release. However, it would go on to gross $83 million dollars worldwide, while achieving cult status, proving that'd she done something right. Bigelow was an interesting choice as director, as Blue Steel was a psychological thriller and her previous movie Near Dark was a vampire horror flick. Which is actually well worth watching if you haven't seen it, as it stars a young Adrian Pasdar (of Nathan Petrelli / Heroes fame) along with Bill Paxton and Lance Henriksen. However, she hadn't directed a large-scale action film.
By the time Bigelow was onboard they had already attached Keanu Reeves, and Patrick Swayze came along shortly after that. The film name was briefly changed to Riders on the Storm, before eventually being named Point Break halfway through filming. Bigelow decided to film very ambitious stunt sequences, which are part of the lasting appeal of the movie, and helped to break the invisible barrier that said female directors were not action directors. The skydiving sequence alone is probably one of the most memorable moments from the movie, apart from Utah's gun firing into the air "Aaaaaaaaaargh!" scene. Bigelow also focused on the friendship between Reeves' Utah and Swayze's Bodhi, often pushing it far into the homoerotic realm. In fact, Swayze himself said he "wanted to play it like a love story between two men." You'd be hard pressed to deny that the film doesn't this out, from Reeves and Swayze clasping hands while skydiving together, or from the moment where Reeves lets Swayze go, gazing into the eyes of a man he's come to love on some level.
It's this pairing of Swayze and Reeves that ultimately drives the movie, and it had such a lasting impact that it's also a model for Hot Fuzz, to which pays a lot of homage. Fuzz director Edgar Wright has admitted that Point Break is one of his favorite movies, and Nick Frost's PC Danny Butterman is obsessed with the film in the movie. He even apes the "Aaaaaaaaaargh!" scene perfectly, finally fulfilling one of his fantasies. Hot Fuzz definitely helped boost a resurgence in Point Break appeal, even though Point Break Live! had begun appearing in 2006, a year before Hot Fuzz came out. Fuzz brought Break back to the level of classic actions films, while underscoring the homoerotic undertones between Swayze and Reeves, which were mirrored by Frost and Pegg's characters. If you've seen Fuzz, then I'm probably preaching to the choir, but it you by chance haven't seen this, then you need to stop reading right now and go out there and get it. You'll thank me later.
Fuzz may have also been one of the inspirations behind the sequel for Point Break, which is supposedly currently in the works. Point Break 2, or Point Break Indo, is set to follow the further adventures of Bodhi as he hides out from the law in Singapore, and will be directed by Jan de Bont of Speed and Twister fame. Does that mean we'll see Swayze and Reeves again? It's hard to say. de Bont worked on Speed with Reeves, and it's not impossible to think that he could lure him back, but given Swayze's health problems it's hard to imagine this film going forward. It was announced back in 2007, on the heels of Hot Fuzz, but nothing much has been head about it since. Screenwriter Peter Iliff said "I would like to return to Point Break because it represents my career coming full circle." It's set 20 years after the original, and features Bodhi training a new protege, yet another infiltrating undercover agent, this time trying to track a gang of criminals known as The Bush Administration, who operate similarly to the way the Ex-Presidents did. My bet is that this movie will only happen if someone else plays Bodhi, or if his role is scaled way back. But given the silence on this sequel since it was announced, it's probably not going to happen.
TidbitsA "Point Break" is a surfing term defined as, "A wave sailing location where the waves are breaking along the side of a point (of sand, rock, a headland, etc), creating perfect peeling wave conditions."
I found a hilarious quote about Keanu Reeves while researching this GeekBomb. FBI Special Agent William J. Rehder wrote a book, along with crime reporter Gordon Dillow, called Where The Money Is. It's all about bank robberies in Los Angeles, and the criminals behind them.
"Before Point Break was filmed, I was told by the Special Agent in Charge to take Keanu Reeves, a pleasant but somewhat spacey young man, under my wing and give him some points on how to portay an FBI agent chasing bank robbers. Unfortunately, none of those pointers came within a million miles of the finished film."
"Agent Johnny Utah" is the name of an outsourcing technique used by Best Buy's Geek Squad when things get too busy. According to the paperwork, explaining how this works: "Black Ops Specialists at Mission Control will work in tandem with local Geek Squad Precincts to service computers remotely at the Precinct."A year ago, La-La Land Records put out the entire Point Break theatrical score by Mark Isham for the first time. While only 2,000 copies were made, you can still pick one up at their website for $19.98. Excerpts from the soundtrack are available to listen to on the same page, including the opening.This remains Bigelow's highest-grossing film. Even the Harrison Ford / Liam Neeson thriller K19: The Widowmaker only grossed $65 million worldwide, $15 million less than Break.The name Bodhi is the Sanskrit word for "enlightenment"or "awakening."
The word "fuck" is said 105 times in this movie, which is still minuscule compared to Scarface's 226.
Former Mystery Science Theater star Mike Nelson and others provide a most excellent RiffTrax for this movie. If you haven't experienced RiffTrax yet, it's high time you did.
If you're in the Los Angeles area, you can get Point Break Live! tickets here. I've already purchased my tickets, because you just can't ignore something this strange and awesome.
Further Reading and WatchingIf you want to find out more about Point Break and director Kathryn Bigelow, I highly recommend the following books:Feminist Hollywood, by Christina Lane. While it's a bit dated (published in 2000), this book focuses on a group of female filmmakers, and talks about their influence inside and outside the system.The Cinema of Kathryn Bigelow, by Deborah Jermyn and Sean Redmond. This is a look at Bigelow's history and her other films, and provides a really comprehensive breakdown on each.Point Break: Pure Adrenaline Edition: only $9.99 on Amazon! You can't go wrong with that, unless you really want to go all out and pick up the Blu-ray edition for $26.99.Point Break: Music from the Motion Picture: This is the other soundtrack album that came out when the movie was in theaters, and features tracks from other artists that were used in the movie. It doesn't feature any of Isham's score, just other tunes featured in the flick.