Geoffrey Gilmore Leaves Sundance For Tribeca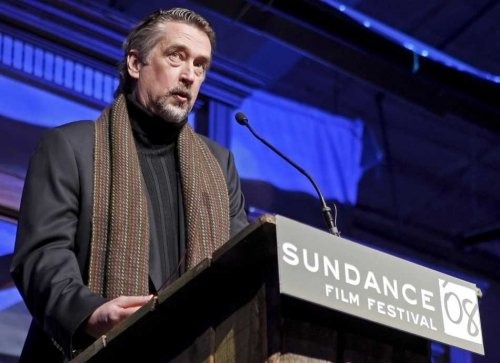 I debated on if I should even write this story. I mean, how many readers out there even know who Geoffrey Gilmore is, or why he is important to the landscape of independent film? Followers on Twitter encouraged me to write the piece anyway, and try to explain the significance. Many people believe that Robert Redford is the guy who runs the Sundance Film Festival, and while that might technically be true, Geoffrey Gilmore is the director of the festival's programing. He's been with the festival for 19 years and prior to Sundance, he served as head of the UCLA Film and Television Archive's Programming Department for 15 years.
Today it was announced that Gilmore would be leaving Sundance to join New York's Tribeca Film Festival as Chief Creative Officer. It's hard to explain the significance of this move without an understanding of how Sundance changed the landscape of independent film. And unfortunately, I don't have the time to go into that fully. But if you can understand for a moment that Sundance is a festival that sets the tides for the independent film, and that Gilmore was the head tastemaker behind the organization, than you will only begin to understand how Gilmore has effected Independent film as a whole. In theory, a great film will be eventually discovered. But in reality, it doesn't always happen that way.
First you must understand the effect that playing at the Sundance Film Festival can have on a film. Take for example Napoleon Dynamite, the 2004 comedy directed by Jared Hess on a budget of only $400,000. The film was a huge hit at the 2004 Sundance Film Festival, quickly snatched up by Fox Searchlight, and went on to become a pop-cultural phenomenon. I should disclose that I'm not sure that Gilmore was the one that handpicked Dynamite to be in that year's festival. For all I know it could have been Trevor Groth or another programmer.
But lets pretend for a minute that Napoleon Dynamite didn't get into Sundance. The programmers didn't see the film's "genius" and decided to pass. Dynamite might have played a couple regional festivals, and maybe would have been purchased by a home video distributor, and could have wasted away on DVD without ever connecting with an audience (or at least not connecting to an audience the way it eventually did).
Now for me to claim that this is all because of a Geoff Gilmore would be ignorant. There are a lot of factors involved. Fox Searchlight's massive word of mouth free screening campaign deserves even more credit for the film's success. But lets not kid ourselves, a film like Napoleon Dynamite could easily ended up going nowhere, especially without the push of screening at the Sundance Film Festival.
Gilmore has been a strong supporter of documentaries (even when they were uniformly thought of as television programing) and narrative films that show alternative lifestyles, gay filmmakers and stories that would be considered taboo five years ago, never mind fifteen years ago.
And Gilmore has been with the festival for almost two decades, first as a programmer and later as the head tastemaker. So his departure from Sundance is a huge one, and Tribeca will certainly benefit from his sensibilities and connections. It will be interesting to see if Trebeca will become more of a breaking ground for top teir indie films. What this will mean for Sundance is yet to be seen. The Institute has not announced a successor. You can read the full press release below.
GEOFFREY GILMORE TO JOIN TRIBECA ENTERPRISES AS CHIEF CREATIVE OFFICERFormer Director of Sundance Film Festival Will Lead Global Content Development; Expansion of the Tribeca Brand
[New York, February 17, 2009] – Tribeca Enterprises today announced that it has hired Geoffrey Gilmore as its Chief Creative Officer.  Gilmore's move to Tribeca comes after a 19-year career at Sundance that culminated in his role as Director of the iconic Sundance Film Festival. He will be responsible for Tribeca's global content strategy and lead creative development initiatives and expansion of the brand.  Gilmore will also join the Board of Directors of Tribeca Enterprises. Tribeca Enterprises is the New York-based media company founded by Jane Rosenthal, Robert De Niro and Craig Hatkoff that owns and operates the Tribeca Film Festival, Tribeca Film Festival International, Tribeca Cinemas and other branded-entertainment businesses and initiatives.
"As one of the most accomplished creative forces in our industry, Geoff is the ideal person to guide content development for Tribeca Enterprises," said Jane Rosenthal.  "His talent and experience will benefit Tribeca immeasurably, particularly in creating new strategic alliances and opportunities such as our recently announced Tribeca Film Festival Doha. We are delighted that Geoff is moving to New York to join Tribeca at a time of unprecedented change in the world of film and media."
"I believe that Tribeca Enterprises is well positioned to develop a film organization that can create a new paradigm for the future," said Geoffrey Gilmore.  "The vision of its leadership, its structure and resources, and the track record of its brief history give me great excitement at the opportunity to join their enterprise.  I've had a wonderful nineteen years at Sundance and will always be grateful to Bob Redford.  For me this is a big decision, a huge change and an enormous opportunity."
One of the film industry's most widely-trusted and influential figures, Gilmore was responsible at Sundance for film selection, artistic direction and general festival management. He was a programming consultant for Robert Redford and the Sundance Channel since its inception in 1996, consulted for and helped build the Sundance Group and the Sundance Film Series. Additionally, he created and directed the annual Sundance Independent Producers Conference and other major events and initiatives related to independent filmmaking and distribution.
Gilmore has been a universally recognized and acknowledged leader of the development of independent film in the U.S. and abroad. He shaped the landscape for Sundance that emerged as a platform for independent filmmakers and buyers since the early 1980s. He is credited with attracting break-out film sensations to Sundance such as Reservoir Dogs, Hoop Dreams, Little Miss Sunshine and Inconvenient Truth – and discovering and launching the careers of emerging filmmakers.
Gilmore has extensive international experience and has served on numerous international film juries. He teaches a master class for the Ludwigsburg Film Academy and is a featured guest lecturer at many film schools and cultural institutions. He has also written extensively on the American independent film scene.
Prior to Sundance, Gilmore served as head of the UCLA Film and Television Archive's Programming Department for 15 years.
About Tribeca Enterprises
Tribeca Enterprises is a diversified multi-platform media company located in New York City. Established in 2003 by Robert De Niro, Jane Rosenthal and Craig Hatkoff, the company currently operates a network of branded entertainment businesses including the Tribeca Film Festival, Tribeca Film Festival International, and Tribeca Cinemas. The Company's mission is to provide artists with unique platforms to expand the audience for their works and to broaden the access point for consumers to experience independent film and media.  Jonathan Tisch, through Walnut Hill Media, is a minority investor in Tribeca Enterprises and is a member of the Board of Directors.