First Full Trailer For Lesbian Vampire Killers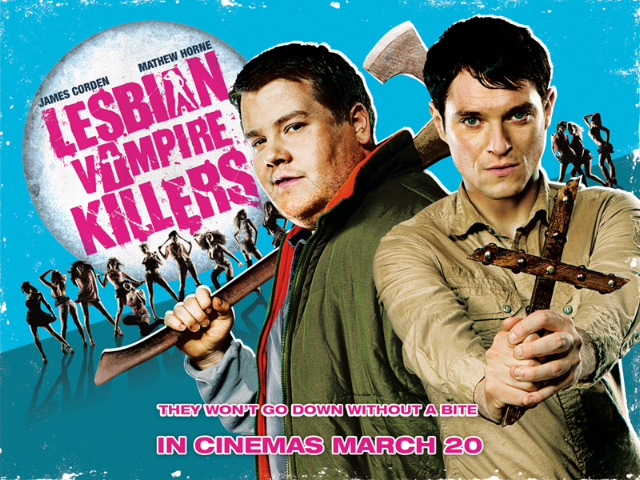 The posters, website and some elements of the trailer for Lesbian Vampire Killers has a whiff of the Grindhouse about it – by which I mean, Tarantino and Rodriguez circa 2007 not 42nd Street circa 1972. There's also a heavy aroma of Shaun of the Dead, but that's only been applied out of an aerosol I fear, in order to cover up the stench of Alien Autopsy festering underneath.
By which I mean, when it comes to Brit TV double acts taking their comedy turns to the big screen this looks more Ant and Dec, less Pegg and Frost I'm afraid – and that's a shame because Gavin and Stacey, the TV show that teamed James Corden and Matthew Horne, is very, very good indeed and I've heard nothing but good stuff about their upcoming sketch show, Horne and Corden.
The trailer comes below the break.
[flv:http://bitcast-a.bitgravity.com/slashfilm/trailers/LVK_full.flv 470 268]
The main problem with the Lesbian Vampire Killers trailer is that it's all so very obvious – the obvious mysoginistic stereotypes of "lesbian vampires", the obvious attempt at rebuttal with the female sidekick, the obvious pub chats and obvious comedy weapons. My only hope is that the obvious stuff all got stuffed into the trailer and the full film twists and subverts it all in brilliant ways.
Well, I can hope, can't I? I'd hate to see another British film try to play the Hollywood game and run aground. It can be somewhat embarrassing.
Director Phil Claydon has his next feature in preproduction now. Joshua Breed will apparently blend reality TV gameshows and zombies in... well, what sounds like an obvious fashion. 7 contestants are given 70 minutes in which they must evade the undead, presumably in order to win prizes. There's not much else to report but, based on info that now seems to have disappeared, ShockTillYouDrop reported that Terrence Stamp, Adewale Akinnuoye-Agbaje and Norman Reedus have apparently negotiated roles.
For other British horrorphiles, here's a hint: the surprise secret film at the end of FrightFest's March 7th screening day in London is obviously going to be Lesbian Vampire Killers, and I expect Claydon, Corden and Horne will show up to do a Q&A.