The Wachowski Brothers To Direct Superman Reboot?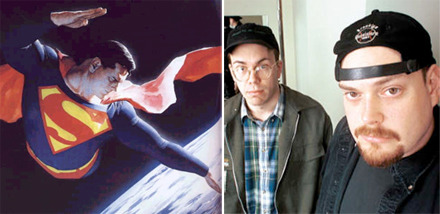 Could The Wachowski Brothers be in line to direct a reboot of Superman for Warner Bros? A scooper over at AICN caught an interview with V For Vendetta director James McTeigue on Berlin television where the filmmaker admitted that Plastic Man was originally scheduled to be the brothers' next project, but the film has been delayed indefinitely due to a major shake-up of projects at Warner Bros. McTeigue was even signed on to direct second unit, as he has done on past Wachowski Brothers productions.
Here is where things get interesting. According to the report, McTeigue said that Bryan Singer was not going to helm another Superman film because Warner Bros wants to reboot the franchise. Also, Singer wants to move on to the Logan's Run remake that he was developing before he got sidetracked a couple years back. And Singer's departure has forced WB executives to take an entirely new direction.
Ready for it? The Wachowski Brothers have been approached to develop and direct the Superman reboot. Now before you freak out, nothing has been finalized. The Wachowski Brothers have not agreed to the project yet, but McTeigue said if they did, there is a chance he would take over as director of Plastic Man. I can't even imagine what a Wachowski Brothers-directed Superman movie would look like.
Discuss: What do you guys think?