This Week In DVD: W., Miracle At St. Anna, Blindness, My Name Is Bruce, And More
We may receive a commission on purchases made from links.
This Week in DVD is a column that compiles all the latest info regarding new DVD releases, sales, and exclusive deals from stores including Target, Best Buy, Circuit City, and Fry's.Please don't take the commentary on the movies and TV shows too seriously, as they're meant not to be reviews but rather previews that include the general thoughts and ramblings of a twice-committed DVD addict. The categories represent solely the author's intentions towards the DVDs at hand, and are in no way meant to be a reflection on what he thinks other people should rent or buy. So if he ends up putting a movie you like in the "Skip it" section without having seen it, please keep in mind that the time you could spend leaving a spiteful but ultimately futile comment could instead be used for more pleasant things in life. Like buying DVDs.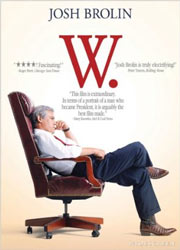 W.
I want to love W. a lot more than I actually do. The concept is great, attempting to satirize the most hated president the US has ever had by painting a sympathetic portrait of the man and allowing his own actions to speak for themselves. It's not very successful though, never seeming to know exactly what it wants to be. Sometimes it feels like a straightforward biography; at others it feels like an unfunny SNL sketch (e.g., every scene with Thandie Newton). The finished product is less a movie and more a flimsy amalgamation of random moments from Bush's life. Since the film (having been made before Bush was even out of office) already lacks any sort of historical perspective, I really think it would've played better had it focused more on its narrative structure, telling its story chronologically as some sort of absurdist fantasy where this drunk college kid with a rich dad ends up controlling an entire country (and then subsequently subjecting the whole world to complete chaos). You could kind of already get a sense of that basic concept in the film, but like so many of W.'s ideas, it eventually gets lost in the shuffle. Josh Brolin is great in it though.
Blu-ray? Yes.Notable Extras: Audio commentary with director Oliver Stone, a "Dangerous Dynasty: The Bush Presidency" featurette, a "No Stranger to Controversy: Oliver Stone's George W. Bush" featurette, and deleted scenes.
BEST PRICE
Target
Best Buy
Fry's
$19.99
$16.99
Amazon – $17.99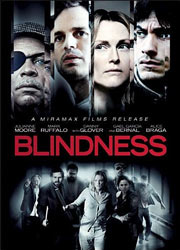 BLINDNESS
Gotta admit, the reviews for this film took me by surprise. With both The Constant Gardener and City of God (one of my all-time favorite movies) being critical darlings, it seemed like director Fernando Meirelles could do no wrong. So when I found out he'd be tackling a film about an unexplained mass epidemic of blindness, I quickly became amped up for what I was hoping would be this year's Children of Men. Of course, that was back in 2008, before it was revealed that the movie is actually rather mediocre. Still, now that the film's hitting DVD, I'm eager to finally check it out (albeit with much lowered expectations).
Blu-ray? No.Notable Extras: Making-of documentary, and deleted scenes.
BEST PRICE
Target
Best Buy
Fry's
$19.99
Amazon – $19.99
EXCLUSIVE DEAL:What? Get a $10 Gift Card with the purchase of both Blindness and Miracle at St. Anna.Where? Best Buy.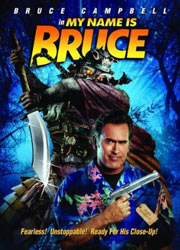 MY NAME IS BRUCE
I'm a total Bruce Campbell fanboy. I once drove three hours just so I could shake the man's hand and get him to sign a copy of his awesome book, If Chins Could Kill. So believe me when I say, I really really really want to like this movie. But sadly, I've also seen his previous film, Man with the Screaming Brain, and that (as much as it pains me to admit it) was outright abysmal. And with the trailer for this film doing little to restore my faith in his directorial abilities, the impression I'm getting here is that (much like Black Sheep) this is one of the movies that lives and dies on how amusing you find its premise. Like I said though, I'm a total Bruce Campbell fanboy, and as such, I find its premise really f'ing amusing.
Blu-ray? Yes.Notable Extras: A commentary by director Bruce Campbell and producer Mike Richardson, a Heart of Darkness: The Making of My Name is Bruce documentary, featurettes (Beyond Inside the Cave: The Making of Cavealien 2, The Real Bruce Campbell, Kif's Komer, Awkward Moments with Kif, Bruce on...), and a 24-page collectible comic book.
BEST PRICE
Target
Best Buy
Fry's
$19.99
Amazon – $19.99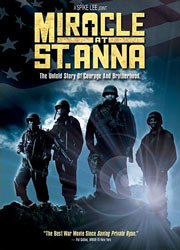 MIRACLE AT ST. ANNA
I will not deny that Spike Lee is a talented filmmaker, but that doesn't make his racism any more tolerable. (Ironically, it was this very issue that spawned the running joke on the /Filmcast about me being a racist.) He seems to have this obsession with centering his films around strong, heroic black characters, while the vast majority of the evil characters just happen to be white. I'd be a lot more understanding of Lee's actions if it seemed as though he were striving for a stronger sense of equality in Hollywood, but in every interview or news story I've read with the man, he has this deeply antagonistic attitude that seems much more indicative of him having an unsettling sense of superiority over others (i.e. Caucasians). In the case of Miracle at St. Anna, the movie seems to mostly be a political response following his ridiculous, unsubstantiated attack on Clint Eastwood over Flags of Our Fathers; and a lousy one at that. I, for one, could care less about seeing it.
Blu-ray? Yes.Notable Extras: None.
BEST PRICE
Target
Best Buy
Fry's
$19.99
$16.99
Amazon – $19.99
EXCLUSIVE DEAL:What? Get a $10 Gift Card with the purchase of both Blindness and Miracle at St. Anna.Where? Best Buy.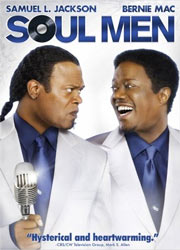 SOUL MEN
I loves me some Samuel L. Jackson (and am fond of Bernie Mac – RIP – even if I'm less so of his filmography), but this movie looks just awful. Any film that has a scene where a man's wearing tight pants and one of the buttons pops off and hits someone in the eye is an automatic "skip it" in my book.
Blu-ray? Yes.Notable Extras: Audio Commentary by director Malcolm D. Lee and writers Robert Ramsey and Matthew Stone, and featurettes ("The Soul Men: Bernie Mac & Samuel L. Jackson", "The Cast of Soul Men", "Director Malcolm Lee", "A Tribute to Bernie Mac", "A Tribute to Isaac Hayes", "Boogie Ain't Nuttin': Behind The Scenes", "Bernie Mac at the Apollo").
BEST PRICE
Target
Best Buy
Fry's
$19.99
Amazon – $19.99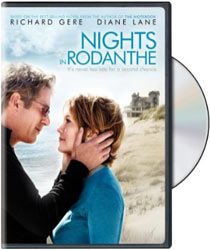 NIGHTS IN RODANTHE
I recently checked out author Nicholas Sparks' Wikipedia page and was shocked to discover a glaring omission: he had not been given credit for single-handedly curing insomnia amongst males. I first discovered this miracle cure when I unwittingly glanced at the first few pages of his book, "A Bend in the Road", an experience which ended with me passed out cold on the floor of a Barnes & Noble. It wasn't until several glorious months of sleep later that I found out the film adaptations of his work are equally capable in achieving this effect, with such snooze-worthy efforts as A Walk to Remember, The Notebook, and now Nights in Rodanthe (which, from the looks of it, is the most successful cure yet). So, if you're a sleep aficionado, it's a must buy! If you're a fan of cinema that doesn't suck ass, however, I can't recommend it.
Blu-ray? Yes.Notable Extras: Behind the scenes featurettes, alternate scenes, and a Gavin Rossdale "Love Remains the Same" music video.
BEST PRICE
Target
Best Buy
Fry's
$16.99
Amazon – $16.99
Other noteworthy DVDs available this week...Frozen River – Tim and Eric Awesome Show, Great Job! (Season 2) – Death Note II: The Last Name – Friday the 13th: The Series (Season 2) – Dragon Ball Z (Season Eight) – Dragon Ball GT (Season Two)

NOTE: Some deals may be in-store only.

$19.99 – It's Always Sunny in Philadelphia (Season 3), Heroes (Season 2), 30 Rock (Season 2), Terminator: The Sarah Connor Chronicles (Season 1)$24.99 – Smallville (Seasons 1 – 7)$26.99 – The Office (Season 4), House (Season 4)$49.99 – Planet Earth, Band of Brothers$4.99 – The Princess Bride (20th Anniversary Edition), Say Anything (Special Edition), Pretty in Pink (Everything's Duckie Edition), When Harry Met Sally (Collector's Edition), You've Got Mail (Deluxe Edition), and more...