Hollywood Studios Bidding For Pride And Prejudice And Zombies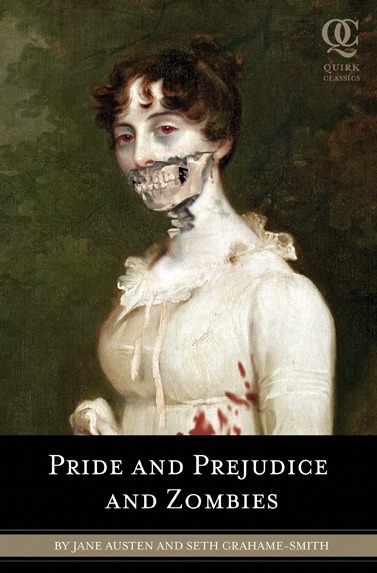 According to the Sunday Times, Hollywood studios (I quote) are already fighting for the rights to Pride and Prejudice and Zombies, a Jane Austen rewrite that injects a little undead action and is due to hit bookstores in April.
Seth Grahame-Smith's novel apparently makes liberal use of Austen's original text, so far out of copyright that anybody could do anything they want to it with only the hordes of rampant Austenites to worry about. "About 85% is the original" says the author.
Grahame-Smith provides a sterling explanation of why the novel works in this brain-eating rerendering. "Why else in the original should a regiment arrive on Lizzie Bennet's doorstep when they should have been off fighting Napoleon? It was to protect the family from an invasion of brain-eaters, obviously."
The Times run on about a range of other period classic rewrites that smoosh in a range of horror tropes.
For example: "a version of Emily Brontë's Wuthering Heights, where Catherine, the deceased heroine, returns as a Japanese-style ghost not only to haunt but also to terrorise Heathcliff" or a spooked up Jane Eyre where "Mr Rochester has something more terrible than an insane spouse in his attic".
One of the greatest horror films in the history of cinema already blends a literary classic with Zombie lore. If you haven't yet seen I Walked With a Zombie, order it right now – indeed, I'd recommend you just go the whole hog and nab the entire Val Lewton collection.
I Walked With a Zombie relocates the plot and structure of Jane Eyre to a Caribbean plantation and inserts a dash of pre-Romero voodoo-style zombism. Jacques Tourneur's incredible sense of atmosphere and tone ensures a completely engrossing, utterly compelling experience that ranks amongst the most poetic of classic horror pictures.
Pride and Prejudice and Zombies is a prime opportunity, I think, for several corset-picture stalwarts to subvert their public image. Back in the day, Helena Bonham Carter would have been front of the queue, I'd expect; Keira Knightley is currently pretty high on studio wishlists I'd imagine; and if I was directing, I'd be on the phone to Judi Dench, Dominic Cooper, Julia Sawalha, Hattie Morahan, Charity Wakefield, Sally Hawkins, Matthew MacFadyen, Jemima Rooper, Gemma Arterton... actually, there's loads of potentials. It won't be hard to load this one up, I reckon.
Pride and Prejudice is one of my favourite books, and I'm a huge fan of zombies too so, in an odd way, I really don't want this one to be screwed up. It'd be a dream come true if Andrew Davies signs on to write the screenplay...