Why You Won't Be Seeing Van Damme In Stallone's "The Expendables"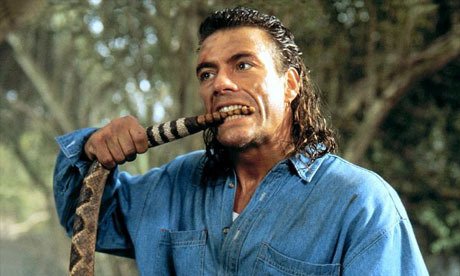 I'll admit, I've been a fan of Jean-Claude Van Damme ever since I saw Bloodsport as a kid. While his career and personal life have had their ups and downs over the years, I always hoped that he would somehow make a comeback as a legitimate action star. JCVD showed that he still has some on-screen charisma left, though it still wasn't enough to redeem his action credibility. I figured a project like Sylvester Stallone's upcoming action extravaganza, The Expendables, would be perfect for him—but apparently Van Damme thinks otherwise.
In a recent interview with Total Film magazine, JC explains why he turned down a role in the film:
"Stallone gave me a part in his next movie," he told us. "But I ask him about the subject, about the story."
"He said, 'You're gonna make lots of money.' I don't want to hear that, I want to hear what was my character.  He was unable to tell what it's going to be."
"[Stallone said:] 'You know, uh, well, the fighting will be good.' [So I said:] 'Sly, what is my character?' So I didn't do the movie."
So it seems in addition to learning how to be a dramatic actor, Van Damme also acquired "standards". While his work in JCVD was good, I don't think anybody is going to be hounding after him for any major dramatic roles. Action was his bread and butter, and the sooner he attaches himself to a film drenched in baddassery like this, the sooner he'll get his career back on track.
The Expendables also stars Stallone, Jet Li, Jason Statham, Mickey Rourke, Dolph Lundgren, Ben Kingsley, and his Bloodsport co-star, Forest Whitaker. While I applaud Van Damme for asking about character first, this is exactly the sort of film where the action stars need only be themselves, and plot is a distant afterthought. Stallone made Rambo an entertaining action film with a crappy plot, terrible dialog, and annoying characters. Somehow, I think this film will be even harder to screw up.
Source: Total Film via Film Junk
Discuss: Do you have any lingering attachment to Jean-Claude Van Damme? Is there anyone else that should be cast in The Expendables, thereby creating an even greater singularity of awesome?