Frost/Nixon, The Reader And Milk Are Among The Weakest-Grossing Best Picture Nominees In A Decade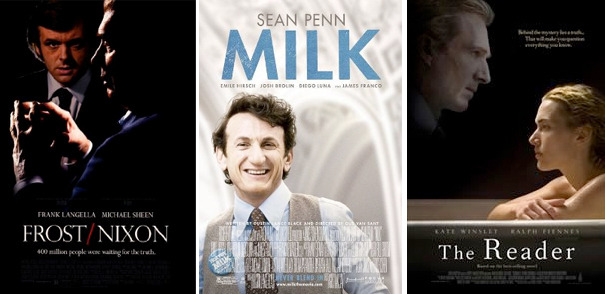 There is a phenomenon known as "the Oscar bounce." When a movie receives Academy Award nominations, especially one of the five coveted Best Picture slots, ticket-buyers generally follow. The Oscar seal of approval used to mean something to the rank-and-file moviegoer, but that seems to have changed.
Only one of this year's Best Picture nominees has inspired any real passion from the broad public. The almost-certain Best Picture winner is Slumdog Millionaire (Fox Searchlight), and its devotees, including critics and members of the Academy (not to mention yours truly), have made it a word-of-mouth smash hit. The Danny Boyle-directed feel-good Bollywood fusion movie made for a meager $14M added another $2.05M or so on Friday and is charting a 3-day course for about $7.25M. That will give the Slumdog a $77.2M take, and it could reach $90M-$95M before it's through in American theatres.
The other four Best Picture noms are The Curious Case of Benjamin Button (Paramount), Milk (Focus), The Reader (Weinstein) and Frost/Nixon (Universal). I approached  Benjamin Button as a little kid might approach broccoli. (You're not allowed to leave the table until you eat it, and it's supposed to be good for you.) It's very long, a bit pretentious, and not nearly as good as other David Fincher-directed films like Se7en and Zodiac. After opening strong, the movie is now fading despite 13 Oscar nominations, selling about $640,000 in tickets Friday for a likely $2.24M 3-day. The cume will be a respectable $119.8M by Monday, but how many people have you actually heard saying, "I love Benjamin Button!"
The Reader, Milk and Frost/Nixon are now on as many screens as they will ever be, and they are certainly not setting the world on fire. Here's how the five movies nominated for Hollywood's biggest prize are performing this weekend.
BOX OFFICE PERFORMANCE OF BEST PICTURE NOMINEES FEBRUARY 6-8
Slumdog Millionaire – $2.05M Friday – $7.25M 3-day – $77.2M cume
Benjamin Button – $640K Friday – $2.24M 3-day – $119.8M cume
The Reader – $605K Friday – $2.17M 3-day – $15.9M cume
Milk – $285K Friday – $1M 3-day – $25.2M cume
Frost/Nixon – $189K Friday – $662K 3-day – $15.5M cume
Aside from Slumdog Millionaire, there's not much box office upside here. Ben Button is unlikely to reach $130M, while Milk will probably fall short of $30M. The Reader could add a possible $8M before its done, and Frost/Nixon won't even get to $20M domestic.
PROJECTED CUMES OF 2009 BEST PICTURE NOMINEES
Benjamin Button – $127M cume (projected)
Slumdog Millionaire – $95M cume (projected)
Milk – $29M cume (projected)
The Reader – $23M cume (projected)
Frost/Nixon – $19M cume (projected)
Combined projected cume: $293M
If those numbers hold, the 2009 awards season will have given us three of the six weakest performing Best Picture nominees of the last decade.
TOP 10 LOWEST GROSSING BEST PICTURE NOMINEES OF THE LAST DECADE
1. 2006 – Letters From Iwo Jima – $13.75M cume
2. 2009 – Frost/Nixon – $20M cume (projected)
3. 2009 – The Reader – $25M cume (projected)
4. 2005 – Capote – $28.75M
5. 1999 – The Insider – $29M
6. 2009 – Milk – $30M cume (projected)
7. 2005 – Good Night & Good Luck – $31.5M cume
8. 2002 – The Pianist – $32.5M cume
9. 2006 – Babel – $34.3M cume
10. 2008 – There Will Be Blood – $40.2M cume
Now just two weeks away, the 2009 Oscar ceremony could be a Waterloo of sorts for the Motion Picture Academy. First-time Oscar producers Bill Condon and Lawrence Mark have promised something daring. A re-imagining of the Academy Awards telecast, coming off last year's all-time lowest ratings.
Hugh Jackman, the talented Australian actor, will serve as host. He previously won an Emmy for his hosting of the Tony Awards a few years back (Here's his opening musical number from the broadcast.) Yes he can sing and dance, but can he overcome the lack of appeal of the movies that the Academy has chosen to honor?
As a hardcore movie fan, I will be watching, but the average American doesn't care about enough of these movies to draw a substantial audience. This group of Best Picture nominees seems destined to be the second-least popular group of nominees in the past fifteen years with an ultimate combined cume of just $293M.
WEAKEST TOTAL GROSS FOR BEST PICTURE NOMINEES
- last 15 years -
1. 2005 – $245M
Crash, Brokeback, Capote, Good Night & Good Luck, Munich
2. 2009 – $293M (projected)
Slumdog, Ben Button, Frost/Nixon, Milk, The Reader
3. 2006 – $296M
Departed, Babel, Letters from Iwo Jima, Little Miss Sunshine, The Queen
4. 1996 – $306M
English Patient, Fargo, Jerry Maguire, Secrets & Lies, Shine
5. 2007 – $357M
No Country, Atonement, Juno, Michael Clayton, There Will Be Blood
6. 1993 – $368M
Schindler's List, Fugitive, Name of the Father, The Piano, Remains of the Day
7. 1995 – $378M
Braveheart, Apollo 13, Babe, Il Postino, Sense & Sensibility
8. 2004 – $401M
Million Dollar Baby, Aviator, Finding Neverland, Ray, Sideways
9. 1998 – $440M
Shakespeare in Love, Saving Private Ryan, Life is Beautiful, Elizabeth, Thin Red Line
10. 1994 – $543M
Forrest Gump, Four Weddings & a Funeral, Pulp Fiction, Quiz Show, Shawshanke Redemption
I would love to be wrong. I'd love to believe that keeping the identities of presenters a secret, and a song-and-dance man from Down Under, and the sight of Brad and Angelina on the red carpet, and a gutty, little independent movie from Mumbai, and a guarantee from producers that the show won't exceed three hours, and the dramatic posthumous recognition for Heath Ledger – that it will all work to draw a huge television audience. But I am feeling more certain that ABC's Oscar telecast this year may go down as the lowest rated ever.