Dinklage, Buscemi, Rockwell And Guzman Join Pete Smalls Is Dead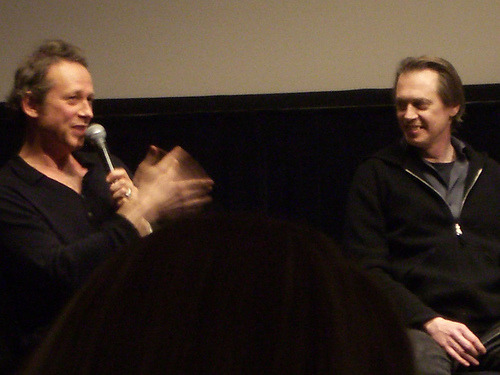 According to the ever useful Twitter feed of Production Weekly, principal photography on Alexandre Rockwell's Pete Small is Dead is to kick off in March. Previously, it was set to shoot in January, I believe – but when I tell you other info is thin on the ground for this one, you better believe it.
Indeed, probably the most useful link I could give you is to the MySpace page of Michael Din, the film's producer. Send him a message and tell him /Film want to know more. Go on. Double dare you.
Amongst the cast are Steve Buscemi, Sam Rockwell and Peter Dinklage, who have worked together on Peter Judson's Nobody Wants Your Film. Or, perhaps more accurately, they're all featured in the film – it's a documentary about how an independent film gets knocked back every step of the way. I think it was a semi-fictionalised grasp for novelty and notoriety, ala The Book that Wrote Itself.
Guzman is the new boy to the group.
Director Rockwell's back catalog is a pretty tasty one. Buscemi appeared in his previous hits 13 Moons, Somebody to Love, Louis & Frank and In the Soup – okay, I use the term hits because, well, they were hits with me but In the Soup was a pretty big hit with plenty of folks, so I think I got away with it. Buscemi has become a kind of Rockwell stand-in, in my mind. They're the indie world alternative to Burton and Depp.
The picture at the head of the post shows Rockwell and Buscemi at the Tiarana film festival in 07, where a retrospective of their work was screened. Wish I'd been there.
Sam Rockwell has been in a number of Alexandre's films too – but don't be tricked into thinking the two are related. Apparently, they were introduced by Jennifer Beals, Alexandre's ex-wife.
As for Dinklage, I think he was only in the one Alexandre Rockwell film; and Luis Guzman has, until now, not been in any. Nice to see that change – I love The Guzman. Who doesn't?
I'm just glad to see Rockwell back behind the camera. He's spoken on DVD commentaries before about how he enjoys directing but only gets the opportunity to make a film every few years. Each time he has a new movie on the cards, I hope it's the one that's going to make him a bona fide cult figure and make the opportunities easier for him to come by.
Perhaps when Michael Din has been MySpace bombared by /Film readers (nudge, nudge, wink, wink) he'll give us some more info.