Surrogates Teaser Poster, Viral Website Launched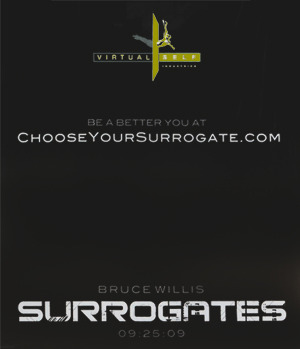 This weekend at the New York Comic Con, Disney will be unveiling the first footage of Jonathan Mostow's sci-fi comic book adaptation Surrogates. Bruce Willis stars as an FBI Agent who is sent to investigate the mysterious murder of a college student linked to the man who helped create a high-tech surrogate phenomenon that allows people to purchase unflawed robotic versions of themselves—fit, good looking remotely controlled machines that ultimately assume their life roles—enabling people to experience life vicariously from the comfort and safety of their own homes. The murder spawns a quest for answers: in a world of masks, who's real and who can you trust?
IO9 showed up eatly at the convention hall and was able to snap this photo of this teaser banner/poster promoting a viral site for the film – chooseyoursurrogate.com. I have cleaned up the image. Head on over to the website as it's completely functional and gives you a look at the company that provides the avatars – Virtual Self Industries.Surrogates hits theaters on September 25th 2009.