Box Office Tracking: America Appears "Into" He's Just Not That Into You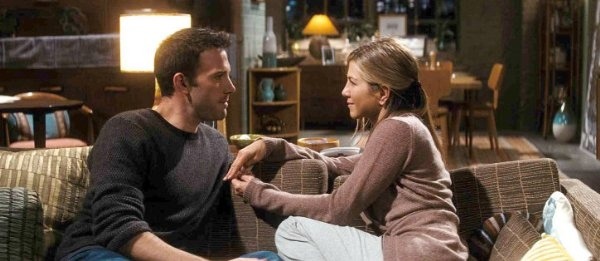 After a spectacular $1 billion dollar-grossing January for the movie industry, Hollywood trots out four new titles for the first weekend of February. The first month of '09 was nothing short of spectacular, featuring nine releases with 3-day openings of $17M or better led by Paul Blart: Mall Cop ($31.8M) and the wide break of Gran Torino ($29.5M).
According to industry tracking, it looks like the new Warner Bros romantic comedy He's Just Not That Into You will win the coming weekend. The early reviews are coming in a bit lukewarm (42% Fresh on Rotten Tomatoes), but it doesn't matter especially. Awareness is high and Definite Interest and First Choice numbers are exceedingly solid, especially among women.
It's not surprising given that the expression, originally coined by comic Greg Behrendt, has become a mantra for single women everywhere. He and Liz Tuccilo were both writers on HBO's Sex & The City, and he casually tossed off the phrase when one of his co-workers wondered why she hadn't heard from a guy after a seemingly successful date. Behrendt and Tuccillo decided that there was a whole book expounding on the phrase just itching to be written, and the rest is history.
Their dating advice book He's Just Not That Into You, published in 2004, became a bestseller, and the film rights for the self-help book were snapped up by Drew Barrymore's Flower Films. Barrymore has become the model of success for Hollywood actresses. From a famous acting family, she became a child star in E.T. The Extra-Terrestrial but feel prey to alcohol and drug abuse. She even wrote an autobiography about her troubles in the 1990 autobiographical book Little Girl Lost. Sadly, she was only 15 at the time of publication.
Jimmy Fallon with wife and Flower Films co-founder Nancy Juvonen
Jimmy Fallon with wife and Flower Films co-founder Nancy Juvonen
Then along came Nancy Juvonen. She was born in Marin County and graduated from USC, and while her brother Jim was working on the Barrymore project Mad Love in 1994, she and Drew became friends. They founded Flower Films almost immediately, and the result has been a streak of movies that include the very edgy (Donnie Darko) and the very commercial (Charlie's Angels).
BOX OFFICE PERFORMANCE OF MOVIES FROM FLOWER FILMS
1999 – Never Been Kissed – $11.8M opening – $55.5M cume
2000 – Charlie's Angels – $40.1M opening – $125.3M cume
2001 – Donnie Darko – $110K opening – $1.3M cume
2003 – Charlie's Angels: Full Throttle – $37.6M opening – $100.8M cume
2003 – Duplex – $4.6M opening – $9.7M cume
2004 – 50 First Dates – $39.8M opening – $120.9M cume
2005 – Fever Pitch – $12.4M opening – $42M cume
2007 – Music & Lyrics – $13.6M opening – $50.5M cume
Also, during the making of Fever Pitch, Nancy Juvonen met Jimmy Fallon, and the two are now happily married. Fallon will soon be sliding into the Conan slot when Conan O'Brien takes over the Tonight Show, so this is a real power couple.
The first quarter of the year is always a good opening for a romantic comedy. Warner Bros is releasing He's Just Not That Into You on the weekend before the 4-day Presidents Day weekend, and this movie will be the only true "date movie" in theatres for Valentine's Day next Saturday. Over the last five years or so, here is the track record for rom-com's released in the first quarter of the movie year.
2/11/05 – Hitch – $43.1M opening – $179.5M cume
2/13/04 – 50 First Dates – $39.8M opening – $120.9M cume
1/16/04 – Along Came Polly – $27.7M opening – $88M cume
3/10/06 – Failure to Launch – $24.4M opening – $88.7M cume
1/18/08 – 27 Dresses – $23M opening – $76.8M cume
2/08/08 – Fool's Gold – $21.6M opening – $70.2M cume
1/09/09 – Bride Wars – $21M opening – $54.3 (to-date cume)
3/24/05 – Miss Congeniality 2: Armed & Fabulous – $14M opening – $48.5M cume
2/14/07 – Music & Lyrics – $13.6M – $50.5M cume
2/02/07 – Because I Said So – $13.1M opening – $42.6M cume
2/04/05 – The Wedding Date – $11.1M opening – $31.7M cume
2/14/08 – Definitely Maybe – $9.7M opening – $32.2M cume
3/26/04 – Jersey Girl – $8.3M opening – $25.2M cume
I am anticipating that He's Just Not That Into You will open to about $21M this weekend scoring an easy win, and it could have a nifty $50M in the bank by the end of the Presidents/Valentine's 4-day.
Steve Martin is truly a genius. I recently finished his mini-memoir Born Standing Up, and I came away with an even greater appreciation for his intelligence. From the screenplays for Roxanne and L.A. Story to his brilliant stage play Picasso at Lapin Agile to the melancholy of his novel Shopgirl, there is no question that he can write. But when juxtaposed with his go-for-broke, arrow-through-the-head, comic self-mockery, you have a true show business original.
Bjork in her 2001 Oscar night "swan dress"
Bjork in her 2001 Oscars "swan dress"
He uttered what I consider to be among the funniest lines I've ever heard. On the 2001 Oscar telecast, which Martin hosted, enigmatic Icelandic musical artist Bjork wore an infamous dress modeled after a swan. After Bjork's performance, Martin quipped, "I was going to wear my swan, but to me, they're so last year." The perfect line. Billy Crystal would have bludgeoned us with hammy swan joke after hammy swan joke, but Martin got big laughs with one withering, bone dry remark. (Also that year, Martin joked, "I didn't realize Crouching Tiger, Hidden Dragon was a movie. To me it sounds like something Siegfried & Roy do on vacation.")
Now one of my comedy heroes appears to be doing the classic paycheck movie. Pink Panther 2 (Sony), a sequel to the dismal 2006 Pink Panther remake, has an horrific 5% Fresh score on Rotten Tomatoes as of Thursday. Wade Major at Box Office Magazine sums up the critical consensus calling Pink Panther 2, "Vapid, low-grade slapstick, hopelessly dull yet innocuous, designed more for marketability than entertainment."
Martin's first appearance as Inspector Clouseau generated a $20.2M opening en route to $82.2M domestic. The sequel seems headed for a softer start and nowhere near the total take. I am predicting about $17M by Monday, enough for a #2 finish. It will be helped by big matinee business on Saturday and Sunday.
The excellent Taken (Fox), starring Liam Neeson as what may be the most kick-ass Dad in movie history, will benefit from excellent word-of-mouth for a possible $15M. If you're an action movie fan and you missed it last weekend, it is a must-see.
Dakota Fanning and Chris Evans in Push
Dakota Fanning and Chris Evans in Push
Another new wide release called Push is targeting fourth-place, stretching to reach the $10M range. This is Summit Entertainment's first release since the mega-hit Twilight ($187M domestic), but critics aren't being especially generous (27% Fresh on Rotten Tomatoes so far). Riffing on NBC's Heroes and the blockbuster film series X-Men, UK-born director Paul McGuigan (the respectable Lucky Number Slevin and the embarrassing remake of Wicker Park) is working with young Dakota Fanning and a couple of almost-stars – Oscar nominee Djimon Hounsou (In America) and Chris Evans (Johnny Storm in Fantastic Four) – but judging from the latest pre-opening industry tracking, that doesn't seem like enough to make Push a meaningful hit.
It may be close between Sony's Paul Blart: Mall Cop and the brand new 3-D animated movie Coraline (Focus) for fifth-place. As exhibitors from coast-to-coast race to add 3-D in advance of the late March release of Monsters vs. Aliens (Dreamworks/Paramount), Coraline will benefit from what will almost certainly be the most 3-D screens in modern history.
The 3-D is reportedly the most eye-popping yet, and critics love the movie to the tune of 86% Fresh on Rotten Tomatoes, but writer/director Henry Selick's subversive vibe limits the potential audience. Selick may always be a cult favorite director who hit one big home run – Tim Burton's Nightmare Before Christmas, which has now grossed almost $75M domestic and returns to theatres every Halloween.
Teri Hatcher provides the voice for Coraline's otherworld Mom who has buttons for eyes
Teri Hatcher provides the voice for Coraline's otherworld Mom who has buttons for eyes
Coraline is based on the Hugo Award-winning Neil Gaiman novel of the same name, and, despite its PG rating, the commercials and trailers are downright creepy. The mother with the buttons-for-eyes seems a bit nightmare-inducing and that may make Moms reluctant to pile the kids in the car for this one. I am calling for about $8.7M and a #6 finish.
FINAL PREDICTIONS FOR THE WEEKEND OF FEBRUARY 6
1. NEW – He's Not That Into You (Warner Bros) – $21M
2. NEW – Pink Panther 2 (Sony) – $17M
3. Taken (Fox) – $15M
4. NEW – Push (Summit) – $9.9M
5. Paul Blart: Mall Cop (Sony) – $8.75M
6. NEW – Coraline (Focus) – $8.7M
7. Slumdog Millionaire (Fox Searchlight) – $5.5M
8. Gran Torino (Warner Bros) – $5.3M
9. Hotel For Dogs (Dreamworks/Paramount) – $5M
10. The Uninvited (Paramount) – $4.5M
11. Underworld: Rise of the Lycans (Sony) – $4M
12. New in Town (Lionsgate) – $3.7M