Johnny Depp As Moe, Sean Penn As Larry In The Farrelly Bros' Three Stooges Movie?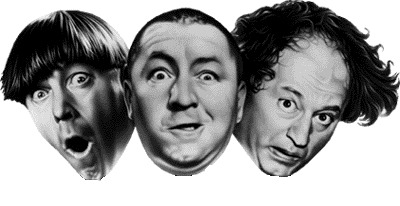 Here's one heck of an odd story for me to make my comeback with. It comes to us from In Touch Magazine (well, at least according to Just Jared – I can't find the story anywhere on the In Touch site, so I'm not sure if a) it was pulled b) it was only in a print version of the magazine or c) it was never there in the first place at all).
According to the gossip site, the Farrelly Bros. want Johnny Depp for the role of Moe, alongside Sean Penn as Larry in their upcoming Three Stooges movie.
Update: FilmDrunk has a source who says "Billy West (famous voice actor from Futurama and Ren & Stimpy, among other things) is meeting with Sean Penn today and tomorrow to help him prep his Larry impression – so that part of the rumor is at least partially true."
This film has been in development for a very long time, and all sorts of performers – Jack Black, Jim Carrey, Jeff Daniels and Benicio Del Toro – have been associated with some Stooge or another over the years (and I'm not talking about their love lives here – boom boom). The Farrellys have claimed that they wanted Larry David for Larry, but he turned them down. I'm not surprised.
Personally, I'd like to see Sam Raimi direct a Three Stooges film. He clearly loves their stuff and has just the right sensibility and sufficient imagination to pull it off without just turning in a naff knock off. Great chunks of his second and third Evil Dead films have de facto Stooges sequences anyway. Maybe Ted Raimi can make a cameo as (a fake) Shemp at least.
I wouldn't be surprised to see Depp sign on to something like this, but Penn? Really? He's constantly surprising me, though mainly in press conferences and not career moves. I suspect he's just been mentioned here as a hang over from old reports.
Talking of old reports: I've read that the script is apparently rather episodic, with four chapters. In the third, the Stooges get separated and go their own separate ways, to be reunited for the big, silly climax in chapter four. I know several people have reviewed various drafts over the years, but I'm sure the Farrellys have been nipping and tucking all the while. I'd lose the rigid structure – if only because such episodic narratives are tricky to keep moving forward.
So... who's the audience for this film anyway? And does it include you?