SXSW Movie Trailer: Sorry, Thanks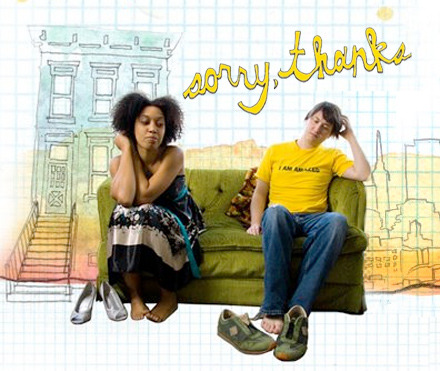 In our continuing series to preview some of the little indies (or what some people would call "real independent films") that will be playing at the 2009 SXSW Film Festival, I give you the trailer for mumblecore producer (Mutual Appreciation, Nights and Weekends) Dia Sokol's feature directorial debut Sorry, Thanks.
As someone who lives in San Francisco, it's always great to see some low budget films coming out of the bay area. Last year SXSW brought us Medicine For Melancholy, a "love story of bikes and one-night stands told through two African-American twenty-somethings dealing with the conundrum of being a minority in a rapidly gentrifying San Francisco." Sorry, Thanks is also a relationship film but with a mumblecore ensemble comedy slant. Read more and watch the trailer after the jump.
[flv:http://bitcast-a.bitgravity.com/slashfilm/trailers/sorrythankstrailer.flv 470 270]
Here is the official plot synopsis:
"IT'S ALL FUN AND GAMES UNTIL SOMEONE GETS THEIR HEART POKED OUT. Reeling from a brutal break-up, Kira sleeps with Max, a charming but disheveled wreck already committed to long-term girlfriend, Sara. This first (un)happy accident quickly grows to full-scale disaster when Max (no emotional sophisticate) becomes obsessed—mostly with Kira, but vaguely with his curious lack of conscience. Meanwhile Kira, fighting to win a job she hates and running in aimless romantic loops, faces the precarious double challenge of choosing a next step and choosing wisely ... but it's hard luck leading with your heart, when your heart is an utter emotional idiot."
"SORRY, THANKS is an indie ensemble comedy that charts a confused and fleeting anti-romance between two people fundamentally lost to themselves and absolutely wrong for each other. Starring Wiley Wiggins ("Dazed and Confused," "Waking Life"), newcomer Kenya Miles, Andrew Bujalski ("Funny Ha Ha," "Mutual Appreciation"), and newcomer Ia Hernandez."
Shot entirely on location in San Francisco's vivid Mission District in the fall of 2007, the film is built on idiosyncratic performances from 30 mostly non-professional actors (and 2 cats, plus an alternate), cast locally in San Francisco (with the exception of Wiley Wiggins and Andrew Bujalski, who play best buddies in a tug-of-war friendship on the frontlines of Max's emotional shortcomings). Seems like the film could use some serious sound correction, but it still looks interesting.