Mickey Rourke To Gee Up For Broken Horses
The Gangster film Broken Horses is to be the American film debut of Vidhu Vinod Chopra, and Indian director who certainly likes to plan ahead. His official site lists no less than five films. Okay, Rodriguez and Del Toro style, his slate is full of many projects he only intends to produce, not direct, but it sounds to me like he has a different pie for every finger.
Here's the official blurb from Chopra's site and, after the break, more info and the pre-shoot publicity poster.
Vinod Chopra's Broken Horses, with a screenplay based on an original story by Chopra himself, is the work of award-winning writer Abhijat Joshi (Lage Raho Munnabhai, Eklavya and 64 Squares) and script consultant Jason Richman (Bangkok Dangerous, Swing Vote). The film is in pre-production and will go on the floors later this year.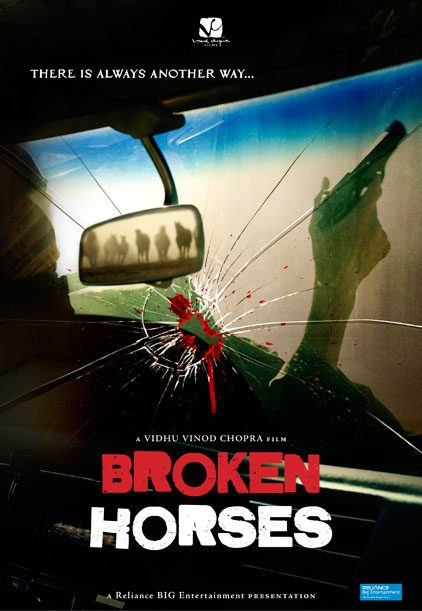 Yahoo Movies India goes one step further by letting us know Mickey Rourke has signed up for "one of the key roles". Not sure how wise a move this is on Rourke's part – though maybe I'm just being prejudiced against the gangster genre. So few gangster films have ever really done it for me, perhaps half a dozen or so (one and a half Godfathers included). I'll also cynically note that Rourke finalized the deal before winning his so very well deserved Golden Globe for The Wrestler.Broken Horses' finance comes courtesy of the Mumbai-based Reliance Big Pictures, subsidiary of the massive corporation Reliance Entertainment that recently bought Dreamworks out of their Paramount handcuffs.
I enjoyed screenwriter Abhijat Joshi's Lage Raho Munnabhai a fair bit, but that was knock-about stuff, with songs and Ghandi's ghost and contrived romance. Something entirely different to a West-friendly gangster narrative. Not the greatest Bollywood film I ever saw, but far from the worst.
Additional trivia: the Broken Horses storyboard artist will be Chris Buchinsky, who worked on Spider-Man 2 and Hancock.