This Week In DVD: RocknRolla, Pride And Glory, The Rocker, Vicky Cristina Barcelona, And More
This Week in DVD is a column that compiles all the latest info regarding new DVD releases, sales, and exclusive deals from stores including Target, Best Buy, Circuit City, and Fry's.
Please don't take the commentary on the movies and TV shows too seriously, as they're meant not to be reviews but rather previews that include the general thoughts and ramblings of a twice-committed DVD addict. The categories represent solely the author's intentions towards the DVDs at hand, and are in no way meant to be a reflection on what he thinks other people should rent or buy. So if he ends up putting a movie you like in the "Skip it" section without having seen it, please keep in mind that the time you could spend leaving a spiteful but ultimately futile comment could instead be used for more pleasant things in life. Like buying DVDs.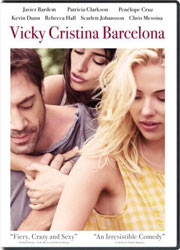 VICKY CRISTINA BARCELONA
It's hard to know what to make of Woody Allen's career. With a writing/directing filmography consisting of over 40 movies, he's ranged from undeniably brilliant to frustratingly repetitive to just plain bad. While some filmmakers take ten years to make their next movie, Allen is dropping out a new project every year. Love him or hate him, that's damn impressive. And while his latest offerings may have provided more than a few clunkers, his recent attempt to move away from his dearly-loved New York scene with Match Point was definitely a step in the right direction. Vicky Cristina Barcelona shows that Allen is continuing this trend, and the reviews have clearly shown the benefits of doing so.
Blu-ray? Yes.
Notable Extras: None.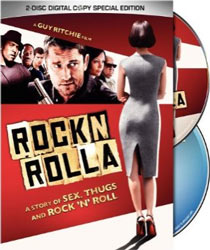 ROCKNROLLA
(Available as single-disc and 2-Disc Special Edition)
Continuing off what I was saying about directors taking a step in the right direction, Guy Ritchie's RocknRolla marks another example, but one with admittedly more mixed results. To say it's an improvement on Swept Away and Revolver is stating the obvious. The real question is, just how much of an improvement is it? Does it come close to reaching the heights of Snatch and Lock, Stock and Two Smoking Barrels? Hell no. But it's an entertaining ride nonetheless. The biggest problem is the story, which is extremely convoluted without ever justifying having such a needlessly complex narrative, or for that matter, even bothering to engage the audiences enough to care about it. What keeps it afloat is the characters and the actors playing them, all of whom are clearly having fun exchanging witty quips and playing around in Ritchie's slickly rendered world.
Blu-ray? Yes.
Notable Extras: The two-disc includes a commentary by Guy Richie and Mark Strong, a deleted scene, a Guy's Town featurette, and a digital copy of the film.
*Does not include 2-Disc Edition, which costs $22.99 at Best Buy and Fry's, and $24.99 at Target and Amazon.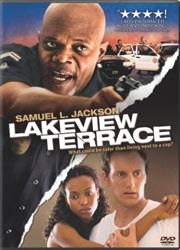 LAKEVIEW TERRACE
Lakeview Terrace is not an amazing movie by any means, but it blows my mind how people can so easily dismiss it while simultaneously praising Clint Eastwood's Gran Torino to no end. Don't let the trailers fool you; this film isn't some laughably absurd thriller about neighbors trying to kill each other over untrimmed hedges. It's actually a fairly insightful and engaging dissection of race relations and how two men's unflinching refusal to accept the things they cannot change lead them down an escalating path of destruction (one obviously more deserving of it than the other). The ending spirals out of control somewhat, but aside from that, it's a film well worth seeing.
Blu-ray? Yes.
Notable Extras: A commentary with Director Neil LaBute and Kerry Washington, deleted scenes with optional commentary, and 3 featurettes (An Open House, Meet Your Neighbors, Home Sweet Home).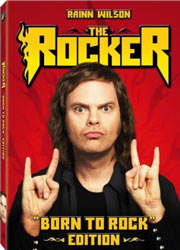 THE ROCKER
I'm not gonna lie; this is a bad movie. The storytelling is by-the-numbers, the characters are poorly developed, and the direction is bland. The one thing that saves it, though, is Rainn Wilson. His energy and enthusiasm for the role single-handedly keeps the movie engaging, and even helps you to overlook every time a poorly written joke falls flat.
Blu-ray? Yes.
Notable Extras: A commentary with director Peter Cattaneo and actor Rainn Wilson, a second commentary with actors Josh Gad, Teddy Geiger, Emma Stone and Jason Sudeikis, 10 deleted scenes, a gag reel, 6 featurettes (Rainn Wilson: Office Rocker, Pete Best Interview, Behind The Band: Vesuvius, Rock Beat With Fish Fishman, The Music of The Rocker, Rock Tales), an MTV Film Festival Panel, an "I'm Not Bitter" music video, 4 exclusive podcasts, Fox Movie Channel Presents...In Character With The Rocker, Vesuvius Public Service Announcements, and a digital copy of the film.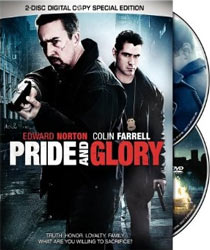 PRIDE AND GLORY
(Available as single-disc and 2-Disc Special Edition)
Holy hell does this movie look dull. I don't think I've ever found myself this disinterested in a project that had so much talent on display, except for maybe We Own the Night, which was a similarly formulaic-looking police procedural. I can't even tell the difference between these films anymore. They all look like nothing more than weak attempts to recreate the success of The Departed.
Blu-ray? Yes.
Notable Extras: The two-disc includes a Source of Glory: The Making of Pride and Glory making of documentary and a digital copy of the film.
*Does not include 2-Disc Edition, which costs $ at each of the listed stores (and $23.99 at Amazon).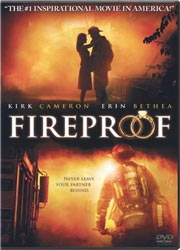 FIREPROOF
A movie that clearly cares more about upholding wholesome Christian values than providing an original narrative or strong production values, Fireproof managed to make over 60 times its budget with its limited theatrical release (it grossed $33 million, and only cost half a million). This is great for those who like watching films that reaffirm their faith, but for those looking for some genuine entertainment (other than the unintentionally comedic kind), look elsewhere.
Blu-ray? No.
Notable Extras: A commentary with co-writer/director Alex Kendrick and co-writer/producer Stephen Kendrick, deleted scenes, featurettes, bloopers, resource film clips, Fireproof Resources, and Fireproof in 60 with Director's Introduction.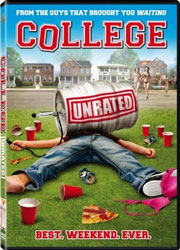 COLLEGE
For a movie with the title College, this movie sure does an impressive job presenting a reality so far removed from actual college life that it's almost funny. (Almost being the keyword here.)
Blu-ray? No.
Notable Extras: A gag reel.
Other noteworthy DVDs available this week...
Roman Polanski: Wanted and Desired – The Lucky Ones – Open Season 2 – Hulk Vs. (Two-Disc Special Edition) – Mary Poppins (45th Anniversary Special Edition) – Cheers (The Final Season) – Blossom (Seasons 1 & 2)

NOTE: Some deals may be in-store only.

Exclusive: Bonus Disc with Open Season 2 ($16.99).

Exclusive: Free backpack with purchase of Open Season 2 ($19.99).
Exclusive: Free trading cards with purchase of Hulk Vs. (2-Disc Special Edition) ($17.99).