The 2009 Screen Actors Guild Award Winners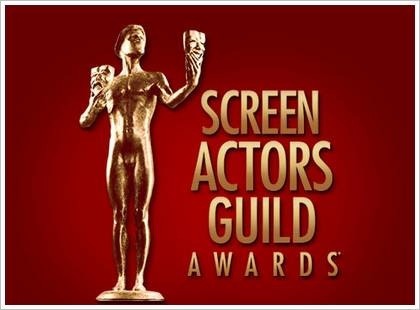 Last night marked the 15th annual Screen Actors Guild (SAG) awards at the Shrine Exposition Center. Many see the SAG awards as indicative of who the Oscar winners will be. If that's the case, then last night's awards portend an interesting evening on Febraury 22nd. You'll find a list of last night's winners after the jump, but first a few quick notes:
As expected, the SAG for Best Supporting Actor went to Heath Ledger for his performance in The Dark Knight
Prior to last night, The Dark Knight was given the SAG award for "Outstanding Performance by a Stunt Ensemble." This means that TDK actually took home two awards total.
Kate Winslet was nominated for both Best Actress (Revolutionary Road) and Best Supporting Actress (The Reader), but only took home an award for the latter.
For his amazing performance in Milk, Sean Penn beat out Mickey Rourke for the Best Actor statue. I think either one of them deserved to win this one, and it'll basically be a coin toss come Oscar night.
Meryl Streep won a much-deserved Best Actress SAG Award although I was honestly hoping that Anne Hathaway would beat her out, after Hathaway lost to Winslet at the Globes. Nonetheless, Streep's performance in Doubt is one of 2008's bravest, and a marvel to behold.
Most significantly, Slumdog Millionaire won the "Outstanding Performance by a Cast" award, making it a favorite for Best Picture come Oscar night.
The nominees and winners in the film categories were as follows:
Outstanding Actress In A Supporting Role
Amy Adams – Doubt
Kate Winslet – The Reader
Viola Davis – Doubt
Penelope Cruz – Vicky Cristina Barcelona
Taraji P. Henson – The Curious Case Of Benjamin Button
WINNER: Kate Winslet – The ReaderOutstanding Actor In A Supporting Role
Heath Ledger – The Dark Knight
Phillip Seymour Hoffman – Doubt
Dev Patel – Slumdog Millionaire
Robert Downey Jr. – Tropic Thunder
Josh Brolin – Milk
WINNER: Heath Ledger – The Dark KnightOutstanding Actress In A Lead Role
Kate Winslet – Revolutionary Road
Angelina Jolie – Changeling
Melissa Leo – Frozen River
Anne Hathaway – Rachel Getting Married
Meryl Streep – Doubt
WINNER: Meryl Streep – DoubtOutstanding Actor In A Lead Role
Mickey Rourke – The Wrestler
Brad Pitt – The Curious Case of Benjamin Button
Sean Penn – Milk
Frank Langella – Frost/Nixon
Richard Jenkins – The Visitor
WINNER: Sean Penn – MilkOutstanding Performance by a Cast in a Motion PictureDoubtThe Curious Case Of Benjamin ButtonSlumdog MillionaireFrost/NixonMilkWINNER: Slumdog MillioniareDiscuss: What do you think of the winners?