Sundance Reviews: Adam, Arlen Faber, And Brief Interviews With Hideous Men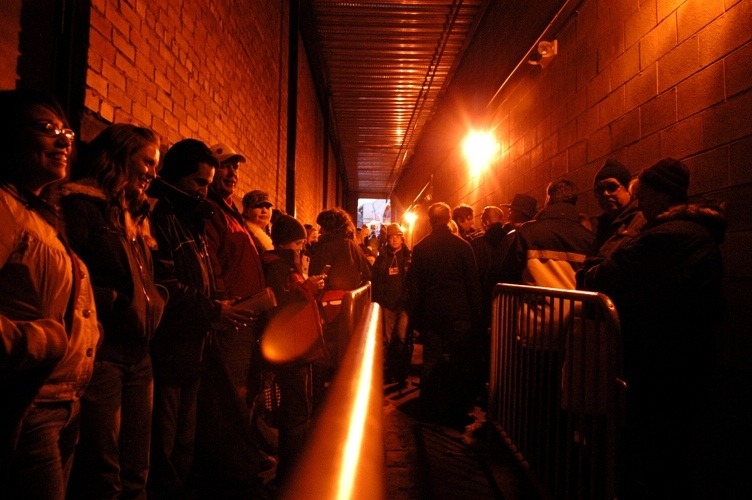 I'm still extremely behind on Sundance reviews. After the jump you will find my mini-reviews for Adam, Arlen Faber and Brief Interviews with Hideous Men. Enjoy.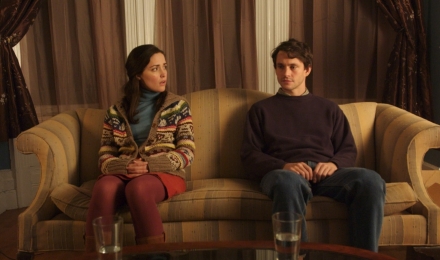 Fox Searchlight's big purchase at the 2009 Sundance Film Festival is a wonderful little relationship film called Adam. I've been calling Adam the second part of the aspergers syndrome series at Sundance, which began with the opening night film Mary and Max. Both films are relationship pieces of men with border-line autism living in New York City. I don't think I've ever seen a movie that featured a character with aspergers syndrome over the course of my entire cinematic viewing life, so it's very strange that two such films got selected to be in this year's festival line-up.
Written and directed by television director Max Mayer, Adam tells the story of a lonely 20-something-year-old man living with aspergers syndrome in New York City. When an aspiring writer / working teacher moves into his apartment building, the two enter into a friendship that hopes and tries to be more. But with Adam's mental disability, can it? Extremely touching and sweet, the film hits all the right notes without crossing the lines of cheesiness. Rose Byrne has Rachel Weisz-like qualities, and Hugh Dancy delivers a wonderful performance as Adam (possibly because, he never went full retard).
/Film Rating: 8 out of 10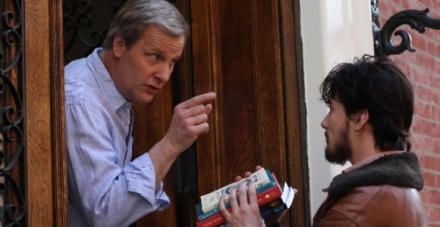 Arlen Faber has all the makings of a great little indie film. A great script which attracted a great cast,  including Jeff Daniels, Lauren Graham, Lou Taylor Pucci, and indie circuit cuties Kat Dennings and Olivia Thirlby. But over the past week, I've been hearing festival-goers complain that the result is something like a Hallmark channel movie. I'll admit, that first-time director John Hindman's cinematic framing is a little made-for-television in style, and while the film ends very predictably, the journey is still worth taking.
Daniels plays a reclusive author, who 20 years ago penned a book called Me & God which was a huge sensation. Faber has refused to do any interviews, or make any public appearances. And while people think he must have all the answers due to his "direct connection to God", he's actually a pretty miserable human being. When his back gives out on him, the injury forces him to leave his shut off world and see a back therapist. He also agrees to trade excess books he's looking to get rid of to a recovering alcoholic independent book shop owner who has found out where he lives.
With that synopsis alone, you should be able to figure out exactly how the film ends, but as I said earlier, that doesn't make this film any less worth watching. Hindman's sharp dialogue is the saving grace that will keep your interest. And Thirlby and Dennings provide more than enough reason to sit through the slower moments.
/Film Rating: 7 out of 10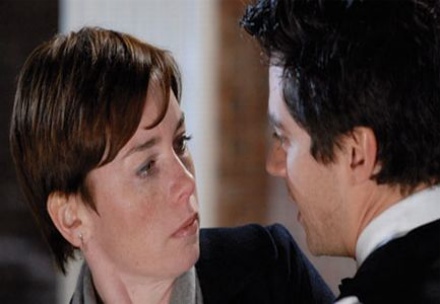 Brief Interviews with Hideous Men is not a movie. Or to be completely fair — it's barely a movie. Based on the book by David Foster Wallace, and directed by The Office star John Krasinski, Hideous Men is a series of interviews, poorly strung together with a sad excuse of a narrative. The film is almost like an anthology of short films, but most of the short films lack visual storytelling.That said, I was impressed by the performances by the ensemble cast, and enjoyed Wallace's writing enough to possibly pick up the book, but as a movie it is just a failed experiment gone wrong./Film Rating: 4 out of 10