Sundance Mini-Movie Review: An Education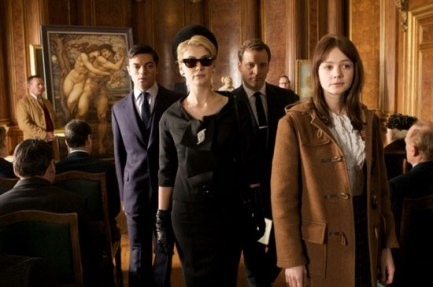 An Education: Subject to an intense bidding war at this year's Sundance, An Education has been sold to Sony Pictures Classics, which most likely means that nobody is going to see it unless it gets nominated for some awards at years end. The good news is that Carey Mulligan's performance is nominatable. This is the type of film that you watch and say "WOW, who is this girl? Where did she come from?" Mark this on your wall right now – Carey Mulligan is going to be huge. I'm 100% convinced of this!
The story is adapted from Lynn Barber's memoirs by British novelist Nick Hornby, best known to Americans as the writer of the books High Fidelity, About A Boy and Fever Pitch. Jenny is a top A-level student who has hopes of attending university at Oxford in the early 1960's, but she meets a charismatic older man (Peter Sarsgaard) who offers an exciting alternative of seeing and experiencing life. An Education is a beautiful film about the loss of innocence. It's extremely smart, sharply written, and almost feels like a of the classic films from the 1960's.
/Film Rating: 8 out of 10