Tracking The Piracy Of 2008 Oscar-Nominated Films

Ever since the advent of DVD and bittorrent technology, it's been inevitable: Studios that send out screeners to Academy members inevitably see those films end up pirated and downloaded on torrent sites. But just how extensive is the problem, and how has its pervasiveness changed over time?
In his post, "Pirating the 2009 Oscars," Andy Baio from Waxy.org has put together a stunning and comprehensive analysis. Baio has been monitoring Oscar films and their rates of piracy for the past 6 years, most recently adding the 26 nominees for this year's upcoming Oscar ceremony, which makes his list encompass a solid 211 films in total. Hit the jump for some of this year's statistics.
Over the past few years, the vast majority of Oscar-nominated films have typically been available online in a high-quality format come Oscar time. This year doesn't change that trend at all. Out of the 26 films that received Oscar nominations, 24 of them are available online in DVD quality (the only ones excluded are Rachel Getting Married and Changeling, the latter of which is available as a low quality telecine transfer).
Academy members received screeners for at least 20 out of the 26 nominated films.
The average time from the time high-quality screeners are received by Academy members to the time they are leaked online is 6 days.
Compared to past years, Oscar-nominated movies this year actually took longer to show up online in any format (such as a cam) after their initial theatrical release, with the median time clocking in at 11 days. Baio attributes this to either a crackdown on cameras in theaters, or less online demand for Oscar nominated films in general this year.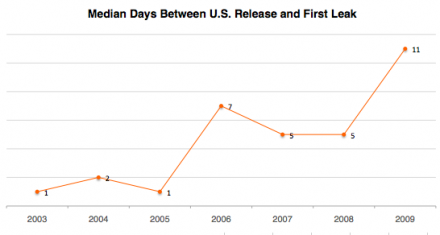 Make sure you check out the full post for all the details, and the Google Doc that tracks the raw data and statistics. If you're into movies, statistics, piracy, or some combination of those three, this post is your dream come true.