Watchmen Soundtrack And Score Details Revealed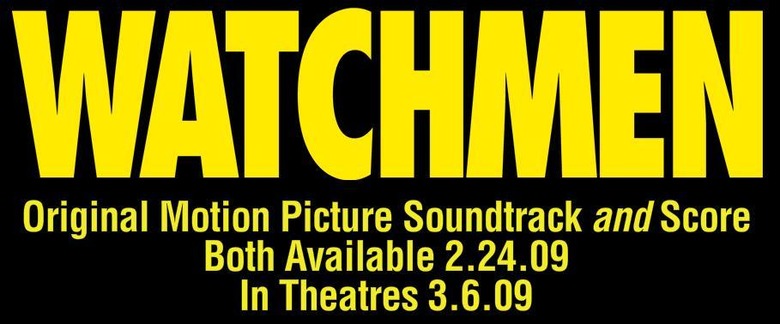 We may receive a commission on purchases made from links.
In a press release today, Warner has revealed that they "will release both the soundtrack and original score to the feature film Watchmen on March 3rd — three days before the March 6th release of the highly anticipated feature film." Bizarrely, when you head on over to the soundtracks' main site, http://www.watchmenmusic.com, the date very clearly says February 24, 2009. For now I'll assume that the website is correct, since it can be easily corrected and press releases are forever (this post will be corrected later if that turns out not to be the case).
From the press release:
Music From The Motion Picture Watchmen , the film's official soundtrack, includes My Chemical Romance's powerful reinterpretation of Bob Dylan's "Desolation Row," recorded exclusively for the film. The soundtrack also features a collection of classic songs by such artists as Nat King Cole, Simon & Garfunkel, and Janis Joplin, which, once heard in the context of the film, will never be thought of the same way again.
Watchmen Original Motion Picture Score features music by recording artist, composer, and music producer Tyler Bates, who was asked to score the film by Watchmen director Zack Snyder...Music From The Motion Picture Watchmen and Watchmen Original Motion Picture Score will be released in multiple fan-friendly configurations: The physical CD, and a digital album will be available on March 3rd, and a vinyl edition of the soundtrack will be released on March 17th.
Watchmen Music Collectors Edition 7" Box Set will be released on March 24th. The box set contains 7 double-sided 7" picture discs of each Watchmen character on one side, and images in the likeness of the graphic novel on the other. The Watchmen Music Collectors Edition 7" Box Set will include My Chemical Romance's "Desolation Row," along with 13 tracks by Tyler Bates.
Sounds like there will be some pretty sexy and geektastic ways to own these soundtracks. The press release also points out that Bates scored Tales from the Black Freighter, which will appear on the DVD, a sign of Warner's commitment to delivering us as much of the story as possible, even if it's only in a home video format. I'm still not sold on Bates involvement yet (go here for his filmography) but I'm willing to give him a chance and see if he'll produce something truly memorable this time around.
Hit the jump for the full track listings of both the soundtrack and the score. Beware that minor spoilers are contained in the track titles as usual, so if you aren't familiar with the Watchmen graphic novel, go out, buy it and read it first.
Music From The Motion Picture Watchmen track-listing is as follows:
1. Desolation Row – My Chemical Romance
2. Unforgettable – Nat King Cole
3. The Times They Are A-Changin' – Bob Dylan
4. The Sound Of Silence – Simon & Garfunkel
5. Me & Bobby McGee – Janis Joplin
6. I'm Your Boogie Man – KC & The Sunshine Band
7. You're My Thrill – Billie Holiday
8. Pruit Igoe & Prophecies – The Philip Glass Ensemble
9. Hallelujah – Leonard Cohen
10. All Along The Watchtower – Jimi Hendrix
11. Ride of the Valkyries – Budapest Symphony Orchestra
12. Pirate Jenny – Nina Simone*
* – used in the end credits of the "Tales From The Black Freighter" DVD.
Watchmen Original Motion Picture Score track-listing is as follows
1. Rescue Mission
2. Don't Get Too Misty Eyed
3. Tonight The Comedian Died
4. Silk Spectre
5. We'll Live Longer
6. You Quit!
7. Only Two Names Remain
8. The American Dream
9. Edward Blake – The Comedian
10. The Last Laugh
11. Prison Fight
12. Just Look Around You
13. Dan's Apocalyptic Dream
14. Who Murdered Hollis Mason?
15. What About Janie Slater?
16. I'll Tell You About Rorschach
17. Countdown
18. It Was Me
19. All That Is Good
20. Requiem (Excerpted from Mozart's Requiem)
21. I Love You Mom
Source: BusinessWire
You can reach David Chen by e-mailing him at davechensemail(at)gmail.com.