This Week In DVD: Max Payne, Saw V, City Of Ember, The Express, And More
We may receive a commission on purchases made from links.
This Week in DVD is a column that compiles all the latest info regarding new DVD releases, sales, and exclusive deals from stores including Target, Best Buy, Circuit City, and Fry's.
Please don't take the commentary on the movies and TV shows too seriously, as they're meant not to be reviews but rather previews that include the general thoughts and ramblings of a twice-committed DVD addict. The categories represent solely the author's intentions towards the DVDs at hand, and are in no way meant to be a reflection on what he thinks other people should rent or buy. So if he ends up putting a movie you like in the "Skip it" section without having seen it, please keep in mind that the time you could spend leaving a spiteful but ultimately futile comment could instead be used for more pleasant things in life. Like buying DVDs.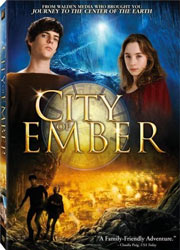 CITY OF EMBER
If you listen to the /Filmcast, you've likely already heard me discuss how surprised I was by this film. It's not amazing by any means, and it certainly has its problems (poor action sequences, unsatisfying climax, etc.), but thanks to the film's unique and engaging story, appropriately clunky yet cool set design, and strong performances from its young leads, it manages to make for a genuinely entertaining old school adventure flick. It's a real shame that it bombed at the box office as poorly as it did.
Blu-ray? No.Notable Extras: Absolutely nothing. Bummer.
BEST PRICE
Target
Best Buy
Circuit City
Fry's
$16.99
$19.99
$17.99
$19.99
Amazon – $19.99
EXCLUSIVE DEAL:What? Save $5 when you buy City of Ember and Igor.Where? Best Buy.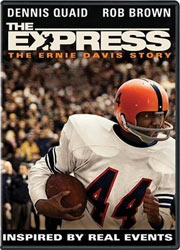 THE EXPRESS
If It weren't for the positive reviews, I probably would've overlooked this movie completely, dismissing it as nothing more than an unnecessary Remember the Titans retread. Granted, I still believe this is true, but at least it appears to be well made and acted. For many, that will be enough.
Blu-ray? Yes.Notable Extras: Audio commentary with director Gary Fleder, featurettes (Making of The Express, Making History: The Story of Ernie Davis, Inside the Playbook: Shooting the Football Games, From Hollywood to Syracuse: The Legacy of Ernie Davis), and deleted scenes.
BEST PRICE
Target
Best Buy
Circuit City
Fry's
$19.99
Amazon – $19.99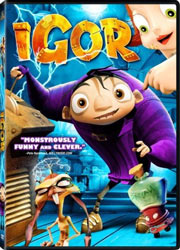 IGOR
This has been an unusual year for CGI films. For arguably the first time since 2001 (with Shrek), we actually have non-Pixar animated films nearing that studio's standards. Among these films are Bolt, Kung Fu Panda, and Horton Hears a Who. Igor, however, is not one of them. Despite an inventive premise that plays on classic monster movie tropes, the response to this movie has been very middling, and it didn't even seem to last a week before being instantly forgotten following its release. I still intend on checking it out though, since I'm a sucker for animated films, and while it may not be one of the best of the year, it certainly doesn't appear to be scraping the bottom of the barrel either (see: Space Chimps).
Blu-ray? Yes.Notable Extras: Deleted scenes, bloopers and a "Be An Igor" featurette.
BEST PRICE
Target
Best Buy
Circuit City
Fry's
$16.99
$19.99
$17.99
$19.99
Amazon – $19.99
EXCLUSIVE DEAL:What? Save $5 when you buy City of Ember and Igor.Where? Best Buy.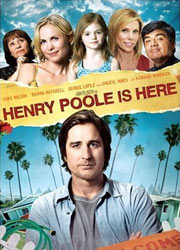 HENRY POOLE IS HERE
The more I read about this film, the more interested I become, and the more I think I'll probably hate it. Those probably sound like two contrasting viewpoints, so allow me to explain: I'm an atheist. This movie is about faith. No, not faith. If what I've read is accurate, it seems this movie is about God, pure and simple. To elaborate, it's about an atheist rejecting the notion of a miracle until eventually he is convinced otherwise by repeatedly being confronted with the undeniable presence of God. Now, I could be wrong, but I really can't see this being handled in a way that's anything other than ham-fisted and completely logic-defying. That said, I still intend on watching it with an open mind, and once I do, I'll report back with my thoughts on the /Filmcast.
Blu-ray? Yes.Notable Extras: Director/writer commentary, a making of featurette, and 2 music videos (All Roads Lead Home, Henry Poole Is Here).
BEST PRICE
Target
Best Buy
Circuit City
Fry's
$19.99
$14.99
$19.99
Amazon – $19.99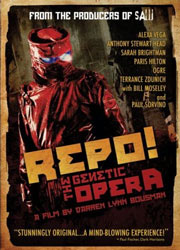 REPO! THE GENETIC OPERA
I have no expectations that this will be a good film in any respect, and yet, my curiosity is piqued enough by it to merit a rental. How the hell do you even describe this film? A dystopian cyberpunk horror/fantasy goth-rock opera? Odds are, this description is far more interesting than the actual film, but I'd be lying if I said I wasn't enticed. It's even enough to convince me to ignore Paris Hilton's presence in the film. It also helps that the film stars Anthony Head, who played Giles in Buffy the Vampire Slayer. Glad to see the guy's getting work!
Blu-ray? Yes.Notable Extras: Two audio commentaries and 2 featurettes (From Stage to Screen, Legal Assassin – A Repo Man).
BEST PRICE
Target
Best Buy
Circuit City
Fry's
N/A
$14.99
$11.99
$14.99
Amazon – $13.99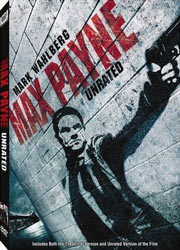 MAX PAYNE(Available as single-disc and Special Edition)
I had heard early word of mouth that this movie was bad, but I didn't want to believe it. "Just because it's based on a video game, that doesn't mean it has to suck!" I repeated these words endlessly before the film's release, right before referring to its badass trailer as proof of its potential. Of course, I did the very same thing prior to the release of Hitman... Apparently I still haven't learned my lesson. Max Payne is the worst kind of bad movie: the boring kind. The only redeeming quality is its cinematography, which makes watching the film a bizarre viewing experience due to the strong contrast of the effective visual style against the terrible direction and acting.
Blu-ray? Yes.Notable Extras: The single disc will include both rated and unrated cuts of the movie, and a commentary with director John Moore and crew. The special edition will include all of that, plus a Picture Production Featurette – Part 1, a Michelle Payne animated graphic novel, and a digital copy of the film.
BEST PRICE*
Target
Best Buy
Circuit City
Fry's
$16.99
$14.99
Amazon – $22.99
*Does not include 2-Disc Edition, which costs $22.99 at each of the listed stores (including Amazon).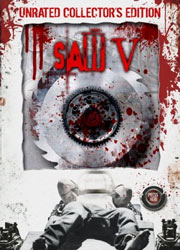 SAW V(Available as rated edition, Unrated Director's Cut and Unrated Collector's Edition)
I'm going to use this paragraph as a placeholder for all future entries in the Saw series that need to be discussed for "This Week in DVD", because hell if I'm going to bother wasting any energy writing something new for every movie when they clearly have no intention of paying audiences the same courtesy. This series has been on repeat since Saw II, simply throwing in a different batch of poorly developed characters to go along with a few familiar faces while they're forced to engage in increasingly more ridiculous death-traps that usually end with something horribly gross and/or gory. And at the end of it all, we're supposed to jump out and shout, "Holy shit, what a shocking twist!" regardless of the cheap storytelling mechanics involved and the massive lapses in logic/believability. If that wasn't enough, you can experience the whole thing once again next Halloween (and sadly, a lot of people are apparently eager to). Talk about depressing.
Blu-ray? Yes.Notable Extras: Both unrated editions will include a director's commentary, a producer's commentary, and 5 featurettes (The Pendulum Trap, The Cube Trap, The Coffin Trap, The Fatal Five, Slicing the Cube: Editing the Cube Trap). Exclusive to the Collector's Edition is a talking box, spinning blade, and collector's booklet.
BEST PRICE*
Target
Best Buy
Circuit City
Fry's
$16.99
$14.99
Amazon – N/A
*Does not include 2-Disc Edition, which costs $22.99 at Target, $27.99 at Best Buy, and $28.99 at Fry's. (Circuit City price N/A.)
EXCLUSIVE DEAL:What? Free Saw V flipbook keychain.Where? Circuit City.Other noteworthy DVDs available this week...Chris Rock: Kill the Messenger – Amusement – Moonlight (The Complete Series) – The Powerpuff Girls (The Complete Series) – The Notebook (Limited Edition Gift Set) – El Norte (Criterion Collection) – The Children of Huang Shi

NOTE: Some deals may be in-store only.

Exclusive: Exclusive Soundtrack with The Notebook (Collector's Edition) ($22.99).$12.99 – The Office (Season 1)$18.99 – Family Guy (Vol. 1 – 6), Nip/Tuck (Seasons 1 – 4)

$19.99 – Firefly (Complete Series), Buffy the Vampire Slayer (Seasons 1 – 6), 24 (Seasons 1 – 5), The Unit (Seasons 1 – 2), Prison Break (Season 1), Burn Notice (Season 1)$5.99 – Kill Bill: Vol. 1, Clerks, Equilibrium, Sling Blade, Good Will Hunting, Gangs of New York, and more...