Sundance Movie Review: Big Fan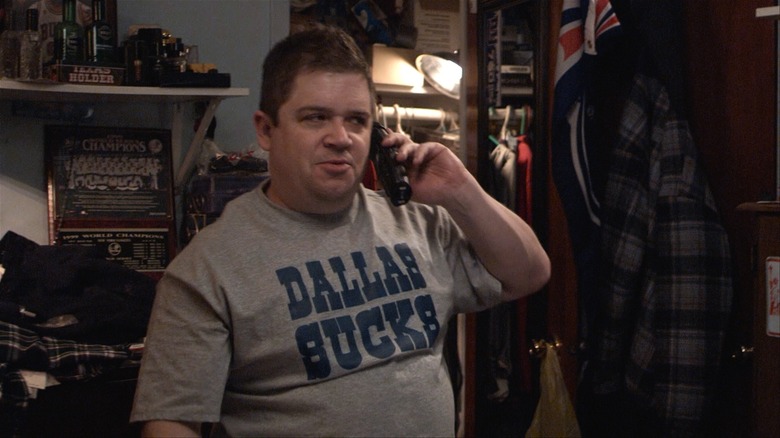 Former Onion editor turned screenwriter Robert D. Siegel goes from The Wrestler to making his directorial debut with Big Fan, a dramedy about a hardcore New York Giants fan played by /Film favorite Patton Oswalt. Paul Aufiero is a parking lot attendant who lives and breathes everything Giants. He spends his free time scripting intense rants against rival teams which he calls into the local Sports Dog radio show. And every game he can be found tailgating outside Giants Stadium.
But his life is turned upside down when he is beaten up by his favorite player and put in the hospital. Not only is he physically hurt, but now his team is losing due to the suspension over the incident. To make matters worse, Paul's brother, an as seen on television lawyer, wants him to file a multi-million dollar lawsuit, and the police keep chasing Aufiero to file a report. But Paul refuses to do any harm to his team, even if it means not getting justice for the beat down he suffered.
Big Fan is not the comedy that I expected going in. Instead it's a well made subtle character study with subtle comic elements. Siegel essentially has taken the same structure for The Wrestler, and applied it to the world of a hardcore sports fanatic. . I'm not a sports fan myself, but I know a lot of friends who are. Everyone knows one of these guys Oswalt nails it, plain and simple. There is one sequence that plays almost entirely with the camera on a closeup of his face. I was surprised to see Oswalt's dramatic range, and that moment in particular, prove he has also has some acting chops.
The story takes a turn into some semi-dark places which you might not expect, and some people might be disappointed that Oswalt's character doesn't change much over the course of the film, but I think that's the point. Hardcore sports fans don't change.
/Film Rating: 7 out of 10