Sundance Movie Review: Brooklyn's Finest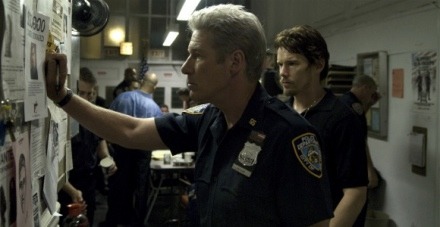 This morning I screened Training Day director Antoine Fuqua's new film Brooklyn's Finest. The film tells the story of three unconnected Brooklyn cops who struggle with the rules that define how they conduct themselves in and off the job. After a vastly different series of events, the three cops collide in one location in the film's tragic climax.
Richard Gere plays Eddie Dugan, a cop with seven days left before his pension is released and he retires from duty. Dugan, who just wants to get through his final days and refuses to go beyond the call of duty, finds himself assigned to a new recruit. Ethan Hawke plays Sal, a married father with a handful of kids and twins on the way. His NYPD salary isn't enough to get them into a bigger house, which his family so desperately needs. Sal finds himself rationalizing the idea of stealing drug money in an on the job drug bust. Don Cheadle is Tango, an undercover cop who longs for a desk job and is assigned to set up a thug named Caz (played by Wesley Snipes) who saved his life in prison.
Hawke and Cheadle's storylines are probably worthy of a film in their own right, but I found Gere's arc completely uninteresting. And that was one of the problems I had with this film — the stories are almost completely unrelated in every single way. Most of the times with these type of films, the character are more connected, either by story or theme. But in Brooklyn's Finest, the characters intersect for seconds and the climax takes place in the same location, but for the most part, the film is comprised of three completely unconnected storylines with themes that are only broadly connected.
It's also a film that takes a while to ramp up, but the time investment you put into the first hour definitely pays off in the second, and especially the final climax. I would be surprised if the last scene is released when the film hits theaters. It felt completely unnecessary and tacked on for dramatic affect. I hope that the filmmakers listen to the festival feedback and remove the scene from the theatrical release.
/Film Rating: 7 out of 10