Box Office: Biggest Martin Luther King Weekend Ever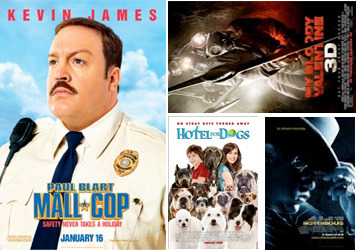 Paul Blart: Mall Cop (Sony) and the Sean Combs'-produced hip hop biopic Notorious (Fox Searchlight) lead a strong-performing quartet of wide releases as Hollywood seems headed for the biggest 4-day Martin Luther King Jr. Holiday weekend in history. I am projecting that the top twelve movies will gross an estimated $209M, 30% better than the previous record best, which was set last year.
DOMESTIC GROSS FOR TOP 12 MOVIES FOR MLK 4-DAY
[followed by #1 movie for the period and 4-day gross]
2008 – $158.9M [Cloverfield - $46.1M]
2007 – $118.8M [Stomp the Yard - $25.8M]
2006 – $125.4M [Glory Road - $16.9M]
2005 – $142.7M [Coach Carter - $29.1M]
2004 – $114.2M [Along Came Polly - $114.2M]
2003 – $120.8M [Kangaroo Jack - $21.8M]
2002 – $129.5M [Black Hawk Down - $33.6M]
2001 – $146.5M [Save the Last Dance - $27.5M]
2000 – $100.5M [Next Friday - $16.9M]
1999 – $101.7M [Varsity Blues - $17.5M]
The 2008 MLK 4-day was led by JJ Abrams' monster movie Cloverfield ($46.1M opening), but this year there are multiple hits with four new wide releases topping $20M.
Paul Blart: Mall Cop (Sony), a big, dumb comedy featuring King of Queens star Kevin James, scored about $9.5M on Friday, and that will probably translate to a spectacular $36M. James is a likeable enough comedy star, and he has worked this movie very hard doing lots of local radio, chasing the male audience with appearances on ESPN, and he's coming off the very successful I Now Pronounce You Chuck & Larry ($34.2M opening – $120M cume) with Adam Sandler in 2007.
Early reviews for Paul Blart: Mall Cop are awful (28% Fresh on Rotten Tomatoes), but the movie, written by James and produced by Sandler, has connected with Males Under 25. It's the same comic sensibility as this summer's Sandler vehicle You Don't Mess with the Zohan ($38.5M opening – $100M cume), and it's remarkable that James has been able to open Mall Cop almost as big.
Biggie Smalls is proving to be much bigger than anyone expected. Notorious, a biographical film about rapper Notorious B.I.G. starring newcomer Jamal Woolard in the title role, has sold an estimated $9M in opening day tickets despite being on just 1,638 screens.
The generally well-reviewed film (51% Fresh on Rotten Tomatoes), is playing huge with urban audiences and Fox Searchlight has carefully selected the right locations to maximize the picture's gross. I am projecting that Notorious could reach $29M for 4-days. Sean "Diddy" Combs is producer, and he has surrounded Woolard with excellent actors, including Oscar nominee Angela Bassett as Biggie's mom, Independent Spirit Award nominee Anthony Mackie (The Hurt Locker) as Tupac Shakur and Antwone Fisher's Derek Luke as Combs himself.
A pudgy guy on a Segway and a superstar East coast rapper have chased Walt Kowalski from the #1 spot, but Clint Eastwood's Gran Torino (Warner Bros) is still proving to be strong in its second weekend of wide release. The surprise Eastwood-directed hit, which may just earn him a Best Actor nomination when the Oscar announcement comes Thursday morning, grabbed another $6.5M to start the weekend (#4 for the day), and it will have banked another $26.65M or so by Monday night. That will give Torino a new domestic take of $77.64M, making it the fifth-biggest grossing movie of Clint's career.
ALL-TIME TOP 5 CLINT EASTWOOD MOVIES
1. In the Line of Fire – $102.3M cume
2. Unforgiven – $101.1M cume
3. Million Dollar Baby – $100.5M
4. Space Cowboys – $90.4M cume
5. Gran Torino – $77.64M cume (projected by Tuesday)
Checking in at #4 is the new Dreamworks/Paramount family comedy Hotel For Dogs, which scored an estimated $4.7M to start the weekend (#5 for the day). As the only new kid-friendly picture in the market, this live action dog movie will attract plenty of teens and tweens at matinees on Saturday, Sunday and Monday, and Hotel For Dogs may reach $26.32M for the 4-day.
The likely fifth-place finisher for the 4-day will be the new My Bloody Valentine 3-D (Lionsgate). This remake of the 1981 cult horror classic has 2,534 playdates, and it is the widest-ever modern 3-D release with 1,033 screens. Reviews are surprisingly good (70% Fresh on Rotten Tomatoes), although the raves are different from the ones reserved for awards contenders. For example, Kevin Carr from a website called 7M Pictures, says, "Body parts are lopped off. Pick axes are stabbed at the camera. There's even a completely naked girl chased by the killer, in glorious 3D. This movie spoke to me."
Lionsgate is masterful at marketing this sort of genre pic, and the all new 3-D technology is truly spectacular. It all adds up to an excellent third-place finish Friday with $7.5M, and the slasher flick seems headed for a possible $22.5M. This is the sort of strong performance for a 3-D title that may encourage more exhibitors to add digital projection to theatres so that they can show upcoming 3-D movies like the animated Coraline (Focus) on February 6, Jonas Brothers: The 3-D Concert Experience (Disney) on February 27 and Monsters & Aliens from Dreamworks Animation coming March 27 (although the cost of converting to digital continues to be a huge burden at $100,000 per screen).
Finally, Edward Zwick's Defiance (Paramount Vantage), the PTA champ for the past two weekends, has expanded to 1,789 playdates, and it has scored a nice upside surprise. With a cast that includes Daniel Craig (Quantum of Solace), Live Schriber (The Manchurian Candidate) and Jamie Bell (Billy Elliot), the film has failed to generate much love from awards voters, but it is selling tickets. Defiance seized $2.9M on its first day of wide release, and it seems headed for a possible $12.47M by Monday night.
EXCLUSIVE STEVE MASON EARLY FRIDAY ESTIMATES
1. NEW – Paul Blart: Mall Cop (Sony) – $9.5M, $3,022 PTA, $9.5M cume
2. NEW – Notorious (Fox Searchlight) – $9M, $5,495 PTA, $9M cume
3. NEW – My Bloody Valentine 3-D (Lionsgate) – $7.5M, $2,960 PTA, $7.5M cume
4. Gran Torino (Warner Bros) – $6.5M, $2,187, $57.49M cume
5. NEW – Hotel For Dogs (Dreamworks/Paramount) – $4.7M, $1,437 PTA, $4.7M cume
6. Bride Wars (Fox) – $3.55M, $1,100 PTA, $29.37M cume
7. Defiance (Paramount Vantage) – $2.9M, $1,621 PTA, $3.24M cume
8. Marley & Me (Fox) – $2.3M, $779 PTA, $128.7M cume
9. The Unborn (Rogue) – $2.2M, $933 PTA, $25.43M cume
10. The Curious Case of Benjamin Button (Paramount) – $1.7M, $765 PTA, $98.72M cume
11. Bedtime Stories (Disney) – $1.65M, $630 PTA, $100.55M cume
12. Slumdog Millionaire (Fox Searchlight) – $1.3M, $2,234 PTA, $38.13M cume
EXCLUSIVE STEVE MASON EARLY 4-DAY ESTIMATES
1. NEW – Paul Blart: Mall Cop (Sony) – $36M, $11,450 PTA, $36M cume
2. NEW – Notorious (Fox Searchlight) – $29M, $17,705 PTA, $29M cume
3. Gran Torino (Warner Bros) – $26.65M, $8,967, $77.64M cume
4. NEW – Hotel For Dogs (Dreamworks/Paramount) – $26.32M, $8,046 PTA, $26.32M cume
5. NEW – My Bloody Valentine 3-D (Lionsgate) – $22.5M, $8,879 PTA, $22.5M cume
6. Bride Wars (Fox) – $14.91, $4,619 PTA, $40.73M cume
7. Defiance (Paramount Vantage) – $12.47M, $6,970 PTA, $12.81M cume
8. Marley & Me (Fox) – $10.58M, $3,584 PTA, $136.98M cume
9. Bedtime Stories (Disney) – $9.3M, $3,551 PTA, $108.2M cume
10. The Curious Case of Benjamin Button (Paramount) – $7.5M, $3,347 PTA, $104.52M cume
11. The Unborn (Rogue) – $7.92M, $3,357 PTA, $31.15M cume
12. Slumdog Millionaire (Fox Searchlight) – $5.59M, $9,605 PTA, $42.42M cume