Astro Boy Just Scrapes Through Close Call With The Recession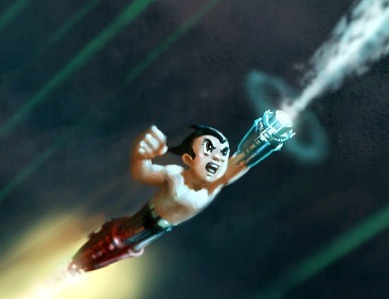 The capitalist world is in a new kind of mess, and filmmakers are getting stiffed in the stink just like everybody else.
The highest profile case was possibly David O. Russell's Nailed, which was shut down on multiple occaisons over funding shortages; Spielberg's Tintin also suffered from notorious trouble raising it's budget too; and just this week, Spielberg had to dip into his own pocket to help fluff up the Dreamworks coffers.  Less obviously though, there will have been several close calls behind the scenes, and Forbes magazine have detailed just one: the production of Imagi's Astro Boy.
Last November, with the film's production in full swing, the staff slaved away completely unawares that "they were at risk of losing their jobs or that the promising movie they were working on might not make it to the big screen."
Imagi's chief exec had just been at the American Film Market and the prognosis was grim.  I dread to think how it's going to look this year – or maybe I'm just being pessimistic.  Perhaps Peter can report back from Sundance on how the market side of things seem to be going and either put our minds at rest or spike them with nightmares.
The full story of Imagi's funding woes features money coming, going and, just in the nick of time, coming again.  And, meanwhile, we didn't know a thing – we just concentrated on the foreground, on the production art being released, or the casting news breaking. Thankfully, the studio now seems set to bring the modestly budgeted film to fruition, and without scrimping on effort and passion.  Whether I like the film or not – and I love Tezuka, so fingers crossed – I certainly won't take it for granted.