Undead Update: Mila Kunis And Emma Stone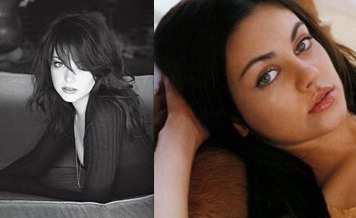 Two entirely different starlet/zombie updates in one for you.
Firstly, Variety are reporting that Emma Stone is in her final negotiations to appear alongside Woody Harrelson in Ruben Fleischer's Zombieland.  Stone is the B&W one in the image above, in case you didn't know. Stone's first film was Superbad, and since then she's gone on to be one of the best things in both The House Bunny and The Rocker.  Indeed, the moments in The House Bunny that featured just Stone and Anna Faris were incredibly well played, no matter how lacklustre the script, and it would have been my hunch, as director, to just get those two riffing off of one another as much as possible.
Aint It Cool have a report from a would-be flesh-eating extra in Zombieland, which quotes director Fleischer on some interesting details of the particular brand of zombie we can expect to see:
"Our Zombies are ferocious, infected people that move erratically. They are diseased, as opposed to undead. These are not the lumbering walking dead of Romero's zombie movies, but instead the super jacked up 28 Days Later / Dawn of the Dead (2004) zombies. They are scary and gnarly and gross.
Okay, so they aren't undead at all – but before you try and sue me for misleading advertising, try the makers of Zombieland.  What do they think a zombie is anyway?  Maybe they should rename it Rabidpeopleland.
What of the other Miss?  Well, Mila Kunis hasn't signed up for a zombie movie – not as far as we know, anyway. What she has done, however, is pose as a living corpse for some kind of photoshoot in the street in California.  Here are a couple of paparazzi shots of the photo shoot taking place.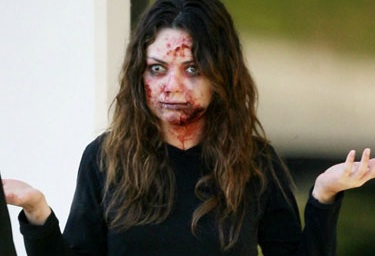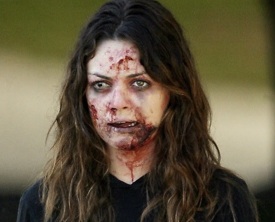 There are more of those pictures online, though your guess is as good as mine as to what they're for.  Hopefully we'll not be disappointed (concealer commercial?) when we find out soon.