Warner Brothers And Fox Have Reached A Settlement Over Watchmen!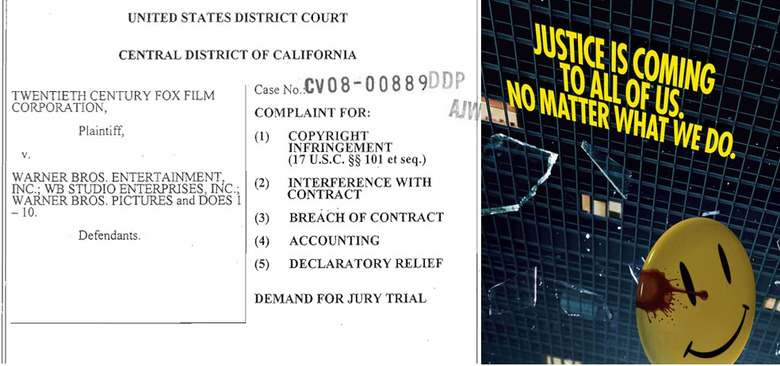 Earlier today, we dared to hope that Fox and Warner Brothers might settle their beef over Watchmen this afternoon. Now, The Hollywood Reporter claims that a settlement has been reached:
Warner Bros. and Fox have resolved their dispute over Watchmen, with the studios scheduled to present the settlement to Judge Gary Feess on Friday morning and request that the case be dismissed. Terms of the agreement will not be disclosed, but it is said to involve a sizable cash payment to Fox and a percentage of the film's box office.
Although Feess originally ruled that Fox retained the rights to at least distribute the film, it will not do so under the terms of the settlement agreement, nor will Fox retain any future rights to the Watchmen property [while Warners issued no comment about the settlement, THR says a Fox spokesman said "no final deal had been reached."]. We'll see how things play out tomorrow morning, but if everything goes smoothly, it looks like we'll be able to see Watchmen come March 6th, as we'd always hoped.
With Fox's lawsuit seemingly over, a number of other questions now emerge. What will become of the relationship between Warner Brothers and producer Larry Gordon? Warners may try to extract reimbursement from Gordon for legal fees incurred during this entire mess. Additionally, with the cost of the film, legal fees, production and marketing, plus the fact that they're already splitting the distribution of the film with Paramount (and that they co-financed the film with Legendary Pictures), the bigger question is: Will Watchmen be financially successful enough to make it all worth Warner Brothers' time and money? What do you think?