Zack Snyder's Sucker Punch Aiming For March 2011 Release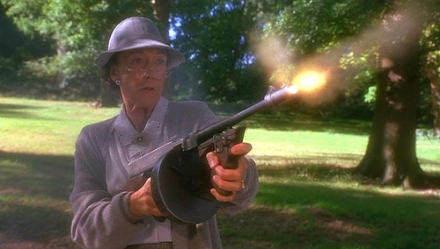 Editor's Update: Zack Snyder just confirmed to Collider most of our previous story, saying that he plans to begin filming in Fall 2009, aiming for a March 2011 release (300 was released on March 9th 2007, Watchmen hits on March 6th 2009, so I'm guessing the release date for Sucker Punch could be March 11th 2011.) Snyder also called the film an R-Rated "cool action movie".
Zack Snyder announced plans for Sucker Punch last March, calling it "Alice in Wonderland with machine guns".  According to Uber Slasher Peter Sciretta, "the story is set in the 1950's, and follows a girl who is confined to a mental institution by her evil stepfather, who intends to have her lobotomized in five days. While imprisoned, she imagines an alternative reality to hide her from the pain. In this fantasy world, where she needs to steal five objects to help her out before she is deflowered by a vile man."  There's definitely some Pan's Labyrinth, Return to Oz and I Never Promised You a Rose Garden as well as Alice there, intentionally or not.
Production is going to kick off in Vancouver this June, with pre-production scheduled to get underway in March, presumably after the Watchmen publicity Merry-go-Round stops with the creepy Calliope music.  By my reckoning, that means we can look forward to production vodcasts in, ooooh, September or so?
The central role here is going to be a starmaker.  I recall that in the last week running up to 300, Lena Headey was in the top 3 most searched women on the internet – let's call this the Snyder effect and see if the term sticks.  Or not.  Be warned, any actress going up for the part: any less than tasteful pictures in your past could become Google hot property.
Production Weekly are calling the film Zack Snyder's Sucker Punch, but aren't explicitly naming him as director.  I think it's fair to assume that's what they mean however, seeing as how alive and well that ridiculous Auteur Theory is.  The screenplay has been written by Snyder and Steve Shibuya, who started the whole thing off with a short story that I haven't been able to find anywhere.
Where this leaves the animated Guardians of Ga'Hoole, I'm not sure but I see no reason why Snyder can't spin up one live-action and one animated film at the same time, ala Tim Burton with Charlie and the Chocolate Factory and The Corpse Bride, especially if Ga'Hoole has an toon-experienced co-director.
Oh – and one last thing.  How about shooting this in 3D, Mr. Snyder?  I'd even chip into the budget to make that happen – you can have everything I've got in my pocket.  Do camera rental houses take used tissues?