Box Office Tracking: Mall Cop To Unseat Clint Eastwood?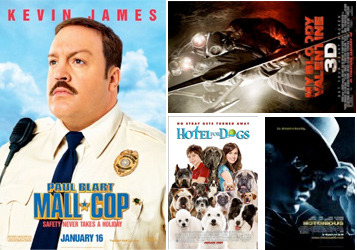 The Martin Luther King Jr. holiday weekend brings four new wide releases to America's multiplexes along with one major expansion. The Monday holiday means stronger-than-average business on Sunday and a bonus fourth day of steady sales, especially for younger-skewing movies. The battle for first place appears to pit an overweight security guy on a Segway against Clint Eastwood's "Get off my lawn" tour de force in Gran Torino (Warner Bros).
Just the fact that 78-year old Eastwood is in the conversation is a stunning upset. The industry expected a mid-teens expansion last weekend for what could be Clint's final acting performance, and instead, the super-charged Torino tapped into a much larger audience to the tune of almost $30M. As expected, the movie played well with the 50+ crowd (40% of its audience last weekend), but 25% of ticket buyers were under the age of 25. Word-of-mouth is very positive as the political incorrectness of Eastwood's Walt Kowalski character gives the picture plenty of laughs along with its poignant, redemptive ending.
I am predicting that Gran Torino may add another $25M over the long four-day weekend with a new cume of $77.17M by Tuesday morning. That would make this modestly-budgeted movie, based on Minneapolis native Nick Schenk's first screenplay, Eastwood's all-time fourth biggest movie as an actor.
ALL-TIME TOP 5 CLINT EASTWOOD MOVIES
1. In the Line of Fire – $102.3M cume
2. The Unforgiven – $101.1M cume
3. Million Dollar Baby – $100.5M
4. Gran Torino – $77.17M cume (predicted by Tuesday)
5. Space Cowboys – $90.4M cume
With the odds of a Best Actor nomination improving by the day, there is no question that Gran Torino will wind up as Eastwood's biggest-grossing movie ever with $120M-$125M possible.
This weekend, Eastwood will likely have to settle for second with Kevin James leaving him in a cloud of dust from a Segway. Sony knows how to score with a big, dumb PG-rated comedy, and Paul Blart: Mall Cop seems right on the money. Produced by Adam Sandler, who co-starred with James in 2007's I Now Pronounce You Chuck & Larry ($34.2M opening – $120M cume), Mall Cop will not be a critic's darling, but industry tracking points toward a nice opening in the $26M-$30M range, which will likely be enough to win the 4-day.
My hunch is that My Bloody Valentine 3-D (Lionsgate), a high tech remake of the 1981 cult horror classic, could scare up enough business for third place. Sources are telling me that the picture is set to open with 2,534 playdates, but only 1,033 will be in 3-D. Although Hollywood has over 30 major 3-D motion pictures on the way, the cost for a movie theatre to add the capability is a huge barrier to adoption.
3-D sounds very old fashioned, but this is not the same cheesy, clunky, ineffective-style 3-D that you may remember (including those glasses made of cardboard with red and blue cellophane). If you have not witnessed the new generation of 3-D, as seen in 2007's Beowulf ($27.5M opening – $82.2M cume), last year's Hannah Montana/Miley Cyrus Best of Both Worlds Concert Tour movie ($31.1M opening – $65.2M cume) and Bolt ($26.2M opening – $111.8M cume thru Tuesday) from over the holidays, you are truly missing out.
The problem isn't Real D, the primary 3-D technology component provider. That's a reasonably inexpensive purchase for theatre chains and independent theatre owners, along with a license fee paid on a per picture basis. The reason that My Bloody Valentine will only be seen in 3-D on 1,033 screens is that in order to show 3-D, a theatre must be upgraded to digital projection.
There is no question that digital projection is the future of the movie business. Traditional projectors, cans of film, building up (and then tearing down) a print will someday be history. No more breaks in a film or scratches on the image you see on the big screen. Digital allows for a crystal clear, perfectly projected image every time, and it arrives to a theatre, for all intents and purposes, via digital file. No film is necessary. But the cost of a digital projection system is about $100,000 per screen.
The major movie chains and the big six studios had a deal for $1 billion in financing in place late last year that would have upgraded as many as 15,000 theatres to digital, but while the parties argued about how much debt the parties would each take on, the economy melted down and the credit markets froze. My Bloody Valentine is the first 3-D title of 2009, but it will quickly be followed by the animated Coraline (Focus) on February 6, Jonas Brothers: The 3-D Concert Experience (Disney) on February 27 and Monsters & Aliens from Dreamworks Animation coming March 27. And, the year's multidimensional titles keep coming, culminating with Avatar (Fox) from James Cameron, in his first narrative movie since Titanic. That 3-D outer space epic is budgeted at $200M. How many of America's 40,000 screens will be equipped with both digital projection and Real-D by December 18? That is a huge question for Cameron, Fox and the movie business in general.
There is progress. Disney's Bolt, which was released in November, opened on 982 3-D screens, so My Bloody Valentine is the widest modern 3-D opening yet. Most people have pegged this unapologetic R-rated slasher pic for mid-teens, but I believe it has a shot at $20M. If MBV tanks, it may actually slow digital conversion. If the movie out-performs expectations, exhibitors may be more motivated to speed the process and credit may flow a bit more freely to install digital at more theatres more quickly.
I am anticipating that the live action family film Hotel For Dogs (Dreamworks/Paramount) will perform well over the 4-day. Early reviews are tepid (42% Fresh on Rotten Tomatoes as of Wednesday night), but after recent hits like Beverly Hills Chihuahua ($94M cume) and Marley & Me ($125M so far), I can say that movies about dogs should never be underestimated, and there is always room for a family film over MLK weekend.
Emma Roberts from Nickelodeon's Unfabulous, who failed to ignite the 2007 film version of Nancy Drew ($25.6M domestic) stars alongside Jake T. Austin, presently starring in Disney Channel's Wizards of Waverly Place. They play orphans who secretly take over an abandoned hotel and become caretakers for every impossibly cute stray dog that they can. As long as it's well-meaning and family-friendly, and by all accounts it is, my prediction is for $18M-$21M.
The Kate Hudson-produced Bride Wars (Fox) will likely round out the top five with something in the $14M range, which will give it just shy of $40M in the bank by Monday night. The commercial success of this movie may help raise co-star Anne Hathaway's profile just as Oscar voters consider her performance in Rachel Getting Married for Best Actress (nominations will be announced next Thursday, January 22).
Notorious (Fox Searchlight), the new biopic about rapper Biggie Smalls, is garnering decent reviews (53% Fresh on Rotten Tomatoes), and there is potential for an upside surprise here. Sean "Diddy" Combs is the producer of this hip hop-based movie with newcomer Jamal Woolard in the title role of Notorious B.I.G.. Oscar nominee Angela Bassett plays Biggie's mom, Independent Spirit Award nominee Anthony Mackie (The Hurt Locker) plays Tupac Shakur and Antwone Fisher's Derek Luke plays Combs. Limited to 1,600 or so carefully-targeted locations, I am looking for about $10M, but tracking may not fully reflect the audience for this one.
Finally, Edward Zwick's Defiance (Paramount Vantage), the PTA champ for the past two weekends, will expand to about 1,500 playdates, but there doesn't appear to be much upside here. Despite being named one of the top ten films of 2008 by the National Board of Review, this film has received choppy reviews (53% Fresh on Rotten Tomatoes) and has failed to muster much in the way of awards potential. My prediction a possible $7.31M or so.
FINAL WEEKEND 4-DAY MLK WEEKEND PREDICTIONS FOR JANUARY 16-19
1. NEW – Paul Blart: Mall Cop (Sony) – $29.6M
2. Gran Torino (Warner Bros) – $25M
3. NEW – My Bloody Valentine 3D (Lionsgate) – $20.5M
4. NEW – Hotel For Dogs (Paramount) – $19.74M
5. Bride Wars (Fox) – $13.78M
6. NEW – Notorious (Fox Searchlight) – $10M
7. The Curious Case of Benjamin Biutton (Paramount) – $8.21M
8. Defiance (Paramount Vantage) – $7.31M
9. Slumdog Millionaire (Fox Searchlight) – $7.38M
10. The Unborn (Rogue) – $6.93M
11. Marley & Me (Fox) – $6.62M
12. Bedtime Stories (Disney) – $5.28M