John Carter Of Mars To Begin Casting Phase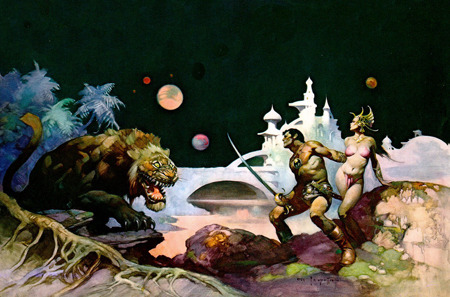 Production on the big screen adaptation of John Carter of Mars is progressing. Pixar director Andrew Stanton tells Scifi that they have begun to look at potential actors for the live-action project.
"I'm on my next draft of it. We're in preproduction art-wise, and we're starting to talk to actors. So it's full bore," Stanton said at the Los Angeles Film Critics Association award ceremony on Monday.
And for the first time ever, Stanton admitted that the film will probably be done in live action. This has pretty much been known, but Stanton has remained cagey about the idea in public interviews until now. For example, Stanton told me in June that "I certainly have to keep [live action] an option because that's one of the avenues on the table that exists." Of course, the film's many creatures will be created using CG.
"But it will feel real, Stanton insists. "The whole thing will feel very, very believable."
Pixar co-founder and president Ed Catmull told attendees of the SIGGRAPH computer graphics conference in August that Pixar will not be entering the special effects business.
"We've got two projects coming where there's a live action element. But our view is not that we're trying to diversify; it's more that we've got a creative vision to try something different, and we want to support that vision," Catmull said. "Whether or not it goes beyond that we don't know, but we don't want to turn Pixar into a live action studio. In fact, the intent is that the special effects will not be done at Pixar... We are not trying to become a special effects company."
Stanton confirms that ideal, clarifying that the film will be a Disney production, despite much of the pre production process taking place in the Pixar environment. But that doesn't mean the film will be a dumbed down family film.
"This story of John Carter is not going to be an all-ages film," says Stanton, who claims the film will at least be PG-13. "If you do the story right, there's no way you couldn't."
Head on over to SciFi to read the full interview. Stanton is saying all the right things, and hey, it helps that he's created two of the best films of the last decade – WALL-E and Finding Nemo.