Box Office Tracking: Bride Wars May Hold Off Marley & Me And Gran Torino For Weekend Win!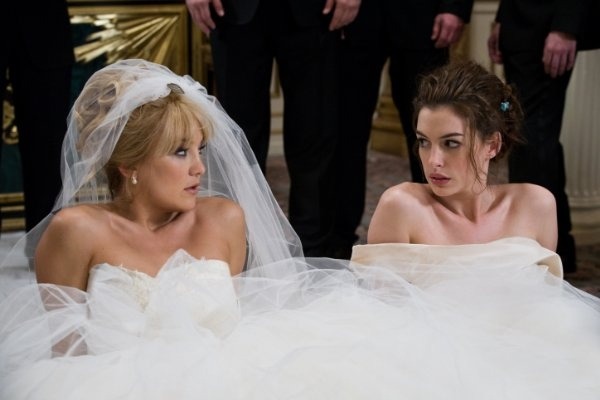 A year ago, Fox scored a January hit with the female-geared 27 Dresses. The Katherine Heigl vehicle chick-flick opened with $23M on the weekend of January 18 en route to a nifty $76.8M domestic gross. Now Kate Hudson has produced and stars in the wedding-themed comedy Bride Wars, debuting on just over 3,000 screens in Friday.
Early reviews are downright awful for Bride Wars (00% Fresh on Rottern Tomatoes as of Wednesday night),
but Kate Hudson is a likable personality whose sub-par rom-com Fool's Gold opened to $21.5M last February. Add to the mix Anne Hathaway with $100M-grossing movies Get Smart ($130.3M cume) and The Devil Wears Prada ($124.7) on her recent resume, and you've got a picture that could win the weekend. Tracking is strong with Under 25's, and the Mean Girls-style marketing improves the chances that Under 25 Males will allow themselves to be dragged along to see it.
I am anticipated that David Frankel's Marley & Me (Fox) will make it a 1-2 Fox finish. Based on John Grogan's beloved memoir, this lovable lab-turned-box office star should paw its way to  another $15.16M or so, down about 37% from New Year's weekend.
Clint Eastwood's Gran Torino has platformed perfectly and looks particularly strong for its wide break. Its Definite Interest number in industry tracking approaches 50 and its First Choice is a couple of ticks below 20, but much of its appeal is older, and it has a strong R rating. I'm forecasting something in the mid-teens and a good solid 3rd place finish, although an upside surprise is certainly possible. It's not inconceivable that Gran Torino could pull off an upset and win the weekend, but I would be surprised given that it is on 400 or so fewer screens than Bride Wars.
It's January, which means that there is always room for a horror movie. This week's supernatural potboiler is David S. Goyer's The Unborn (Rogue/Universal), from the low budget horror specialists at Platinum Dunes (2003's Texas Chainsaw Massacre and The Hitcher remake and The Invisible both in 2007). Tracking suggests that the response for this one will possibly be a rather muted $12.35M by Monday.
The Curious Case of Banjamin Button (Paramount) and Bedtime Stories (Disney) will battle for the #5 spot, and I am giving Button the slight edge. Fincher's epic, adapted from an F. Scott Fitzgerald short story, is on an awards carpet ride from now through February, and hardcore movies fans will want to rush out and see Ben Button prior to Sunday night's Golden Globes ceremony on NBC.
The other wide new release is Bill Duke's Not Easily Broken (Sony) starring Morris Chestnut and Taraji P. Hemson. Awareness is low and with well fewer than 1,000 screens, the movie is unlikely to top $3.5M.
FINAL PREDICTED WEEKEND GROSSES FOR JANUARY 9-11
1. NEW – Bride Wars (Fox) – $19M
2. Marley & Me (Fox) – $15.16M
3. Gran Torino (Warner Bros) – $14.63M
4. NEW – The Unborn (Universal) – $12.35M
5. The Curious Case of Benjamin Button (Paramount) – $11.83M
6. Bedtime Stories (Disney) – $11.06M
7. Valkyrie (UA/MGM) – $9M
8. Yes Man (Warner Bros) – $8.9M
9. Seven Pounds (Sony) – $5.27M
10. Tale of Despereaux (Universal) – $3.7M
11. NEW – Not Easily Broken (Sony) – $3.43M
12. Doubt (Miramax) – $3.32M