Razzie Award Nominations - The Worst Movies And Performances Of 2008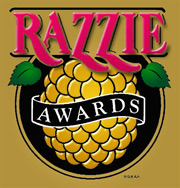 Update: Apparently these are not the official Razzie Award nominations. Here is the e-mail I just received:
One of our Voting Members posted the preliminary choices from their RAZZIE Nominating Ballot on the MTV Movie Blog, apparently unclear that it was NOT a final list, and from there things have "gone viral" — With even the IMDb today posting what purports to be a list of our nominees for this year's 29th Annual RAZZIE Awards.
ACTUAL nominations will be announced on January 21 — The now traditional day before The Little Gold Naked Man Awards unveil their choices. While this is a situation entirely out of our control, I do apologize for any confusion the bogus/viral news items may have caused.
The 29th Annual Razzie Award Nominations have been released. For those who don't know, the Razzies cellebrate the worst films and performances of the year. I'm surprised to see the hate for Rambo and Sylvester Stallone, which were nominated for Worst Picture, Worst Actor, Worst On Screen Couple (Sylvester Stallone & His Ego... very funny), Worst Director, Worst Sequel and Worst Career Achievement as a lot of my friends enjoyed that film. I've included my personal choices below in bold.Worst PictureSpeed RacerDisaster Movie and Meet the Spartans
The Day the Earth Stood Still
High School Musical 3
The Hottie & The Nottie
In the Name of the King: A Dungeon Siege Tale
The Love Guru
Postal
Rambo
The Happening
Meet Dave
Witless Protection
The rest of the nominations can be found after the jump.
Worst Actor
Zac Efron
Dane Cook
Larry the Cable Guy
Eddie Murphy
Al Pacino
Keanu Reeves
Sylvester Stallone
Tom Cruise (Valkyrie)
Will Ferrell
Ashton Kutcher
Mike Myers
Adam Sandler
Mark Wahlberg
Worst Actress
Paris Hilton
Jessica Alba
The cast of "The Women"
Camilla Belle
Cameron Diaz
Kate Hudson
Diane Keaton
Jennifer Connelly
Zooey Deschanel
Vanessa Hudgens
Eva Longoria-Parker
Reese Witherspoon
Worst Screen Couple:
Any couple from HSM 3
Cameron Diaz & Ashton Kutcher
Paris Hilton & Joel David Moore
Kate Hudson & Dane Cook
Kate Hudson & Matthew McConaughey
Larry the Cable Guy & Jenny McCarthy
Any couple from Mamma Mia
Eddie Murphy & Eddie Murphy (Meet Dave)
Al Pacino & His Hair
Mark Wahlberg & Zooey Deschanel
Mark Wahlberg & Mila Kunis
Sylvester Stallone & His Ego
Worst Director:
Uwe Boll
Scott Derrickson
Jason Friedberg & Aaron Seltzer
Tom Putnam
Marco Schnabel
Sylvester Stallone
Jon Avnet
Diane English
Roland Emmerich
Brian Robbins
Kenny Ortega
M. Night Shyamalan
Worst Prequel, Sequel, Remake or Rip-Off:
Indiana Jones and the Kingdom of the Crystal Skull
High School Musical 3: Senior Year
Rambo
Star Wars: The Clone Wars
Disaster Movie
Meet the Spartans
An American Carol
The Women
The Day the Earth Stood Still
Prom Night
Speed Racer
The X-Files: I Want To Believe
Worst Career Achievement:
Uwe Boll
Jason Friedberg & Aaron Seltzer
Madonna
Keanu Reeves
Sylvester Stallone