Box Office: Marley & Me Could Be The #1 Live Action Pooch Ever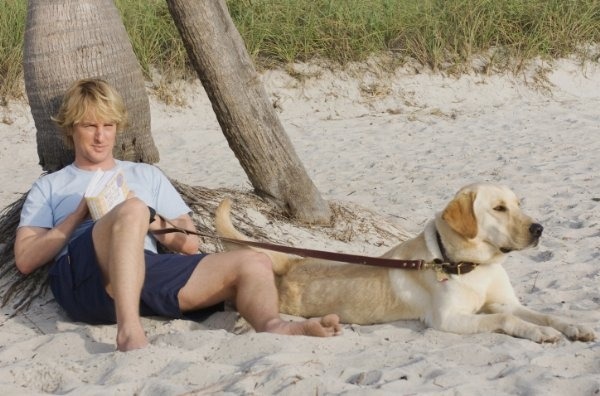 STUDIO ESTIMATES: MARLEY & ME with $24M 3-day and lovable lab could be the #1 live action pooch ever; BEDTIME STORIES reaches $20M & could hit $130M domestic; BUTTON #3 with $18.4M; VALKYRIE adds another $14M, but can UA make a profit?; DEFIANCE huge with $60K PTA!
In Studio 3-Day Estimates, the top 5 for the first weekend of 2009 remain the same as the order of finish for Christmas weekend. Marley & Me (Fox) remains the canine king of the box office with an estimated $24M for a new 11-day cume of $106.51M.
The appeal of dogs on the big screen is no surprise. As I wrote Friday night (scroll down), this lovable golden lab is may reach $160M domestic, making Marley & Me the #1 live action dog movie of all time. The real message for Hollywood honchos may be to keep their eyes on book sales. Although numbers are hard to come by, this simple, sweet John Grogan memoir about his rambunctious dog was the #1 selling fiction book of 2006, and it has likely sold about 5 million copies. It continues to sell, #1 on the NY Times Paperback Nonfiction Bestseller list right now.
The blockbuster status of Marley & Me also adds to the rising star of director David Frankel. A decade ago, he won the Academy Award for Best Live Action Short for Dear Diary, and then he "cut his teeth" in television on shows like Band of Brothers and Entourage. Now he has successfully delivered back-to-back $100M grossing films with Marley quickly following 2006's The Devil Wears Prada ($124.7M cume), another movie based on a meteoric bestseller. Any producer who owns the rights to a hot-selling novel should have Frankel at the top of their list of potential directors. (As an aside, Frankel's father was a longtime editor of the New York Times.)
Bedtime Stories (Disney), a movie that the industry and yours truly believed would be the biggest hit of the holiday season, has been lost in the undertow of Marley & Me, but it has still performed well. The picture added $20.31M in the Friday-thru-Sunday frame for $85.35M. Although in the same vein as 2006's Night at the Museum starring Ben Stiller, Bedtime is well short of the $133M that picture had in the bank at the end of the holidays. (Night at the Museum finished with $250M domestic and spawned a big budget sequel, Night at the Museum II: Escape from the Smithsonian, set for release from Fox May 22.) There is still more life in this Adam Sandler family comedy, but it will likely top out at $125M-$130M in the US, and any talk of a franchise has evaporated.
Checking in at #3 is The Curious Case of Benjamin Button (Paramount), which has received sparkling reviews, made countless 10 best lists and is a prime contender for the Best Picture – Drama award at this Sunday's Golden Globes. Ben Button scored $18.4M over the post-New Year's frame for a new 11-day cume of $79M.
This is a remarkably expensive film with a reported budget of $167M, but I strongly believe that it has a chance to reach $170M-$180M in the US and will score a healthy overseas number. Additionally, it should be noted that the state of Louisiana provided the production with $27.1M in tax credits ($27,117,737 to be exact) to shoot in the economically-depressed state. With a Best Picture nomination all-but-guaranteed, Benjamin Button will play strongly all the way to the February 22 Oscar ceremony, and it will keep selling tickets beyond the big night if it wins the big prize.
Valkyrie (MGM/UA) finishes fourth again, and now that Tom Cruise (and his eye patch) have avoided a Lions For Lambs-like embarrassment (his first UA release generated a meager $15M US and only $63M worldwide), the question is, "Can this movie make money?"
Bryan Singer (The Usual Suspects, The X-Men) has made a credible historical thriller, and the film will add another $14M by Monday for a new domestic take of about $60.7M. This movie, however, had a reported budget north of $100M (who knows how high it went), and once the movie seemed certain to tank, UA began "chasing" with big marketing dollars. In fact, the fledgling studio may have spent as much as $70M in an effort to deliver a respectable gross.
With a projected $80M in the US likely, UA needs to score monstrous numbers overseas to approach profitability or even break-even. Germany is obviously an important market for Valkyrie, and a lucrative one for the industry, and the film is set to open there later in the month. Reuters says that early reviews are decent there with Germany's public broadcaster ZDF saying, "Valkyrie is neither scandalously bad nor the event of the century. Neither is it the action thriller we feared, but it is a well-made and serious film."
Cruise may be a bigger star overseas than he is in the US these days, so UA has a shot. Even a modestly successful recent hit like Collateral ($101M domestic), scored $116.7M foreign. I would not rule out Valkyrie reaching $200M worldwide, which would be a triumph, especially considering the expectations for this picture 6 months ago.
Jim Carrey's Yes Man (Warner Bros) continued rolling along for a #5 finish with about $13.85M or so and haul just shy of $80M after 17 days. Still there has to be reason for concern for those in the "Carrey business." The movie may squeak out $95M-$100M, but that's a huge comedown from the heady certainty of 5 years ago when a high concept comedy like Bruce Almighty sold an almighty $242.8M in tickets.
Among specialty releases, Defiance is the PTA king for the weekend. With just two playdates, the Edward Zwick-directed Holocast-era tale grabbed an estimated $121,000 for a Per Theatre Average of $60,500, which would have been the second-best PTA of 2008 (trailing only last week's $63K PTA for Revolutionary Road) and the 33rd-best PTA of all time. Although not a major awards contender, Defiance has a chance to perform quite well in its wide break on January 16.
Clint Eastwood's growling, snarling performance as Walt Kowalski in Gran Torino (Warner Bros) snapped up another $2.82M for the frame for a second-best $33K PTA at 84 locations. Eastwood has said that this will be his acting swan song, and Warner Bros will open wide on Friday, and my early read is for a possible $13M-$16M.
Revolutionary Road (Dreamworks/Paramount) has the #3 PTA of the weekend checking in with an excellent $25K per in 38 playdates. The Sam Mendes-directed adaptation of Richard Yates classic novel could receive a huge boost at Sunday's Golden Globes if Kate Winslet snags Best Actress – Drama (a real possibility), if the movie were to score Best Picture – Drama (much less likely) or if Leonardo DiCaprio would walk away with Best Actor – Drama (almost impossible).
Weinstein's The Reader didn't fare well in its expansion with about $1.62M on 398 screens for a PTA of $4,070. Unless Bob and Harvey can somehow sway HFPA voters to bestow Best Picture – Drama on its Stephen Daldry-directed drama on Sunday, it may go quietly into that box office "good night." (Although, it seems certain to receive two Oscar nominations, one for Kate Winslet as Best Supporting Actress and another for David Hare for Best Adapted Screenplay.)
Finally, Thinkfilm opened Vicente Amorim's Good at 2 locations for Oscar qualification. Adapted from Cecil Phillip Taylor's play first staged by the Royal Shakespeare Company in 1981, the movie stars Oscar nominee Viggo Mortensen, but has generated no real awards buzz. Good managed about $12,500 since Wednesday, and its 3-day PTA was just $4,650. Thinkfilm plans to expand in New York City and Los Angeles in the next two weeks, followed by the top 10 markets on January 30.
STUDO 3-DAY ESTIMATES
1. Marley & Me (Fox) – $24M, $6,862 PTA, $106.51M cume
2. Bedtime Stories (Disney) – $20.31M, $5,515 PTA, $85.35M cume
3. The Curious Case of Benjamin Button (Paramount) – $18.4M, $6,158 PTA, $79M cume
4. Valkyrie (MGM/UA) – $14M, $5,055 PTA, $60.69M cume
5. Yes Man (Warner Bros) – $13.85M, $4,033 PTA, $79.41M cume
6. Seven Pounds (Sony) – $10M, $3,626 PTA, $60M cume
7. Tale of Despereaux (Universal) – $7M, $2,271 PTA, $44.74M cume
8. The Day the Earth Stood Still (Fox) – $4.85M, $2,075 PTA, $74.29M cume
9. Doubt (Miramax) – $5M, $3,909 PTA, $18.73M cume
10. Slumdog Millionaire (Fox Searchlight) – $4.77M, $7,794 PTA $28.77M cume
11. Twilight (Summit) – $4.53M, $2,399 PTA, $176.81M cume
12. Bolt (Disney) – $3.27M, $1,892 PTA, $109.89M
13. The Spirit (Lionsgate) – $3.27M, $1,304 PTA, $17.75M cume
14. Four Christmases (Warner Bros) – $2.87M, $1,244 PTA, $118.25M cume
15. Gran Torino (Warner Bros) – $2.82M, $33,571 PTA, $9.7M cume
*Milk (Focus) – $1.86M, $6,019 PTA, $17.12M cume
*The Reader (Weinstein) – $1.62M, $4,070 PTA, $3.57M cume
*Frost/Nixon (Universal) – $1.44M, $7,029 PTA, $6.33M cume
*Revolutionary Road (Dreamworks/Paramount) – $979,000, $25,763 PTA, $1.36M cume
*The Wrestler (Fox Searchlight) – $432,000, $24,000 PTA, $1.75M cume
*NEW – Defiance (Paramount) – $121,000, $60,500 PTA, $198,000 cume
*Last Chance Harvey (Overture) – $107,000, $17,833 PTA, $356,000 cume
*Waltz with Bashir (Sony Classics) – $54,400 $10,880 PTA, $160,000 cume
*NEW – Good (Thinkfilm) – $9,300, $4,650 PTA, $12,500 cume