Box Office: Warner Bros Reaches $1.74 Billion Surpassing Sony's 2006 Record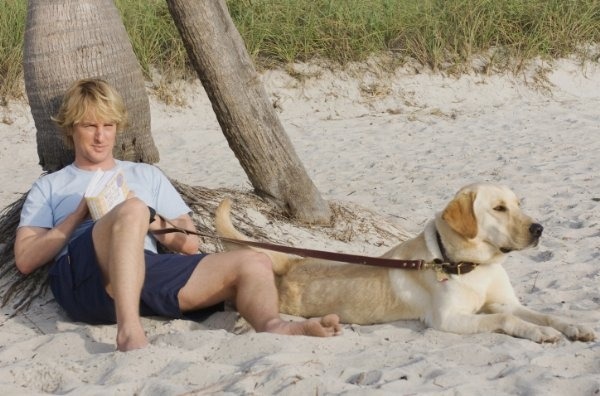 Warner Bros reaches $1.74 billion domestic surpassing Sony's record set in 2006!; MARLEY & ME headed for $51.8M 4-Day with BEN BUTTON at $39.1M & BEDTIME STORIES at $38.6M!; REV ROAD with Best PTA of 2008!
Dog lovers everywhere united to make Fox's Marley & Me the #1 Christmas weekend movie with an expected $51.18M in the Thursday-thru-Sunday period for a Per Theatre Average of $14,888. Pre-opening industry tracking pointed to a clear win for Bedtime Stories (Disney), but it was the lovable lab who finished on top.
As an aside, all of us who read John Grogan's extraordinarily well-written novel should have seen this coming. The book is a joy, and anyone who has a dog, or has ever had a dog, could easily identify with the struggles and pleasures of having a 4-legged member of the family.
The success of Marley slightly mitigates a disastrous year for Fox. Its year started out well enough riding the huge success of 2007 release Alvin & the Chipmunks into January ($70M of Alvin's gross landed in this calendar year). The January 18 release of chick-flick 27 Dresses scored for Katherine Heigl ($76.8M in the US), then Jumper was a good solid February hit, topping $80M, followed by the wildly successful Horton Hears a Who ($154.5M domestic). Little did Fox know that when the Ashton Kutcher-Cameron Diaz comedy What Happens in Vegas played solidly to the tune of $80.2M domestic starting in May, it would be its last legit hit until Christmas' Marley & Me. This is a huge, redemptive win for Fox, and its sentimental tear-jerker of a dog movie could near $100M domestic by Sunday.
There were 11 consecutive under-performing titles during the Fox drought of 2008, including expensive failures like mega-bombs Meet Dave ($11.8M domestic) and The X-Files: I Want to Believe ($20.9M cume). There were also misses like The Rocker ($6.4M cume), City of Ember ($7.8M cume) and recent disappointments like Baz Luhrmann's Australia (about $45M in the bank as its run winds down) and the critically-reviled The Day the Earth Stood Still, which picked up another $10.29M during the Christmas-thru-Sunday frame for a domestic cume of only $63M.
Despite the success of Marley, Fox will be #6 among the so-called "Big 6" studios in market share for the year. The winning studio , Warner Bros, essentially locked up the crown in late summer as The Dark Knight piled up meteoric grosses. As I have written in the past, the WB gang seemed destined to break the all-time single year record for domestic ticket sales, and now I can report that they have officially surpassed Sony's 2006 record of $1.71 billion.
With the respectable hold for Jim Carrey's Yes Man ($22.38M over 4 days for a 10-day cume of $49.8M), the continued success of Four Christmases (adding $7.29M for a new cume of $111.67M) and the excellent expansion of Clint Eastwood's Gran Torino (with a $38K or so cume at 84 locations), I am projecting a total domestic box office take of $1.74 billion as of today. That is a staggering number, and it wasn't all due to the success of mega-hit The Dark Knight.
Warner Bros perfectly marketed and distributed Sex and the City after picking up the baton from New Line. They also maximized the gross for the previously 3D-geared Journey to the Center of the Earth, selling it as a solid traditional 2D experience and generating $100M. And, they turned a pedestrian holiday comedy, Four Christmases, into a $100M smash. Expect a jubilant press release from Warner Bros in the next few days.
There is great news for Paramount and David Fincher in this holiday season. The Curious Case of Benjamin Button is a big hit. Based on an F. Scott Fitzgerald short story, this spiritual tale starring Brad Pitt and Cate Blanchett had only 2,988 playdates, but the screen count may be as high as 3,500 with Paramount securing multiple screens at many key locations for the 2 hour 48 minute epic. The film coaxed a magical $39.1M or so r the 4-day Christmas weekend.
Benjamin Button will do very steady business through awards season, and the spectacularly-reviewed film will likely have $70M-$80M in the bank by the end of next weekend. It will continue to hold well through awards season with major nominations at the Golden Globes and the SAG Awards. I strongly believe that this movie is headed for something in the $170M domestic range and reaching $200M is not out of the question.
Only 2 of the last 11 Best Picture winners have failed to break through the $100M barrier, including last year's Coen Brothers thriller No Country For Old Men.
BEST PICTURE WINNERS
2008 – No Country For Old Men – $74.2M
2007 – The Departed – $132.3M
2006 – Crash – $54.5M
2005 – Million Dollar Baby – $100.5M
2004 – Lord of the Rings: Return of the King – $377M
2003 – Chicago – $170.6M
2002 – A Beautiful Mind – $170.7M
2001 – Gladiator – $187.7M
2000 – American Beauty – $130M
1999 – Shakespeare in Love – $100.3M
1998 – Titanic – $600.7M
Academy Awards voters, whether they admit it or not, love big blockbusters, and after last year's terrible Oscar broadcast ratings, there will be a strong yet silent, push to recognize films that movie-goers all over the country have seen. Benjamin Button is now likely to fit the bill nicely. Wouldn't an Oscar night showdown between The Curious Case of Benjamin Button and mega-hit The Dark Knight make for a spectacular Academy Awards storyline (although, there's always a chance that Danny Boyle's gutty, little indie Slumdog Millionaire could steal the big prize from the big budget studio blockbusters).
#3 Bedtime Stories, also starring Keri Russell, Guy Pearce and the irrepressible Russell Brand from Saving Sarah Marshall, has managed $38.6M in just 4 days. It's a fine showing, although most experts (including yours truly) thought it would be the weekend's big winner.. The opening for Sandler is slightly under expectations and slightly below par with his recent hits, although it's hard to compare a Christmas 4-day opening with a traditional 3-day weekend start.
Technically, the 3-day weekend opening (Friday-thru-Sunday) for Bedtime Stories was $27.6M or so. Accepting that Christmas Day took a great deal of "steam" out of the picture, that number compares favorably to July's You Don't Mess With the Zohan ($38.53M opening – $100M cume) and 2007's I Now Pronounce You Chuck & Larry ($34.23M opening – $120M cume). Given that Bedtime Stories skews much younger and has family appeal, it should demonstrate great "playability" could very well have $80M in the bank by the end of New Year's weekend.
A strong 3-day weekend came on the heels of a monstrous Christmas Day as Marley & Me, The Curious Case of Benjamin Button and Bedtime Stories all out-grossed the previous Christmas Day opening champion Ali ($10.2M). In terms of all-time best performance on Christmas Day, opening or otherwise, the three 2008 holiday box office juggernauts finished as the #2, #6 and #10 of all time.
ALL-TIME TOP 10 CHRISTMAS DAY PERFORMANCES
1. Meet the Fockers – $19.5M
2. Marley & Me – $14.67M (estimate)
3. Lord of the Rings: Return of the King – $13.9M
4. National Treasure: Book of Secrets – $13.6M
5. The Lord of the Rings: The Two Towers – $12.3M
6. The Curious Case of Benjamin Button – $12M (estimate)
7. Night at the Museum – $11.7M
8. The Lord of the Rings: The Fellowship of the Ring – $11.5M
9. Cast Away – $10.9M
10. Bedtime Stories – $10.52M (estimate)
Tom Cruise's Valkerie (MGM/UA) has out-performed industry expectations finishing 4th for both Christmas Day and the long weekend. The eye patch wearing Cruise seemed headed for another disaster with his Nazi epic, but it has finished the 4-day with just over $30M. You could have won some bar bets with studio execs if back in November you had wagered that this won would even crack $25M over the Christmas holiday. Holdover Yes Man (Warner Bros) rounds out the top 5 for the long holiday weekend.
The only other new wide opening is Frank Miller's The Spirit (Lionsgate). No Sin City magic here as the movie has stumbled out of the gates with about $10.35M, and it is fading very quickly based on downright awful word-of-mouth.
Revolutionary Road (Dreamworks/Paramount) is officially a PTA monster. Opening on just 3 screens Friday, the Sam Mendes-directed drama grabbed over $22K per location on opening day, and it will finish the weekend with about a $64,133 PTA. Not only is that the best PTA of 2008 (topping Frost/Nixon's number for December 5-7), it is the 29th-best 3-day PTA of all time.
It is very hard to say what the commercial prospects for this picture may be. It is brilliantly acted with perfectly modulated performances by Leo and Kate, a truly unique turn by New York stage actor Michael Shannon and certain-to-be-under-appreciated work from Oscar winner Kathy Bates. I would also like to single out Kathryn Hahn, who was brilliant in Broadway's Tony-winning Boeing, Boeing. Something about neighbor Milly Campbell's desperate "golly gee-ness" captures the era to perfection.
Bringing Richard Yates novel to the big screen was no small feat, and screenwriter Justin Haythe has winnowed the somewhat sprawling novel down to its most cinematic pieces. Haythe is a lock for a Best Adapted Screenplay nomination at the Oscars, and I would make Winslet the betting favorite for Best Actress for her work in Rev Road, but can the film break through in other categories?
DiCaprio has a strong shot at a Best Actor nod, battling with Richard Jenkins, Brad Pitt and Clint Eastwood for the final 2 spots (after Frank Langella, Sean Penn and Mickey Rourke). It's uphill for Shannon in the Best Supporting Actor category with Heath Ledger, Robert Downey Jr. and Phillip Seymour Hoffman as locks. Slumdog Millionaire's Dev Patel has picked up a great deal of momentum since his SAG Award nomination, he seems to have sewn up the 4th spot. That leaves one spot open for Josh Brolin from Milk, Ralph Fiennes for The Duchess, Eddie Marsan for Happy-Go-Lucky or, an extreme longshot, Tom Cruise for Tropic Thunder. At the moment, I am leaning toward Brolin who will also get credit for his work in W..
Gran Torino has expanded very well to 84 locations and quite a few multiple screen situations for a PTA of just over $38K. There is clearly some commercial viability here as this love it or hate it movie goes wider in January.The big question remains. Will Oscar voters nominate Eastwood for Best Actor for his snarling, racist Walt Kowalski performance? In my estimation, his performance is the weakest of the contenders, but viewed in the context of his career, it feels like a nice culmination of his acting work.
It is surprising how softly Frost/Nixon (Universal) is playing at 205 locations. It generated a $9,473 PTA, which is disappointing. This is a great film with a tour de force performance by Frank Langella as President Richard M. Nixon. It may be that the movie-going public isn't interested in reliving the Watergate nightmare, especially when everyone has a general mistrust of government after the Bush years. Movies can be an escape from a tough economy, government corruption and political scandal. Thus, films like Slumdog Millionaire, Benjamin Button and Marley & Me are more attractive film destinations.
A lack of commercial success will not keep Langella out of the Best Actor category, but Ron Howard's movie could be potentially handicapped in the Best Picture race if it doesn't begin selling tickets at a better clip. Ben Button, Slumdog and The Dark Knight are all legitimate hits, appropriate to their scale. I am penciling in Milk (Focus) as a likely Best Picture nominee leaving one slot set aside for Frost/Nixon. Mega-hit Wall-E (Disney) could sneak in instead. Or, if The Wrestler (Fox Searchlight) expands better than Howard's political biopic – Mickey Rourke's comeback delivered almost $28K per location over the Christmas 4-day – maybe Darren Aronofsky will find his movie among the big 5. The same goes for the aforementioned Revolutionary Road. A Best Picture nod would be a game-changer for Dreamworks/Paramount, and the slow start for Frost/Nixon may have left the door open.
FINAL 4-DAY CHRISTMAS WEEKEND ESTIMATES
1. NEW – Marley & Me (Fox) – $51.67M, $14,849 PTA, $51.67M cume
2. NEW – The Curious Case of Benjamin Button (Paramount) – $39.1M, $13,086 PTA, $39.1M cume
3. NEW – Bedtime Stories (Disney) – $38.6M, $10,486PTA, $38.6M cume
4. NEW – Valkyrie (MGM/UA) – $30.4M, $11,214 PTA, $30.4M cume
5. Yes Man (Warner Bros) – $22.38M, $6,517 PTA, $49.8M cume
6. Seven Pounds (Sony) – $18.2M, $6,599 PTA, $38.86M cume
7. Tale of Despereaux (Universal) – $11.37M, $3,659 PTA, $28.07M cume
8. The Day the Earth Stood Still (Fox) – $10.59M, $4,409 PTA, $63.4M cume
9. NEW – The Spirit (Lionsgate) – $10.35M, $4,126 PTA, $10.35M cume
10. Four Christmases (Warner Bros) – $7.29M, $2,904 PTA, $111.67M cume
11. Doubt (Miramax) – $7.1M, $5,604 PTA, $8.78M cume
12. Slumdog Millionaire (Fox Searchlight) – $5.81M, $9,417 PTA, $19.41M cume
13. Twilight (Summit) – $5.5M, $2,975 PTA, $167.06M
*Gran Torino (Warner Bros) – $3.2M, $38,155 PTA, $4.28M cume
*Milk (Focus) – $2.32M, $7,481 PTA, $13.52M cume
*Frost/Nixon (Universal) – $1.94M, $9,473 PTA, $3.58M cume
*The Reader (Weinstein) – $847,000, $7,302 PTA, $1.23M cume
*The Wrestler (Fox Searchlight) – $515,000, $28,611 PTA, $893,000 cume
*NEW – Revolutionary Road (Dreamworks/Paramount) – $192,400, $64,133 PTA, $192.400 cume
*NEW – Last Chance Harvey (Overture) – $132,000, $22,000 PTA, $132,000 cume
*NEW – Waltz with Bashir (Sony Classics) – $55,144, $11,029 PTA, $55,144 cume
FINALY 4-DAY CHRISTMAS WEEKEND PTA ESTIMATES
1. NEW – Revolutionary Road (Dreamworks/Paramount) – 3 locations, $64,133 PTA
2. Gran Torino (Warner Bros) – 84 locations, $38,155 PTA
3. The Wrestler (Fox Searchlight) – 18 locations, $28,611 PTA
4. NEW – Last Chance Harvey (Overture) – 6 location, $22,000 PTA
5. NEW – Marley & Me (Fox) – 3,480 locations, $14,849 PTA
6. NEW – The Curious Case of Benjamin Button (Paramount) – 2,988 locations, $13,086 PTA
7. NEW – Valkyrie (MGM/UA) – 2,711 locations, 11,075 PTA
8. NEW – Waltz with Bashir (Sony Classics) – 6 locations, $11,029 PTA
9. NEW – Bedtime Stories (Disney) – 3,681 locations, $10,486 PTA
10. Frost/Nixon (Universal) – 205 locations, $9,473 PTA
11. Slumdog Millionaire (Fox Searchlight) – 614 locations, $9,471 PTA
12. Milk (Focus) – 311 locations, $7,481 PTA
13. The Reader (Weinstein) – 116 locations, $7,302 PTA
14. Seven Pounds (Sony) – 2,758 locations – $6,599 PTA
15. Yes Man (Warner Bros) – 3,434 locations, $6,517 PTA
16. Doubt (Miramax) – 1,267 locations, $5,450 PTA
17. The Day the Earth Stood Still (Fox) – 2,402 locations – $4,409 PTA
18. NEW – The Spirit (Lionsgate) – 2,509 locations – $4,126 PTA