Box Office: Benjamin Button Targets $45.3M By Monday; Marley & Me Breaks Christmas Record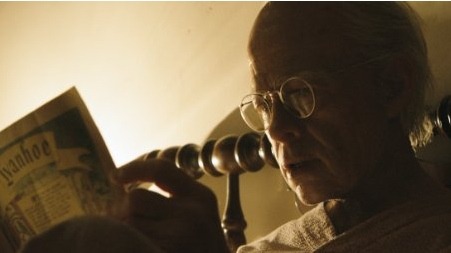 MARLEY & ME surprises with All-Time Christmas Day opening best $13.9M and $53.8M is possible for 4 days!; BENJAMIN BUTTON strong #2 with about $11.1M & targets $45.3M by Monday!; BEDTIME STORIES with $9.75M start; Cruise's VALKERIE manages $7.35M!
Christmas Day moviegoers have opted for a lovable lab and the Oscar bona fides of David Fincher's epic fantasy yarn The Curious Case of Benjamin Button (Paramount) have been bolstered by a strong opening day. Meanwhile, Adam Sandler's storytelling and a Hitler-chasing, eye patch-wearing Tom Cruise both connected with moviegoers while the dark graphic comic noir of Frank Miller is a dud.
The biggest box office gift under the Christmas tree belongs to Fox. Marley & Me, based on the tearjerker of a novel by John Grogan, has posted the all-time best Christmas Day opening with a stellar $13.9M, but the good news for Hollywood doesn't stop there. Paramount's David Fincher epic Benjamin Button appears to have posted the all-time #2 Christmas Day opening with $11.1M while Adam Sandler's Bedtime Stories has notched the 5th-best with $10.75M. Even Tom Cruise's Valkerie (MGM/UA), once thought to be a total disaster, has managed the all-time #11 opening for the movie-friendly holiday with an estimated $7.35M.
ALL-TIME BEST CHRISTMAS DAY OPENINGS
1. Marley & Me – $12.47M (projected)
2. The Curious Case of Benjamin Button – $10.75M (projected)
3. Ali – $10.2M
4. Catch Me If You Can – $9.8M
5. Bedtime Stories – $9.75M (projected)
6. Alien vs. Predator: Requiem – $9.5M
7. Dreamgirls – $8.7M
8. Bedtime Stories – $8.42M (projected)
9. Patch Adams – $8M
10. Cheaper By the Dozen – $7.8M
11. Valkerie – $7.35M (projected)
12. The Talented Mr. Ripley – $6.3M
My Early 4-Day Estimate for Marley & Me is $53.79M, but I will be fascinated to see how word-of-mouth affects its holiday run. I am, personally, a great lover of dogs and am a big fan of Grogan's novel. (I would argue that my dogs – a 10-year-old rat terrier named Hollis and a 2-year-old beagle Sophie – are worthy of their own novel and movie.) The book, however, reduced me to a blubbering puddle, and, although I haven't seen the movie yet, I've been told that the ending is very tough-to-take. One of my regular studio contacts told me that they think Marley & Me should come with a warning label for parents. Something like, "This movie may induce uncontrollable sobbing among children and dog lovers of all ages."
Are people in the mood for "a good cry?" Sometimes it's just what people are looking for. Or, in these challenging economic times, are people seeking purely happy trips to the multiplex? I'm guessing that the word-of-mouth will be a little mixed along these emotional lines, and that could slightly dampen the movie's performance. Still, I think it is very safe to project something in the $113M range for Marley & Me by the end of the 4-day New Year's weekend. In a rough year, it will be only Fox's second $100M grossing movie for 2008 joining Horton Hears a Who.
There is great news for Paramount and David Fincher on this Christmas Day. The Curious Case of Benjamin Button is a big hit. Based on an F. Scott Fitzgerald short story, this spiritual tale starring Brad Pitt and Cate Blanchett will build on its $11.1M opening day at 2,988 locations. The screen count may be as high as 3,500 with Paramount securing multiple screens at many key locations for the 2 hour 48 minute epic. The film will likely manage about $45.35M in domestic ticket sales over the 4-day Christmas weekend.
Benjamin Button will do very steady business over the next 11 days, and the spectacularly-reviewed film will likely have $100M-$105M in the bank by the end of next weekend. It will continue to hold well through awards season with major nominations at the Golden Globes and the SAG Awards. I strongly believe that this movie is headed for something in the $170M domestic range.
Only 2 of the last 11 Best Picture winners have failed to break through the $100M barrier, including last year's Coen Brothers thriller No Country For Old Men.
BEST PICTURE WINNERS
2008 – No Country For Old Men – $74.2M
2007 – The Departed – $132.3M
2006 – Crash – $54.5M
2005 – Million Dollar Baby – $100.5M
2004 – Lord of the Rings: Return of the King – $377M
2003 – Chicago – $170.6M
2002 – A Beautiful Mind – $170.7M
2001 – Gladiator – $187.7M
2000 – American Beauty – $130M
1999 – Shakespeare in Love – $100.3M
1998 – Titanic – $600.7M
Academy Awards voters, whether they admit it or not, love big blockbusters, and after last year's terrible Oscar broadcast ratings, there will be a strong yet silent, push to recognize films that movie-goers all over the country have seen. Benjamin Button is now likely to fit the bill nicely. Wouldn't an Oscar night showdown between The Curious Case of Benjamin Button and mega-hit The Dark Knight make for a spectacular Academy Awards storyline (although, there's always a chance that Danny Boyle's gutty, little indie Slumdog Millionaire could steal the big prize from the big budget studio blockbusters).
#3 Bedtime Stories, also starring Keri Russell, Guy Pearce and the irrepressible Russell Brand from Saving Sarah Marshall, could reach $43.94M in just 4 days. It's a fine showing, although most experts (including yours truly) thought it would be the weekend's big winner.. The opening for Sandler is right in line with expectations and on par with his recent hits, although it's hard to compare a Christmas 4-day opening with a traditional 3-day weekend start.
Technically, the 3-day weekend opening (Friday-thru-Sunday) for Bedtime Stories will likely be along the order of $34.19M or so. Given that Christmas Day is taking a great deal of "steam" out of the picture, that compares favorably to July's You Don't Mess With the Zohan ($38.53M opening – $100M cume) and 2007's I Now Pronounce You Chuck & Larry ($34.23M opening – $120M cume). Given that Bedtime Stories skews much younger and has family appeal, it should demonstrate great "playability" over the next 11 days, making up the holiday movie-going period. I am projecting that this picture will reach $95M-$100M by the end of next weekend.
Tom Cruise's Valkerie (MGM/UA) has out-performed industry expectations, and its $7.35M opening day should translate to a 4-day of $29.72M, good for 4th place. Holdover Yes Man (Warner Bros) will round out the top 5 for the long holiday weekend. The Jim Carrey high concept comedy scored about $4.85M on Christmas Day, and the picture could add $20.2M by Monday for a 10-day cume of $47.62.
The only other new wide opening is Frank Miller's The Spirit (Lionsgate). No Sin City magic here as the movie has stumbled out of the gates with about $3.15M. The 4-day could be a disappointing $13.64M.
I will have updates throughout the weekend including exclusive information about how specialty releases are faring in their expansions.
EXCLUSIVE STEVE MASON EARLY CHRISTMAS DAY ESTIMATES
1. NEW – Marley & Me (Fox) – $13.9M, $3,994 PTA, $13.9M cume
2. NEW – The Curious Case of Benjamin Button (Paramount) – $11.1M, $3,715 PTA, $11.1M cume
3. NEW – Bedtime Stories (Disney) – $9.75M, $2,649 PTA, $9.75M cume
4. NEW – Valkerie (MGM/UA) – $7.35M, $2,711 PTA, $7.35M cume
5. Yes Man (Warner Bros) – $4.85M, $1,412 PTA, $32.27M cume
6. Seven Pounds (Sony) – $3.8M, $1,378 PTA, $24.46M cume
7. NEW – The Spirit (Lionsgate) – $3.15M, $1,255 PTA, $3.15M cume
8. The Day the Earth Stood Still (Fox) – $2.58M, $1,074 PTA, $55.39M cume
9. Tale of Despereaux (Universal) – $2.1M, $676 PTA, $18.8M cume
10. Four Christmases (Warner Bros) – $2.06M, $821 PTA, $106.44M cume
11. Doubt (Miramax) – $1.2M, $950 PTA, $2.89M cume
12. Slumdog Millionaire (Fox Searchlight) – $955,000, $1,554 PTA $14.55M cume
EXCLUSIVE STEVE MASON EARLY 4-DAY CHRISTMAS WEEKEND ESTIMATES
1. NEW – Marley & Me (Fox) – $53.79M, $15,460 PTA, $53.79M cume
2. NEW – The Curious Case of Benjamin Button (Paramount) – $45.35M, $15,179 PTA, $45.35M cume
3. NEW – Bedtime Stories (Disney) – $43.94M, $11,939 PTA, $43.94M cume
4. NEW – Valkerie (MGM/UA) – $29.72M, $10,964 PTA, $29.72M cume
5. Yes Man (Warner Bros) – $20.2M, $5,883 PTA, $47.62M cume
6. Seven Pounds (Sony) – $15.34M, $5,563 PTA, $36M cume
7. NEW – The Spirit (Lionsgate) – $13.64M, $5,438 PTA, $13.64M cume
8. Tale of Despereaux (Universal) – $13.03M, $4,194 PTA, $29.73M cume
9. The Day the Earth Stood Still (Fox) – $10.43M, $4,344 PTA, $63.25M cume
10. Four Christmases (Warner Bros) – $8.03M, $3,201 PTA, $112.41M cume
11. Doubt (Miramax) – $6.6M, $5,215 PTA, $8.29M cume
12. Slumdog Millionaire (Fox Searchlight) – $4.13M, $6,732 PTA $17.73M cume