Box Office Tracking: Bedtime Stories Could Be The Biggest Christmas Day Opening Of All-Time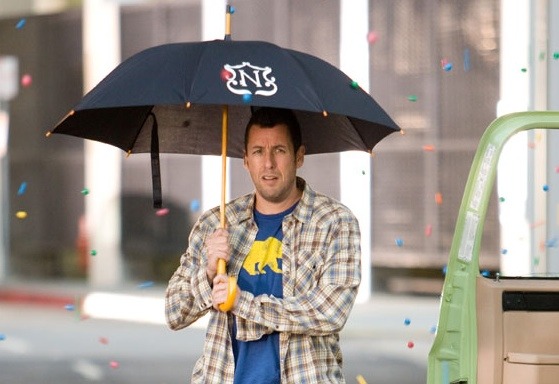 In the movie business, there are no real holidays, and tonight, while the studio executives are nestled all snug in their beds, visions of big Christmas Day box office receipts dance in their heads. Five major wide releases arrive in shiny new packages for the holiday, plus there are three strong holdovers from Friday.
In the final pre-Christmas industry tracking, the three movies that appear ready to pop big are Bedtime Stories (Disney), Fox's Marley & Me and Best Picture front-runner The Curious Case of Benjamin Button (Paramount), but the big winner will clearly be Sandler with his family-friendly fantasy/comedy.
Early reviews for Bedtime Stories are decidedly bad (15% Fresh on Rotten Tomatoes), but it makes absolutely no difference.In 2006, the Ben Stiller vehicle Night at the Museum, a film with a very similar feel, received soft reviews (44% Fresh on Rotten Tomatoes) en route to $250.8M domestic and last year's National Treasure 2: Book of Secrets reached $219.9M in the US despite a 31% Fresh score from RT.
Despite divvying up the family audience with Marley & Me, I am still predicting that Bedtime Stories could post the all-time best Christmas Day opening with a possible $10.5M.
ALL-TIME BEST CHRISTMAS DAY OPENINGS
1. Bedtime Stories – $10.5M (projected)
2. Ali – $10.2M
3. Catch Me If You Can – $9.8M
4. Alien vs. Predator: Requiem – $9.5M
5. Dreamgirls – $8.7M
6. Patch Adams – $8M
7. Cheaper By the Dozen – $7.8M
8. The Talented Mr. Ripley – $6.3M
8. The Godfather: Part III – $6.3M
10. Stepmom – $5.9M
I am projecting that a $10.5M start will translate to an impressive $47.3M 4-day weekend, ending Sunday.
Without spoiling anything, I wonder about word-of-mouth for Marley & Me (anyone who has seen it knows what I'm talking about). This is Jennifer Aniston's first movie since 2006's The Break-Up ($39.1M opening – $118.7M cume), and it is Owen Wilson's second wide release since his drug overdose/suicide attempt (following the disastrous Drillbit Taylor's $10.3M opening – $32.8M cume). But the real attraction here is the golden lab seen galloping down the beach Chariots of Fire-style in trailers and commercials.
Based on John Grogan's bestseller of the same name, directed by David Frankel (The Devil Wears Prada) and with a Rotten Tomatoes score of 50% Fresh, Marley and Me is a safe bet to top $30M by Monday. In fact, it could post the all-time 5th-best Christmas Day opening with a possible $8.2M leading to a 4-day take of $36.1M.
Paramount has taken a calculated risk by opening the very expensive The Curious Case of Benjamin Button on Christmas Day. The reviews are spectacular (75% Fresh on Rotten Tomatoes), the movie has secured 5 Golden Globe Award nominations and 3 SAG Awards nominations, and it has landed on almost as many critic's 10 best lists as Slumdog Millionaire, but how will it play on a wide basis on Christmas Day?
Industry tracking shows that the Awareness for this one is very high and that the Definite Interest and First Choice numbers are excellent, especially with the 25+ crowd. I believe that this movie will finish north of $150M and maybe as high as $170M domestic, but, unlike the other Christmas Day releases, it doesn't need to score as big over the next 4 days. I am expecting a possible $6.5M on opening day and a srong #3 finish for the Christmas frame with $27.8M by the end of business Sunday.
My gut and industry tracking both point to a 4th-place finish for Tom Cruise's Valkerie (MGM/UA). Nothing says Christmas like Tom Cruise with an eye patch chasing Hitler. The reviews are much better than they could have been (60% Fresh on Rotten Tomatoes), but I believe that Sumner Redstone was right when he cut those long-established ties between Paramount and the industry's former Top Gun. When he jumped Oprah's couch he essentially "jumped the shark" as a movie star. He could've turned right and become Paul Newman (distinguished movie star and philanthropist). Instead, he turned left and has become a Michael Jackson-style circus act.
Cruise has outstanding director Bryan Singer and an incredible supporting cast, including Kenneth Branagh., Terrence Stamp and Bill Nighy, to thank for avoiding a Hindenburg-like disaster here. I am predicting $23.5M for the 4-day, but without any awards buzz, it will sink quickly. One of my sources at a competing studio says that the only reason that Valkerie is being released this week is so that United Artists can write-off the enormous loss in this calendar year.
Rounding out the top 5 will be the Frank Miller's The Spirit, looking for some of that Sin City box office magic.  The film has barely screened for critics and feels a bit lost in the marketing shuffle,  but there is room for this noir graphic novel adaptation featuring Gabriel Macht (The Good Shepherd) in the title role. At least one of my regular sources swears this movie will top $20M, but I am going with a more conservative $17.75M 4-day.
Among the holdovers, Yes Man (Warner Bros) will fare best with a possible $14.6M for the Thursday-thru-Sunday period. By Monday, the Jim Carrey comedy will have banked $41.6M or so. Seven Pounds (Sony) is a major disappointment for Will Smith. It will likely be #7 over the 4-day with about $10.1M, which would give the picture a 10-day cume of only $30.5M. So much for that streak of 8 consecutive $100M-grossing hits for Will. The other wide opening from Friday, Universal's Tale of Despereaux, is having a good week (almost $2.5M on Monday), and it could reach a kiddie-fueled $9.75M over the next 4 days for a total domestic take of $26.8M since opening.
FINAL PREDICTED 4-DAY CHRISTMAS WEEKEND ESTIMATES
1. NEW – Bedtime Stories (Disney) – $47.3M
2. NEW – Marley & Me (Fox) – $36.1M
3. NEW – Benjamin Button (Paramount) – $27.8M
4. NEW – Valkerie (MGM/UA) – $23.5M
5. NEW – The Spirit (Lionsgate) – $17.75M
6. Yes Man (Warner Bros) – $14.6M
7. Seven Pounds (Sony) – $10.1M
8. Tale of Despereaux (Universal) – $9.75M
9. Four Christmases (Warner Bros) – $6.6M
10. The Day the Earth Stood Still (Fox) – $5.5M