From Paris With Love Movie Trailer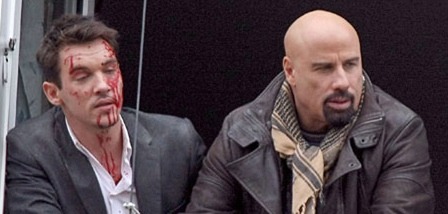 I can't remember the last live-action movie that John Travolta starred in that I actually enjoyed, or even wanted to see. His latest film, From Paris With Love is co-written and produced by Luc Besson (The Fifth Element), and directed by District B13 helmer Pierre Morel, tells the story of a young embassy worker and an American secret agent who cross paths while working on a high-risk mission in Paris. The movie co-stars Jonathan Rhys-Meyers.
The talent involved gives the project promise, but the plot description sounds rather generic, and some of the shots in this promotional trailer are iffy, at best. I'm not saying this film looks cool, but for some reason I'm actually interested in checking this one out. Leave your thoughts in the comments below but keep in mind that the film is still in production and this is a promotional trailer with unfinished effects/sound/everything. Thanks to Christopher M for the tip.
[flv:http://bitcast-a.bitgravity.com/slashfilm/trailers/frompariswithlove.flv 460 344]