New Posters: Land Of The Lost & Fast And Furious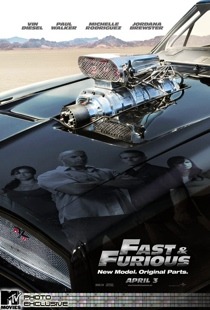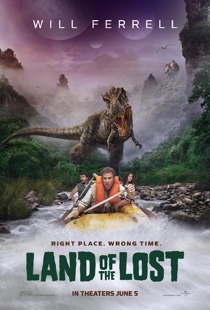 Universal has premiered a movie poster for their big screen take of Land of the Lost and the sequel Fast and Furious. Click on the images above to see the large versions on Cinematical and MTV. The Land of the Lost poster looks silly and CG'd, which goes right alongside my expectations of the film. The Fast and Furious poster looks like something a 5th grader created in photoshop, which makes sense because I'm expecting the film to have a 5th-grade-level of story construction.
Official Fast and Furious Plot Synopsis: When a crime brings them back to L.A., fugitive ex-con Dom Toretto (Diesel) reignites his feud with agent Brian O'Conner (Walker). But as they are forced to confront a shared enemy, Dom and Brian must give in to an uncertain new trust if they hope to outmaneuver him. And from convoy heists to precision tunnel crawls across international lines, two men will find the best way to get revenge: push the limits of what's possible behind the wheel. Fast and Furious hits theaters on April 3rd 2009.
Official Land of the Lost Plot Synopsis:Will Ferrell stars as has-been scientist Dr. Rick Marshall, sucked into one and spat back through time. Way back. Now, Marshall has no weapons, few skills and questionable smarts to survive in an alternate universe full of marauding dinosaurs and fantastic creatures from beyond our world—a place of spectacular sights and super-scaled comedy known as the Land of the Lost. Sucked alongside him for the adventure are crack-smart research assistant Holly (Anna Friel) and a redneck survivalist (Danny McBride) named Will. Chased by T. rex and stalked by painfully slow reptiles known as Sleestaks, Marshall, Will and Holly must rely on their only ally—a primate called Chaka (Jorma Taccone)—to navigate out of the hybrid dimension. Escape from this routine expedition gone awry and they're heroes. Get stuck, and they'll be permanent refugees in the Land of the Lost. Based on the classic television series created by Sid & Marty Krofft, Land of the Lost is directed by Brad Silberling and produced by Jimmy Miller and Sid & Marty Krofft. Land of the Lost hits theaters on June 5th 2009.