Final Box Office: Yes Man Scores $18M, Seven Pounds Stumbles To $16M; The Wrestler Has HUGE PTA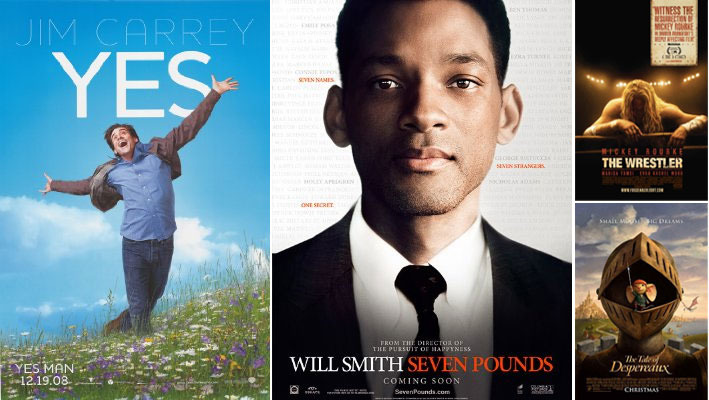 The final studio estimates are in, and, as I first wrote Friday night, Jim Carrey's Yes Man (Warner Bros) is the weekend winner, although the performance of the film was softer-than-expected. When the movie started with a soft $6.7M on Friday, it was hard to tell if it was because snowstorms in several regions of the country or just a failure to connect with audiences. Saturday's small 3% increase to $6.7M appears to suggest the latter.
Still, Yes Man is performing well enough to help Warner Bros make history in the next couple of weeks. I am projecting that the film could bank a possible $48M (conservatively) before the end of the year. Add to that a projected cume of $120M for Four Christmases by the close of business on December 31, and an anticipated $5.4M or so from the limited engagements of Clint Eastwood's Gran Torino (70 playdates starting Christmas Day), and Warner Bros would reach an annual domestic sales figure of $1.75 billion, surpassing Sony's $1.71 billion take in 2006.
Meanwhile, Will Smith's re-teaming with Pursuit of Happyness director Gabriele Muccino received a 9% Saturday bump from Friday's $5.22M, but the movie still placed second with an estimated $16M. That represents the softest opening for Will since 2000's Ali ($14.7M). Seven Pounds is almost-certain to break his historic streak of consecutive $100M+ grossing movies, which will end at 8.
For complete analysis of how Yes Man may cinch Warner Bros' record-breaking year and what the tough opening Seven Pounds means to Will Smith, visit my Friday Night Early Estimates column and my Final Weekend Tracking column from Thursday. For details on the monstrous opening weekend success of The Wrestler (Fox Searchlight) and details on the successful expansions of Gran Torino and Doubt (Miramax), check out my Saturday update.
EXCLUSIVE STEVE MASON REVISED EARLY 3-DAY ESTIMATES
1. NEW – Yes Man (Warner Bros) – $18.16M, $5,288 PTA, $18.16M cume
2. NEW – Seven Pounds (Sony) – $16M, $5,801 PTA, $16M cume
3. NEW – Tale of Despereaux (Universal) – $10.5M, $3,385 PTA, $10.5M cume
4. The Day the Earth Stood Still (Fox) – $10.15M, $2,851 PTA, $48.62M cume
5. Four Christmases (Warner Bros) – $7.74M, $2,203 PTA, $100.15M cume
6. Twilight (Summit) – $5.22M, $1,748 PTA, $158.46M cume
7. Bolt (Disney) -$4.25M, $1,434 PTA, $95M cume
8. Slumdog Millionaire (Fox Searchlight) – $3.15M, $5,348 PTA, $12.13M cume
9. Australia (Fox) – $2.32M, $1,051PTA, $41.94M cume
10. Quantum of Solace (Sony) – $2.15M, $1,147 PTA, $161.3M cume
11. Milk (Focus) – $1.64M, $4,610 PTA, $10.32M cume
12. Madagascar: Escape 2 Africa (Dreamworks/Paramount) – $1.51M, $752 PTA, $172.33M cume
13. Nothing Like the Holidays (Overture) – $1.31M, $789 PTA, $5.94M cume
14. Doubt (Miramax) – $729,000, $18,692 PTA, $1.44M cume
*Gran Torino (Warner Bros) – $468,000, $24,632 PTA, $859,000 cume
*Frost/Nixon – $365,000, $8,902 PTA, $1.47M
*NEW – The Wrestler (Fox Searchlight) – $209,000, $52,250 PTA, $295,000 cume