Box Office: Yes Man With $6.7M Friday And A Likely $18.76M; Seven Pounds Headed For $15.63M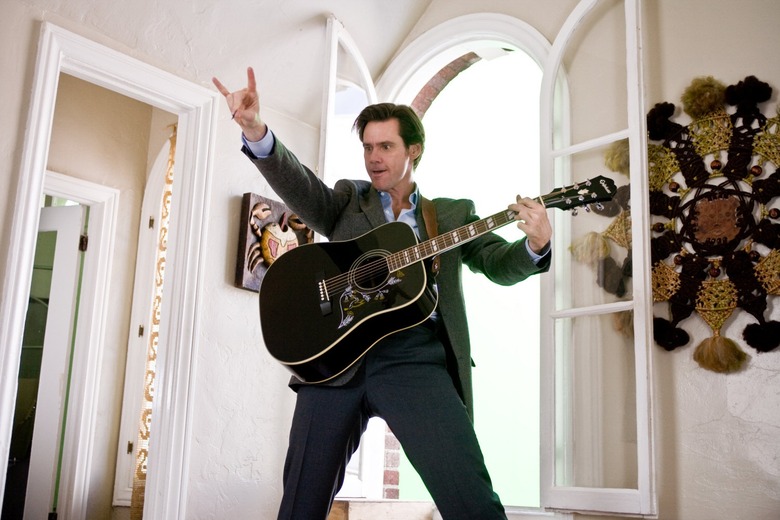 Jim Carrey and his high-concept comedy Yes Man (Warner Bros) will win the pre-Christmas weekend out-performing Will Smith's more challenging Seven Pounds (Sony), although both films seem to be under-performing industry expectations.. Audiences are saying "Yes" to a breezy, cheerful, undemanding movie experience, although it is not a particularly emphatic "Yes." In my Final Weekend Tracking column, I predicted $26.35M for Yes Man, and industry tracking certainly supported an opening in the mid-$20M's. Instead, moviegoers have agreed to the tune of only $6.7M on opening day, and that could translate to a less-than-expected $18.76 or so by Monday morning.
Meanwhile, Will Smith has landed in unfamiliar territory. This strange new land for the World's Biggest Movie Star is called "Second Place." Seven Pounds managed to churn up only $5.3M to start the 3-day, and I am projecting a $15.63M opening. This movie, a re-teaming of Smith with his Pursuit of Happyness director Gabriele Muccino, has endured scathing early reviews and some definite "Will Smith is a little full of himself" backlash. The movie has been described as pretentious and downright dumb by some critics, and heart wrenchingly-optimistic and emotionally cathartic by others. The end result is Smith's weakest opening since 2000's Ali ($14.7M).
Yes Man is the latest in a year-long winning streak for Warner Bros Not only have they locked up the studio market share race for 2008, this decent-not-great opening may lift Warner Bros to finish the year with more domestic ticket sales than any studio in history. If my opening weekend number for Yes Man holds, I am projecting that the film could bank a possible $48M (conservatively) before the end of the year. Add to that a projected cume of $120M for Four Christmases by the close of business on December 31, and an anticipated $5.4M or so from the limited engagements of Clint Eastwood's Gran Torino (70 playdates starting Christmas Day), and Warner Bros would reach an annual domestic sales figure of $1.75 billion, surpassing Sony's $1.71 billion take in 2006.
The Dark Knight ($530.7M domestic so far) is the lynchpin of Warner Bros' soon-to-be record-breaking year, but there are 4 other $100M+ grossing films that have helped to push the studio over-the-top. Along with Four Christmases, which will blow by $100M on Sunday, WB has also scored with Sex and the City ($152.6M cume), Get Smart ($130.3M cume) and Journey to the Center of the Earth ($101.7M cume). Sony set the previous record with one $200M+ performer (Da Vinci Code), 3 $100M+ hits (Casino Royale, Talladega Nights and Click) and about $96M of the ultimate $163.5M gross for Pursuit of Happyness, which landed in December 2006.
As for Will Smith, Seven Pounds is likely to break his historic streak of consecutive $100M+ grossing movies, which stands at 8.
2002 – Men in Black II – $52.1M opening – $190.4M cume
2003 – Bad Boys II – $46.5M opening – $138.6M cume
2004 – I, Robot – $52.1M opening – $144.8M cume
2004 – Shark Tale – $47.6M opening – $160.8M cume
2005 – Hitch – $43.1M opening – $179.4M cume
2006 – The Pursuit of Happyness – $26.5M opening – $163.5M cume
2007 – I Am Legend – $77.2M opening – $256.4M cume
2008 – Hancock – $62.6M opening – $227.9M cume
Critical pans be damned, people love Will Smith, but I am betting that the word-of-mouth on Seven Pounds will not be enough to net the 6.4 multiple that would be required to push it past $100M.
Universal's Tale of Despereaux coaxed an estimated $3.8M in ticket sales to start the weekend and, with huge matinee business on Saturday and Sunday, the all-time umpteenth animated mouse movie should reach an estimated $15.27M good for third place, setting up for some solid holiday week business.
As expected, The Day the Earth Stood Still (Fox) has fallen apart, down about 67% for the weekend. Keanu Reeves' spin on Klaatu could only muster $3.1M on its second Friday, and it will finish the frame with about $10.07M for a 10-day cume of $48.55M.
Rounding out the Top 5 is the aforementioned and surprisingly durable Four Christmases. Vince Vaughn and Reese Witherspoon enjoyed another $3.06M in Friday sales, and it will deliver $9.49M or so more of "holiday cheer" for Warner Bros by Monday morning.
Details of the weekend's specialty releases and lots of analysis is on tap for Saturday morning.
EXCLUSIVE STEVE MASON EARLY FRIDAY ESTIMATES
1. NEW – Yes Man (Warner Bros) – $6.7M, $1,951 PTA, $6.7M cume
2. NEW – Seven Pounds (Sony) – $5.3M, $1,922 PTA, $5.3M cume
3. NEW – Tale of Despereaux (Universal) – $3.8M, $1,224 PTA, $3.8M cume
4. The Day the Earth Stood Still (Fox) – $3.1M, $871 PTA, $41.57M cume
5. Four Christmases (Warner Bros) – $3.06M, $871 PTA, $95.47M cume
6. Twilight (Summit) – $1.55M, $521 PTA, $154.79M cume
7. Bolt (Disney) – $1.31M, $443 PTA, $92.06M cume
8. Slumdog Millionaire (Fox Searchlight) – $1.24M, $2,120 PTA, $10.23M cume
9. Milk (Focus) – $804,000, $2,257 PTA, $9.48M cume
10. Australia (Fox) – $763,000, $345 PTA, $40.38M cume
EXCLUSIVE STEVE MASON EARLY 3-DAY ESTIMATES
1. NEW – Yes Man (Warner Bros) – $18.76M, $5,463 PTA, $18.76M cume
2. NEW – Seven Pounds (Sony) – $15.63M, $5,669 PTA, $15.63M cume
3. NEW – Tale of Despereaux (Universal) – $15.27M, $4,921 PTA, $15.27M cume
4. The Day the Earth Stood Still (Fox) – $10.07M, $2,830 PTA, $48.55M cume
5. Four Christmases (Warner Bros) – $9.49M, $2,701 PTA, $101.9M cume
6. Bolt (Disney) -$5.66M, $1,908 PTA, $96.41M cume
7. Slumdog Millionaire (Fox Searchlight) – $4.86M, $8,268 PTA, $13.85M cume
8. Twilight (Summit) – $4.83M, $1,616 PTA, $158.06M cume
9. Milk (Focus) – $2.93M, $8,237 PTA, $11.61M cume
10. Australia (Fox) – $2.59M, $1,172 PTA, $42.21M cume