First Look: Couples Retreat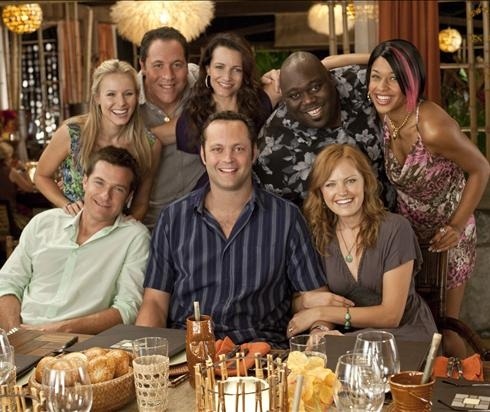 USA Today has a first look at the cast of Peter Billingsley's directorial debut, Couples Retreat. Based on an idea by Vince Vaughn, and scripted by Jon Favreau, the PG-13 (ick!) comedy stars Favs, Vaughn, Jason Bateman, Faizon Love, Kristen Bell, Kristin Davis, Kali Hawk, and Malin Akerman. Jean Reno and John Michael Higgins co-star as the resort's mastermind and the therapist.
The movie will tell the story a married couple, played by Bell and Bateman, who drag their three married friends to a couples herapy vacation in order to save on costs. The other couples quickly learn that participation in the resort's couples therapy is not optional, and they become "forced to scrutinize the states of their own marriages." Vaughn gives us a character rundown:
"Jason and Kristen are Type A's struggling to have kids. Faizon and his wife have just separated, and he is dating a young girl from Foot Locker (Hawk). Me and my wife (Akerman) are swamped with the kids and work. Favreau and Kristin Davis are secretly not completely faithful to each other."
Entertainment Tonight has a set visit video report, which you can watch here. Billingsley began has career as a child actor, best known as Ralphie in A Christmas Story, and later the producer of Favreau's films: Made, Zathura, The Break-Up, Iron Man and Four Christmases. The Universal Pictures comedy doesn't currently have a release date.
Thanks to /Film reader Jack Q for the tip.