Box Office: Sluggish Day The Earth Stood Still Stalls At $31M; Unlikely To Reach $80M Domestic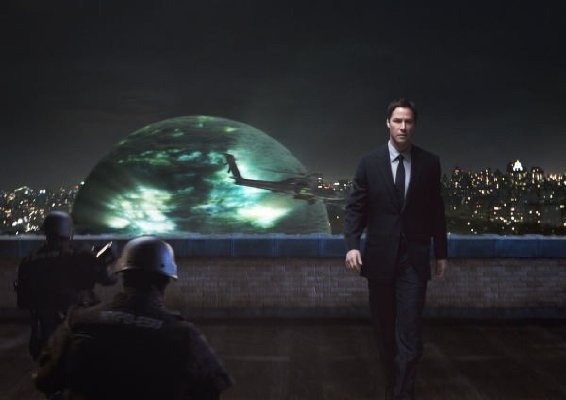 The Day the Earth Stood Still has failed to stop Fox's 2008 losing streak managing just $31M in its opening 3 days according to studio estimates. As I wrote Friday night, this has been a disastrous year for Fox, and now, it will be virtually impossible for the studio to reach $1 billion in domestic sales for 2008, and they will be last among the "Big 6" studios for a second consecutive year.
The horrible reviews (22% Fresh on Rotten Tomatoes) and very weak Cinema Score exit surveys will add up to awful word-of-mouth, and Earth Stood Still will not have legs. Next weekend's trio of wide releases, Seven Pounds (Sony), Yes Man (Warner Bros) and The Tale of Despereaux (Universal) will swamp Keanu's Klaatu and his attacking alien race, and Fox's would-be blockbuster could drop as 62%+ next weekend for something in the $11M range. With a possible 10-day cume just under $50M, it's hard to imagine The Day The Earth Stood Still reaching $80M domestic.
Fox has one more chance for redemption this year – Marley & Me starring Owen Wilson and Jennifer Anniston due Christmas Day. In the meantime, penciling in a generous $80M for Earth Stood Still and $50M for Australia, now playing in theatres, Fox's 19 releases in 2008 have an average domestic box office of  an embarrassing $45.75M. Remove Fox's one big hit, Horton Hears a Who which grossed $154.5M, and the studios average US gross per release is only $39.9M.
For details on the weekend's 3 major specialty releases including Gran Torino (Warner Bros), check out my Saturday night story on the weekend Per Theatre Average race.
STUDIO 3-DAY ESTIMATES
1. NEW – The Day the Earth Stood Still (Fox) – $31M, $8,708 PTA, $31M cume
2. Four Christmases (Warner Bros) – $13.27M, $3,749 PTA, $87.97M cume
3. Twilight (Summit) – $8M, $2,196 PTA, $150.1M cume
4. Bolt (Disney) – $7.5M, $2,396 PTA, $88.89M cume
5. Australia (Fox) – $4.28M, $1,585 PTA, $37.88M cume
6. Quantum of Solace (Sony) – $3.8M, $1,442 PTA, $157.66M cume
7. NEW – Nothing Like the Holidays (Overture) – $3.5M, $2,095 PTA, $3.5M cume
8. Madagascar: Escape 2 Africa (Dreamworks/Paramount) – $3.25M, $1,174 PTA, $170M cume
9. Milk (Focus) – $2.63M, $8,037 PTA, $7.63M cume
10. Transporter 3 (Lionsgate) – $2.25M, $885 PTA, $29.27M cume
11. Slumdog Millionaire (Fox Searchlight) – $2.2M, $13.018 PTA, $8.07M cume
12. Cadillac Records (Sony) – $1.6M, $2,326 PTA, $5.92M cume
*NEW – Delgo (Freestyle) – $916,000, $424 PTA, $916,000 cume
*Frost/Nixon (Universal) – $630,000, $16,154 PTA, $878,000 cume