Box Office: Despite Golden Globes Snub, Gran Torino Headed For A $46,250 PTA; HFPA Saves The Reader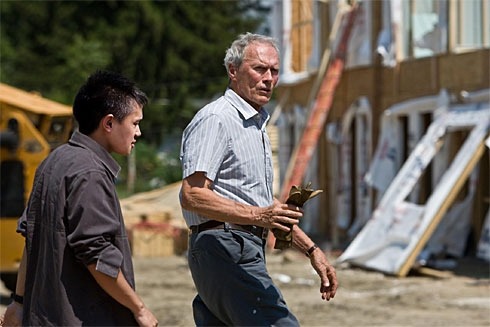 Despite being shut out in all of major categories in this week's Golden Globe Awards nominations, Clint Eastwood's Gran Torino (Warner Bros) has opened with very strong numbers at 6 locations this weekend. The HFPA snubbed Clint for his performance as Walt Kowalski, the gruff, bigoted Korean War veteran, and they ignored him in the Best Director category for both Gran Torino (and his other film Changeling from Universal). Still, the movie should generate an estimated $277,500 in its opening 3 days for a $46,250 PTA.
Gran Torino is turning out to be a bit of a Rorschach test for critics and awards voters. The National Board of Review gave Eastwood its Best Actor award while the Golden Globes passed him over. People seem to love the movie or loathe it. I am a huge Clint fan, but this doesn't strike me as his best work. Nick Schenk's original screenplay is unpolished and on-the-nose, and Eastwood's growling and epithet-spewing go a bit too far.
I do not believe that Gran Torino is a Best Picture threat, but Clint could sneak into the Best Actor category. With Sean Penn (Milk), Frank Langella (Frost/Nixon) and Mickey Rourke (The Wrestler) as locks, Eastwood, Brad Pitt (The Curious Case of Bejamin Button), Leonardo DiCaprio (Revolutionary Road) and Richard Jenkins (The Visitor) will battle for the final 2 noms.
In terms of commercial success, the $46,250 PTA is on par with New Line's 2002 release of About Schmidt, starring Jack Nicholson. That film went on to a domestic gross of $65M, but Gran Torino's darker tone and more challenging theme will dramatically limit its commercial upside.
Miramax's Doubt from playwright-turned-director John Patrick Shanley, scored big with Globes voters earning 5 nominations this week, including Best Actress for Meryl Streep and supporting nods for Phillip Seymour Hoffman, Amy Adams and Viola Davis. The film has debuted at 15 locations this weekend with a projected $518,000 in ticket sales for a Per Theatre Average of $34,533.
The biggest surprise in the Golden Globe nominations was the success of The Reader (Weinstein). Reviews have been all over the board (59% Fresh on Rotten Tomatoes), but Bob and Harvey worked their magic on the HFPA churning out 4 nominations including Best Picture, Best Director: Stephen Daldry and Best Supporting Actress: Kate Winslet. Without that Globe glow, this movie would have been DOA, but now it is showing signs of life. The Reader may reach $169,200 at 8 locations this weekend for a respectable $21,150 PTA.
STEVE MASON'S EXCLUSIVE EARLY 3-DAY PTA ESTIMATES
1. NEW – Gran Torino (Warner Bros) – $277,500 – 6 locations – $46,250 PTA
2. NEW – Doubt (Miramax) – $518,000 – 15 locations – $34,533 PTA
3. NEW – The Reader (Weinstein) – 8 locations – $21,150 PTA
4. Frost/Nixon (Universal) – $605,900 – 39 locations – $15,536 PTA
5. Slumdog Millionaire (Fox Searchlight) – $2.04M – 169 locations – $12,095 PTA
6. NEW – The Day the Earth Stood Still (Fox) – $31.32M – 3,560 locations – $8,798 PTA
7. Milk (Focus) – 328 locations – $2.55M – $7,793
8. Four Christmases (Warner Bros) – $12.39M – 3,540 locations – $3,500 PTA
9. Cadillac Records (Sony) – $1.55M – 688 locations – $2,258 PTA
10. Bolt (Disney) – $7.07M – 3,133 locations – $2,257 PTA