Box Office: Day The Earth Stood Still Manages Only $12.5M Friday For A Possible $33.75M Opening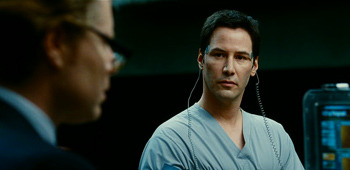 The world is not "standing still" for Fox's remake of the 1951 Robert Wise-directed sci-fi classic opening in theaters this weekend. The Day the Earth Stood Still, starring Keanu Reeves, Oscar winner Jennifer Connelly (A Beautiful Mind) and Jon Hamm (Mad Men), has gotten off to a decent start, but it is hardly the blockbuster that the studio was hoping for and needs. My Exclusive Early Friday Estimate is $12.5M with a Per Theatre Average of $3,511. That will likely equate to a decent-not-great $33.75M for opening weekend.
On this same calendar weekend last year, Warner Bros scored big with the end-of-the-world action flick I Am Legend, which grabbed a spectacular $77.2M 3-day. With Will Smith as the lead, the generally well-reviewed film finished with $256.4M domestic and $584M worldwide. It is very safe to say that Keanu Reeves is no Will Smith and Earth Stood Still is no I Am Legend. This movie was barely-screened for critics (24% Fresh on Rotten Tomatoes) and word-of-mouth is not likely to help its "playability." My hunch is that Fox's new sci-fi spectacular is headed for a total domestic gross in the $75M – $85M range.
It has been a very challenging year for Fox. The studio's year started out on a high with the Katherine Heigl vehicle 27 Dresses, the respectably-performing Jumper ($80.1M) and mega-hit Horton Hears a Who released back in March. Powered by the voices of Jim Carrey, Steve Carell and Seth Rogen among others, Horton reached $154.5M in domestic box office. It has been all downhill from there.
Fox's next 13 films released in 2008 have each failed to reach $100M. In fact only one title, What Happens in Vegas, has topped $80M. The studio's expensive, quixotic Baz Luhrmann epic Australia is struggling in theatres right now (I am estimating $4.22M this weekend for a new cume of $37.82M), and it seems destined for a disappointing sub-$50M domestic performance.
Even with Marley & Me, based on the popular novel and set for a Christmas release, Fox is unlikely to reach $1 billion in domestic box office for 2008 (with a week of business of their holiday dog yarn, they will likely wrap the year with about $980M). After finishing #2 in market share in 2005 with $1.35 billion and #3 in 2006 with $1.39 billion, they may finish 6th among the "Big 6" studios for a second consecutive year, down about 3% year-over-year from 2007's $1.01 billion.
Despite the so-so opening, The Day the Earth Stood Still becomes the all-time best non-Matrix opening for Keanu Reeves.
ALL-TIME TOP 10 KEANU REEVES OPENINGS
1. The Matrix Reloaded – $91.7M opening ($281.5M cume)
2. The Matrix Revolutions – $48.4M opening ($281.5M cume)
3. The Day the Earth Stood Still – $33.75M (projected)
4. Bram Stoker's Dracula – $30.5M opening ($82.5M cume)
5. Constantine – $29.7M opening ($75.9M cume)
6. The Matrix – $27.7M opening ($171.4M cume)
7. Something's Gotta Give – $16M opening ($124.7M cume)
8. Speed – $14.4M opening ($121.2M cume)
9. The Lake House – $13.6M opening ($52.3M cume)
10. Street Kings – $12.4M opening ($26.4M cume)
2008 market share champion Warner Bros continues riding high with Four Christmases adding an estimated $4M on Friday, good for second place. The Vince Vaughn/Reese Witherspoon comedy should wrap the weekend with about $12.5M, only a 25% drop from last weekend, for a new cume of $87.2M. Despite bad-to-middling reviews, this one will top $100M domestic well-before Christmas Day.
Twilight (Summit) continues to out-perform even the rosiest of industry expectations. The film adaptation of Stephenie Meyer's vampire novel has held much better than anyone could have expected, and it seized another $2.75M to start the weekend. By Monday, it will have banked another $7.95M, dipping 39% from last weekend, good for third place. With a remarkable total domestic gross of $150M, it still remains a mystery to me why Summit gave director Catherine Hardwicke her "walking papers" from the franchise this week.
At #4 for the weekend is Disney's Bolt. The Walt Disney Animation Studios production coaxed another $1.7M or so in sales on Friday, and huge Saturday and Sunday matinee surges should lead to a $7.1M frame for a new cume of $88.48M. After dropping just 28% this weekend, the John Travolta/Miley Cyrus voiced Bolt will be challenged by Universal's animated The Tale of Despereaux for the family audience starting next Friday.
Australia and Quantum of Solace (Sony) are battling for fifth place, but I am giving the edge to Baz's Nicole Kidman/Hugh Jackman teaming. Solace may have won Friday with about $1.35M or so, but Australia should edge the new Bond with a possible $4.22M for the 3-day.
The new, wide release Nothing But the Holidays (Overture) appears to have managed only a seventh place finish with an estimated $1.25M opening day, which should translate to a very soft $3.5M 3-day start. Holidays, a Latino-flavored Christmas movie featuring Debra Messing from Will & Grace along with John Leguizamo, Freddy Rodriguez, Alfred Molina, Luis Guzman and Elizabeth Pena, debuted with mixed reviews (49% Fresh on Rotten Tomatoes), and it has never quite gained enough marketing traction with moviegoers.
The other wide release is the animated Delgo, distributed by Freestyle Releasing. This one has been savaged by critics (13% Fresh on Rotten Tomatoes), and it probably should have gone straight-to-video. Delgo managed an unimaginably bad $130,000 on opening day and will finish the weekend with as little as $400,000. If that number holds, the Per Theatre Average will be a miniscule $185.
STEVE MASON'S EXCLUSIVE EARLY FRIDAY ESTIMATES
1. NEW – The Day the Earth Stood Still (Fox) – $12.5M, $3,511 PTA, $12.5M cume
2. Four Christmases (Warner Bros) – $4M, $1,130 PTA, $78.7M cume
3. Twilight (Summit) – $2.75M, $754 PTA, $144.84M cume
4. Bolt (Disney) – $1.7M, $543 PTA, $83M cume
5. Quantum of Solace (Sony) – $1.35M, $512 PTA, $154.73M cume
6. Australia (Fox) – $1.3M, $481PTA, $34.89M cume
7. NEW – Nothing Like the Holidays (Overture) – $1.25M, $748 PTA, $1.25M cume
8. Milk (Focus) – $925,000, $2,820 PTA, $5.91M cume
9. Transporter 3 (Lionsgate) – $850,000, $335 PTA, $27.87M cume
10. Madagascar: Escape 2 Africa (Dreamworks/Paramount) – $800,000, $289 PTA, $167.55M cume
11. Role Models (Universal) – $670,000, $506 PTA, $63.25M
12. Slumdog Millionaire (Fox Searchlight) – $650,000, $3,846 PTA, $6.52M cume
*NEW – Delgo (Freestyle) – $130,000, $60 PTA, $130,000 cume
STEVE MASON'S EXCLUSIVE EARLY 3-DAY ESTIMATES
1. NEW – The Day the Earth Stood Still (Fox) – $33.75M, $9,480 PTA, $33.75M cume
2. Four Christmases (Warner Bros) – $12.5M, $3,531 PTA, $87.2M cume
3. Twilight (Summit) – $7.95M, $2,179 PTA, $150M cume
4. Bolt (Disney) – $7.1M, $2,266 PTA, $88.48M cume
5. Australia (Fox) – $4.22M, $1,563 PTA, $37.82M cume
6. Quantum of Solace (Sony) – $4.18M, $1,588 PTA, $157.56M cume
7. NEW – Nothing Like the Holidays (Overture) – $3.5M, $2,095 PTA, $3.5M cume
8. Madagascar: Escape 2 Africa (Dreamworks/Paramount) – $3.4M, $1,228 PTA, $170.15M cume
9. Milk (Focus) – $3.37M, $10,293 PTA, $8.36M cume
10. Transporter 3 (Lionsgate) – $2.65M, $1,044 PTA, $29.67M cume
11. Slumdog Millionaire (Fox Searchlight) – $2.4M, $14,213 PTA, $8.27M cume
12. Role Models (Universal) – $1.97M, $1,492 PTA, $64.56M cume
*NEW – Delgo (Freestyle) – $400,000, $185 PTA, $400,000 cume