Box Office Tracking: The Day The Earth Stood Still Could Reach $36 Million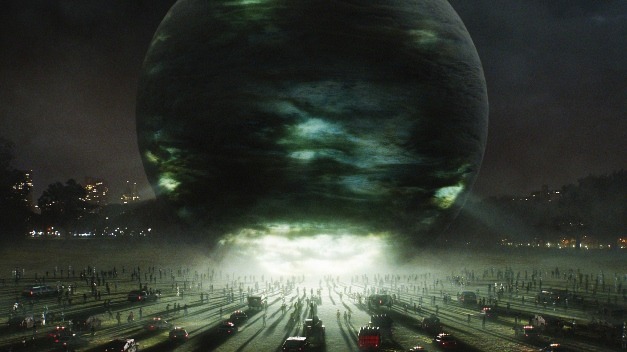 With Fox still smarting from the underwhelming start for Baz Luhrmann's Australia (just over $32M so far), they unleash The Day the Earth Stood Still on Friday. This is a big budget remake of the 1951 classic from 4-time Oscar winner Robert Wise (The Sound of Music, West Side Story). Michael Rennie played the virtually emotionless Klaatu, the extraterrestrial sentinel from an invading race in the original film, so the wooden Keanu Reeves seems to be the perfect choice for the new version, but industry tracking is suggesting that this would-be-blockbuster may not achieve anything close to world domination.
Generally, the trailer has been playing very well for months. It has the look of 1996's Independence Day ($306M domestic), but Reeves is not the engaging superstar that Will Smith is. In fact aside from The Matrix Trilogy, Keanu's box office resume is a bit thin.
ALL-TIME TOP 10 KEANU REEVES OPENINGS
1. The Matrix Reloaded – $91.7M opening ($281.5M cume)
2. The Matrix Revolutions – $48.4M opening ($281.5M cume)
3. Bram Stoker's Dracula – #$30.5M opening ($82.5M cume)
4. Constantine – $29.7M opening ($75.9M cume)
5. The Matrix – $27.7M opening ($171.4M cume)
6. Something's Gotta Give – $16M opening ($124.7M cume)
7. Speed – $14.4M opening ($121.2M cume)
8. The Lake House – $13.6M opening ($52.3M cume)
9. Street Kings – $12.4M opening ($26.4M cume)
10. The Devil's Advocate – $12.1M opening ($60.9M cume)
It's easy to pile on Reeves for his consistently monotone performances, but he has always chosen interesting projects. Today, committing to the role of Neo in The Matrix seems like a no-brainer, but at the time, a movie that combines sci-fi, new age spirituality, martial arts and techie language must have seemed pretty "out there." Still, the actor went "all-in." His interest in metaphysics, the supernatural and futuristic technology can be seen in projects like Little Buddha ($4.8M domestic), Johnny Mnemonic ($19M domestic), The Devil's Advocate, Constantine and even 2006's The Lake House with Sandra Bullock.
The Day the Earth Stood Still definitely feels like the kind of movie Reeves has been drawn to in the past, and he has a very good supporting cast in this picture with Oscar winners Jennifer Connelly and Kathy Bates, Golden Gobe winner Jon Hamm (Mad Men) and Will Smith's real-life son Jaden from The Pursuit of Happyness.
My sources at competing studios tell me that pre-opening tracking is much softer-than-expected. Despite being the only major wide release this weekend, The Day the Earth Stood Still is a longshot to reach $40M in its opening 3 days. I still like it to break $30M, and I think that the general lack of competition will help this sci-fi, end-of-the-world spectacular to reach a possible $36M. Even if the film performs well enough to hit my number, word-of-mouth may prevent it from getting to $100M in the US. Right now, I am setting a target of $80M domestic.
Holdovers will dominate the top 5. Four Christmases (Warner Bros) will be #2 with a possible $9.63M, down about 42% from its second weekend. That would push the Vince Vaughn/Reese Witherspoon comedy to an impressive $84.24M domestic. Summit's teen vampire blockbuster Twilight (Summit) should continue to play strongly adding a potential $7.36M over the weekend. Despite what could be $149.32M in the bank by Monday morning, director Catherine Hardwicke's "thank you" is a pink slip from the Stephenie Meyer franchise. And, Disney's Bolt will get very little challenge from Freestyle's release of the animated Delgo (I am predicting a mere $3.5M for opening weekend), which should spell a fourth place finish. With John Travolta and Miley Cyrus providing voices, Bolt may grab another $6.5M this frame for a new cume of $87.8M.
The other new wide release is the Latino-flavored holiday yarn Nothing Like the Holidays from Overture. Debra Messing from Will & Grace is joined by John Leguizamo, Freddy Rodriguez, Alfred Molina, Luis Guzman and Elizabeth Pena in a family-friendly comedy with mixed reviews as of Wednesday night (50% Fresh on Rotten Tomatoes). There is generally always room for a movie like this in December, but industry tracking shows no real traction with moviegoers. It will likely crack the top 5 with a possible $4.15M, just ahead of Australia.
WEEKEND PREDICTIONS FOR DECEMBER 12-14
1. NEW – The Day the Earth Stood Still (Fox) – $36.2M
2. Four Christmases (Warner Bros) – $9.83M
3. Twilight (Summit) – $7.36M
4. Bolt (Disney) – $6.5M
5. NEW – Nothing Like the Holidays (Overture) – $4.15M
6. Australia (Fox) – $4.1M
7. Quantum of Solace (Sony) – $4M
8. Madagascar: Escape 2 Africa (Dreamworks/Paramount) – $3.43M
9. NEW – Delgo (Freestyle) – $3.51M
10. Transporter 3 (Lionsgate) – $2.24M
11. Milk (Focus) – $2.2M
12. Slumdog Millionaire (Fox Searchlight) – $2M