Terminator Salvation Set Visit Preview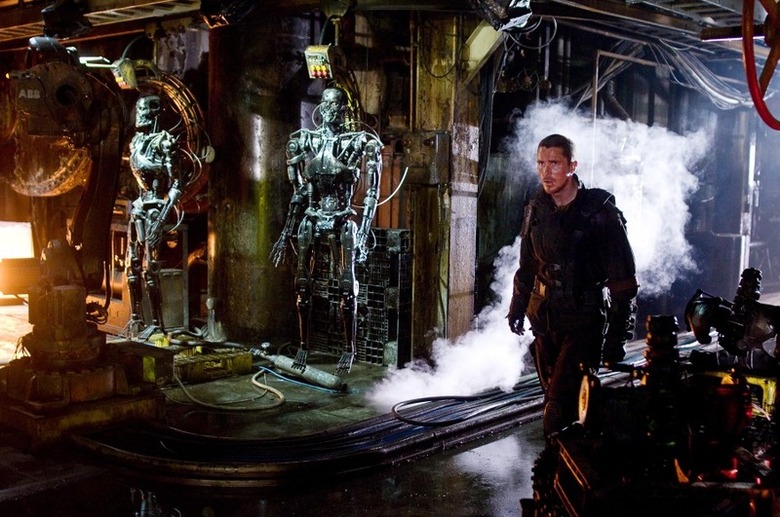 On July 2nd, 2008, I was lucky enough to visit the set of McG's Terminator Salvation. Is this James Cameron's Terminator? No. And it isn't trying to be. Terminator Salvation is very different animal, far different from the traditional Terminator chase story. In a sense it is a futuristic war film.
When I think of Terminator Salvation, I am reminded of the line in Star Wars – A New Hope when Obi-wan tells Luke about how he served beside his father in the clone wars. Star Wars fans obsessed over that one throw away line for over two decades before George Lucas finally decided to bring The Clone Wars to the big screen. And as we all know, the result was extremely disappointing. Its funny how one line can conjure a better vision than four films and a computer animated television show combined. I am reminded of this because the same thing could easily happen to the Terminator series .
Judgement Day, the future war between man and machines — Cameron teased us with this in the first two films, and I don't think anyone ever believed they would eventually see it on the big screen. As crappy as Terminator 3 was, the end twist got me excited for the possibility. And I understand that the name McG doesn't instill confidence. Those of you who visit the site frequently have probably noticed how much I have been sticking up for the film, even before a second of footage was previewed to the public. The reason is that I saw everything up close and personal. I went to Albuquerque New Mexico very skeptical, and came back convinced that McG was the right man for the job, and that the result would be a fun action film, deserving of the Terminator name.
Our group was given unprecedented access to the production which was shooting on all 8 stages of the newly built Albuquerque Studios. Before we did anything, we were brought into a huge room filled wall to wall with concept after and models. The unit publicist gave us a tour of the first two thirds of the film. I've been on a bunch of sets where fear of spoiler leaks prevents the studio from providing embargoed journalists with plot information. This is the first set that I was given the all access pass, which allowed me to better connect the dots when we toured the many stages on the studio lot. I was able to look at the locations and sets through the larger perspective of the overall film.
So what Did I see? Since this is a preview piece, I can't go into much detail. We were able to walk through Skynet's testing center while it was being constructed. We saw John Connor's underground bunker, drove by the destroyed 7-11 that is seen in the trailer, and stood in the Silo where John Connor and Marcus Wright go face to face (also seen in the trailer). But the majority of our visit focused on watching first unit photography in a power plant that had been converted into a Terminator assembly factory. You can see John Conner entering the factory in the photo at the top of this story. We got to watch them shoot some intense action sequences, one which involved Connor getting his signature facial scar — how cool is that? More on that later.
But the coolest moment for me was getting a tour of the Stan Winston Studios trailer, which was filled with all sorts of remote controlled endoskeletons and insane prosthetics. Having grown up on the "movie magic" specials of the 1980's, I could have easily spent all day just in that trailer alone. One thing was immediately clear — the word practical was being thrown around a lot. Almost overused. Sure, this film will have computer effects (you've seen the Harvester in the trailer) but a surprising amount of the effects are being shot on the set, in camera or using a combination of tightly intertwined cg enhancements.
We spoke with Anton Yelchin (Kyle Reese), Moon Bloodgood (Blair Williams), and Sam Worthington (Marcus Wright). McG was overly outgoing, giving an enthusiastic pitch as to why we should give him a chance. And while McG exudes an indescribable energy, his pitch is not just enthusiasm and caffeine. He knows what he's talking about, and says all the right things, referencing screenwriter Jonah Nolan (who was rewriting the script as we spoke) and the post apocalyptic novel The Road. While he launches into an interesting observation the cyborg technology of today, you wonder how this could be the same guy who directed Charlie's Angeles 2 Full Throttle.
He brought us into his streamline trailer and showed us an 8-minute sizzle reel of the film. People haven't seen anything yet. And for those who believe this film will definitely be PG-13, think again. We saw a piece of footage that showed Moon Bloodgood topless in the rain, which certainly gave me the impression that the rating has yet to be decided.
Back on the set.
Sparks fly from the ceiling, steam rises from the floor, and balls of fire launch into the air as an assembly line of T-800 endoskeletons move along a conveyor track above my head. I'm standing in a factory where Skynet manufactures Terminators. John Connor falls to the wet pavement, dirty, bruised and beaten. He lifts a big ass gun into the air and fires. A large explosion comes from the factory's second floor. But whatever John hit, its still coming. John pulls himself along the floor, unable to get himself to his feet. Not that his feet would help at this point, as he appears fairly injured. He grabs for a smaller gun and shoots. A cloud of liquid nitrogen steam fills the air as Connor collapses.
Is John Connor dead? Are the internet rumors true? To be continued...