The 2008 Black List - The Hottest Unproduced Screenplays Of 2008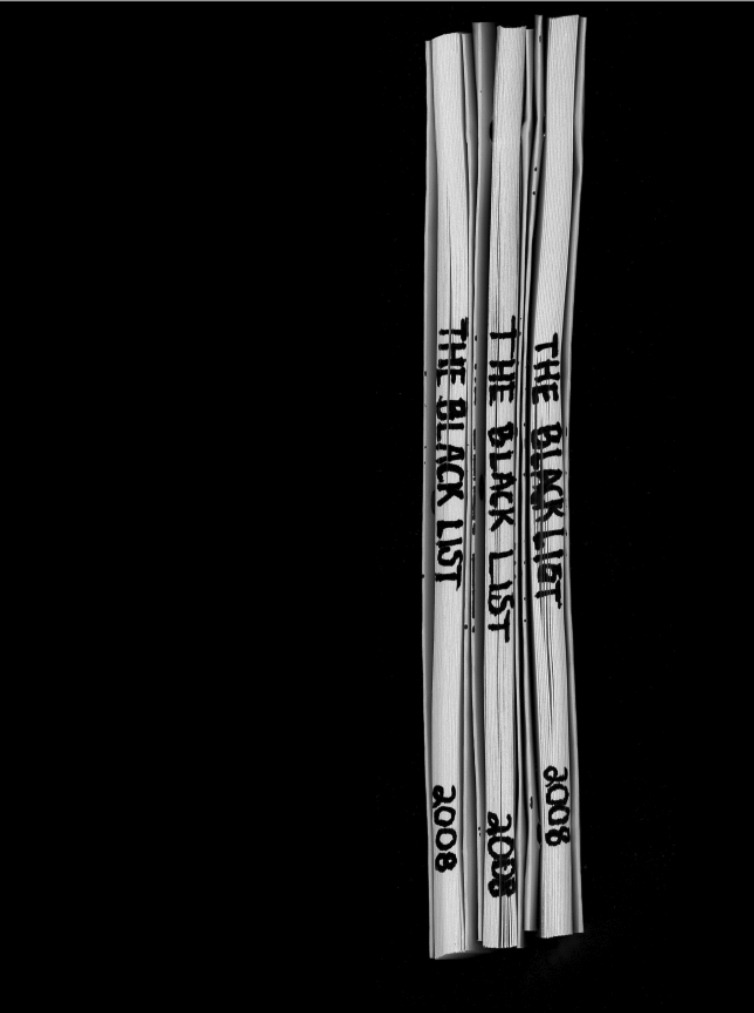 The annual Black List has been released. The list is compiled with a poll of 250 (up from last year's 150) development executives and high-level assistants, and contains a ranking of the hot screenplays making the rounds in Hollywoodland, which were written in, or are somehow uniquely associated with, 2008 and will not be released in theaters during this calendar year. Basically, the black list contains the hottest projects in Hollywood that you haven't heard of yet. Note: the headline is a slightly inaccurate, because a few of these projects are in production now.
Started two years ago by a young executive at Leonardo DiCaprio's production company Appian Way, who polled 90+ peers to send him their 10 favorite new unproduced screenplays to read over the holidays. The underground list was e-mailed around and quickly became a Hollywood phenomenon. To give you an idea, the top three entries of the 2005 list where Things We Lost in the Fire, Juno, and Lars and the Real Girl. However it should be noted that a warning appears at the beginning of the list:
"THE BLACK LIST is not a "best of" list. It is, at best, a "most liked" list."
Also, it should be noted that many people are starting to accuse participants for pushing their own clients.
1. The Beaver by Kyle Killen
A depressed man finds hope in a beaver puppet that he wears on his hand.
Status: Steve Carell is attached to star.
2. The Oranges by Jay Reiss and Ian Helfer
"A man has a romantic relationship with the daughter of a family friend, which turns
their lives upside down."
Status: Anthony Bregman (Thumbsucker) and Media Rights Capital will produce.
3. Butter by Jason Micallef
"A small town becomes a center for controversy and jealousy as its annual butter carving contest begins."
Status: Jennifer Garner is in talks to play Laura, Michael De Luca Productions producing.
4. Big Hole by Michael Gilio
"An old cowboy goes on a mission to recover his money after a million dollar sweepstakes scam cleans out his entire bank account."
Status: Aversano Films (Failure to Launch) is producing.
5. The Low Dweller by Brad Ingelsby
"A man trying to assimilate into society after being released from jail discovers that someone from his past is out to settle a score."
It's Like: Unforgiven, only less geriatric. And much less forgiving.
Status: Relativity, Energy Entertainment, Leonardo DiCaprio's Appian Way and Tony and Ridley Scott's Scott Free Productions will co-produce.
6. F***buddies by Liz Meriwether
"A guy and a girl struggle to have an to realize they want much more."
Status: Montecito Picture Company producing.
7. Winter's Discontent by Paul Fruchbom
"When Herb Winter's wife of fifty years dies, the faithful but sexually frustrated widower moves into a retirement community to start living the swinging single life."
Status: Sony's Atlas Entertainment producing.
8. Broken City by Brian Tucker
"A New York private investigator gets sucked into a shady mayoral election."
9. I'm With Cancer by Will Reiser
"A autobiographical comic account of one man's struggle to beat cancer."
Status: Seth Rogen is producing and signed on to co-star.
10. Our Brand Is Crisis by Peter Straughan
"Based on the eponymous documentary. James Carville and a team of U.S. political consultants travel to South Abecome President of Bolivia."
Status: Warner Bros and George Clooney's Company producing.
The rest of the list after the jump. I have highlighted the titles that interest me.
INGLORIOUS BASTERDS by Quentin Tarantino
"American soldiers, French peasants, French resistance, and Naziscollide in Hitler occupied France."
UNTITLED VANESSA TAYLOR PROJECT by Vanessa Taylor
"After thirty years of marriage, a middle-aged couple attends an intense counseling weekend to decide the fate of their marriage."
GALAHAD by Ryan Condal
"A revisionist twist on the King Arthur legend from the knight Galahad's perspective."
THE WEST IS DEAD by Andrew Baldwin
"During the Great Depression, a group of semi-outlaws go on the run from the law when forced to vacate a town as the Hoover dam is constructed."
MANUSCRIPT by Paul Grellong
"A contemporary thriller about three bright, young New Yorkers with boundless literary ambition who will stop at nothing to get what they want."
THE TUTOR by Matthew Fogel
"A twenty three year old recent graduate decides, at his mother's insistence, to tutor his ex-girlfriend's younger sister for the SATs. When they begin a romantic relationship, his ex-girlfriend moves in love with our anti-hero as well."
SUNFLOWER by MishaGreen
"Two young women struggle to escape from and exact revenge on the deranged college professor who holds them hostage."
NOWHERE BOY by Matt Greenhalgh
"The story of John Lennon's rise from lonely, Liverpool teenager to iconic rock star."
GOING THE DISTANCE by Geoff LaTulippe
"A couple tries to maintain a long-distance relationship."
THE AMERICAN WAY by Brian Kistler
"Two brothers are affected by their parents' murder, leading one to the FBI and the other to a life of crime."
THE DESCENDANTS by Nat Faxon& Jim Rash
"A newly widowed father, also one of the richest men in Oahu, Hawaii, takes off with his two Kauai."
RAINDROPS ALL AROUND ME by Reed Agnew & Eli Jorne
"A socially awkward high school teacher learns to 'dumb it down'in order to fit in with those around him."
SEQUELS, REMAKES & ADAPTATIONS by Sam Esmail
"The outlandish journey of a young man in search of love and what he's meant to do with his life."
A COUPLE OF DICKS by Mark Cullen & Robb Cullen
"Two veteran LAPD detectives attempt to track down a stolen, mint-condition, 1952 baseball card that one of the daughter's upcoming wedding."
GAY DUDE by Alan Yang
"A comedy about the friendship of two high school seniors that's torn apart after one comes out of the closet."
THE MANY DEATHS OF BARNABY JAMES by Brian Nathanson
"A teenage apprentice in a macabre circus for the dead yearns to bring his true love back to life, but not before encountering the many dangerous and mysterious gothic characters that stand in his way."
UNDERAGE by Scott Neustadter & Michael Weber
"A seventeen-year-old seduces a twenty something man and then blackmails him into being her boyfriend in order to exact revenge on her high school aged ex."
CODE NAME VEIL by Matt Billingsley
"Based on actual events. A young CIA agent struggles to maintain his morality while navigating dangerous and absurd conditions in 1980s Beirut."
EVERYTHING MUST GO by Dan Rush
"A relapsed alcoholic loses his job and his wife and decides to live on his front lawn while selling all of his belongings in a yard sale."
THE FOURTH KIND by Olatunde Osunsanmi
"A woman investigates an extraordinary number of unexplained disappearances from one small town in Alaska."
FOXCATCHER by E Max Frye & Dan Futterman
"Based on the true story of John du Pont, a paranoid schizophrenic who was heir to the du Pont fortune. After building a wrestling training facility named Team Foxcatcher on his Pennsylvania estate, Du Pont shot and killed Olympic gold medal-winning grappler David Schulz."
THE PHANTOM LIMB by Kevin Koehler
"A troubled private detective uncovers a blackmail scam involving a gangster who runs a brothel that caters to amputee fetishes and a taboo doctor who performs the body modifications."
THE APOSTLES OF INFINITE LOVE by Victoria Strouse
"When an upper class dysfunctional New York family learn their youngest daughter has joined a cult in the midwest, they recruit a cult deprogrammer and go on the road to save her while both parents and siblings confront their issues with one another."
THE F-WORD by Elan Mastai
"Two best friends struggle with falling in love without ruining the bond between them."
UP IN THE AIR by Jason Reitman
"A ruthless human resources executive, whose job is to fire people, looks forward to the only joy he has in life, his millionth frequent flyer mile, a goal he pursues with zeal as the rest of his life falls apart around him because he is constantly on the road."
BACHELORETTE by Leslye Headland
"Ten years out of high school, three unhappy single friends come together as bridesmaids at a classmate's wedding, get drunk, get high, and while romancing new and old loves and settling old business."
JONNY QUEST by Dan Mazeau
"Young Jonny Quest travels the world with his scientist father, adopted brother from India, Bandit the bulldog, and a government agent assigned to protect them while they investigate scientific mysteries."
THE KARMA COALITION by Shawn Christensen
"A professor embarks on a quest to uncover the truth behind his wife's death before the world ends."
KEIKO by Elizabeth Wright Shapiro
"A white teenage girl, who was adopted and raised in Japan by Japanese parents, travels to America to find her long lost father, comedian Dana Carvey."
KNIGHTS by Nick Confalone & Neal Dusedau
"A kickass British adventure where knighted celebrities (an entrepreneur, a soccer player, a musician, and an actor) are called upon to defend their country."
TWENTY TIMES A LADY by Gabrielle Allan & Jennifer Crittenden
"Based on the book by Karyn Bosnak. After realizing that she has had twice as many sexual partners as the national average, Ally swears off new guys and decides to back and visit the previous twenty guys and find out if she overlooked anyone."
CLEAR WINTER NOON by John Kolvenbach
"A hit man released from jail in his seventies tries to make amends for the innocent life he took."
FIERCE INVALIDS HOME FROM HOT CLIMATES by Eric Aronson
"Based on the novel by Tom Robbins. An irascible, world-weary CIA operative is duped by his boss into helping re-place a listening device back in Russian hands that is vital to spying on them."
ROUNDTABLE by Brian K Vaughan
"In modern day, Merlin attempts to assemble a bunch of knights to battle an ancient evil."
THE AMAZING ADVENTURES OF THE MONOGAMOUS DUCK by Neeraj Katyal
"A writer struggling with drugs and his girlfriend's death leaves New York for Los Angeles where he falls in love with a teacher and straightens out his life."
THE GARY COLEMAN –EMMANUEL LEWIS PROJECT by Dan Fogelman
"Emmanuel Lewis and Gary Coleman save the world from an evil madman."
THE LAYMAN'S TERMS by Jeremy Bailey
"In the midst of the Great Depression, a prodigal son returns home to face his demons and resurrect the dust bowl town he left behind. But the arrival of a mysterious woman soon threatens his way of life when he discovers she is being hunted by the very same Chicago gangsters he used to run with."
THE MALLUSIONIST by Robbie Pickering & Jace Ricci
"A wannabe illusionist travels cross country with his young son to compete against his archnemesis, a Vegas magic show."
PLAN B by Kate Angelo
"A woman sets out to be artificially inseminated and falls in love."
WHAT IS LIFE WORTH? By Max Borenstein
"Based on the memoir of Kenneth Feinberg, a dramatization of his involvement in the 9/11 victims compensation fund."
ACOD: ADULT CHILDREN OF DIVORCE by Ben Karlin& Stu Zicherman
"A grown man finds himself still caught in the crossfire of his parents' divorce."
BAD TEACHER by Lee Eisenberg & Gene Stupnitsky
"After being dumped by her boyfriend, a foul-mouthed, gold-digging seventh-grade teacher sets her sights on a colleague who is dating the school's model teacher."
THE BIRTHDAY PARTY by Charles Randolph
"The true story of former Assistant United States attorney Stanley Alpert's kidnapping by petty thieves and how he bonded with them in a Queens, NY apartment in 1998."
CHILD 44 by Richard Price
"Based on the novel by Tom Rob Smith. An officer in Stalinist Russia's secret police is framed by a colleague for treason. While on the run with his wife, he stumbles upon a series of child murders and launches his own rogue investigation."
INFERNO: A LINDA LOVELACE STORY by Matt Wilder
"The story of Linda Lovelace, the first mainstream porn star who eventually overcame her past, found happiness in suburbia and led a crusade to stop pornography."
EASY A by Bert Royal
"A good-natured high school student uses the rumor mill to personal advantage by pretending to be the school slut."
GRAND THEFT AUTO by Jason Dean Hall
"Facing foreclosure on his repo yard, a young ex-con resumes a life of crime only to get blamed when his uncle's coke deal gets hijacked. Caught in double crosses between Russian mafia, Yakuza, and the ATF, the young ex-con kidnaps a crime boss's daughter and steals car after car on a Vegas bound suicide mission to retrieve the stolen drugs."
HELP ME SPREAD GOODNESS by Mark Friedman
"When an email predator dupes a man out of his son's college fund, the man travels to Nigeria to confront those who ripped him off."
GIANTS by Eric Nazarian
"A teenager with Marfan Syndrome comes to terms with his estranged father, his overworked mother, and the possibility that he very well might die during his upcoming procedure."
LONDON BOULEVARD by William Monahan
"Based on the book by Ken Fruen. Fresh out of prison, Mitchell lands a legitimate job as a handyman for a rich actress who's eager to reward him with cash, cars, and sex. But Mitchell can never truly escape his violent past or the dangerous world of loan sharks, drug addicts and other bottom-feeders."
SHRAPNEL by Evan Daugherty
"Two mortal enemies square off on a hunting trip to the death."
YOUR DREAMS SUCK by Kat Dennings & Geoffrey Litwak
"An awkward teen with no self esteem regains his self-confidence after joining a Dance Dance Revolution team."
MEMOIRS by Will Fetters
"Two college students who've experienced recent loss fall in love and heal their fractured families."
GREETINGS FROM JERRY by John Killoran
"Jerry seems to have it all — money, women, and a ridiculously easy job as a greeting card writer — until a tiny mistake at work unravels his life. Having lost everything he had — but never earned —he's forced to confront who he really is and start again from scratch."
AFTER HAILEY by Scott Frank
"Based on the novel by Jonathan Tropper. After a twentysomething man's older wife dies, he remains in suburbia and struggles to raise her teenage son from a previous marriage."
THE BLADE ITSELF by Aaron Stockard
"Based on the novel by Marcus Sakey. Two former childhood friends, who made their reputation committing petty crimes, are reunited years later, forcing one of them to decide how far he will go to protect his past."
FRESHLY POPPED by Megan Parsons
"A teenage girl who works at a movie theater tries to decide to whom she wants to lose her virginity."
GAZA by Frank Deasy
"A British woman goes to Gaza to recover the body of her dead daughter and comes to understand her daughter's political ideals."
BROTHERHOOD OF THE ROSE by Adam Cozad
"Two orphans, raised by a CIA operative to be assassins, become targets themselves."
MAN OF CLOTH by Josh Zetumer
"When an English minister's family (wife and youngest son) are unjustly punished and sent off to a prison colony in Australia, the minister and his oldest son travel to Australia to re-unite the family. Upon arrival though, the minister is informed of their death, and quickly vengeance is the only thing that can quiet his hurt."
GROWN MAN BUSINESS by Justin Britt-Gibson
"An older man who was a gangster in his youth returns to his neighborhood after a long absence to find the boys who murdered the son he abandoned years previous."
HOW TO BE GOOD by Cindy Chupack
"Based on the novel by Nick Hornby. A woman having second thoughts about her husband is pleased when he begins following a guru, but when her husband invites the guru to live with them, her point of view changes entirely."
IRON JACK by Johnny Rosenthal
"A renowned novelist's comic quest for hidden treasure in the 1930s."
THE HERETIC by Javier Rodriguez
"The Roman Catholic Church asks a former inquisitor to assassinate rebel monk Martin Luther."
UNLOCKED by Peter O'Brien
"A female CIA interrogator is duped into getting a terrorist to provide key information to the wrong side, thrusting her into the middle of a plot to plan a devastating biological attack in London."
SLEEPING BEAUTY by Julia Leigh
"A haunting erotic fairy tale about Lucy, a student who drifts into prostitution and finds her niche as a woman who sleeps, drugged, in a 'Sleeping Beauty chamber' while men do to her what she can't remember the next morning."
STOP HUNTINGDON ANIMAL CRUELTY by Adam Sachs
"A lonely journalist finds love and inspiration in a quirky, unlikely manner –covering the misadventures of a young boy's 'protest' of an animal rights movement."
A TALE OF TWO CITIES by Beau Willimon
"Based on the novel by Charles Dickens. Set in Paris and London during the French Revolution, English aristocrat Sydney Carton sacrifices his own life for his unrequited love Lucie Manette and Frenchman Charles Darnay."
THE SPELLMAN FILES by Bobby Florsheim & Josh Stolberg
"A family of private investigators use their gumshoe skills to crack cases and pry into one another's personal lives."
THE BEAUTIFUL AND THE DAMNED by Hanna Weg
"The tumultuous and doomed love affair of Jazz Age icons F. Scott Fitzgerald and Zelda Sayre."
WHAT WOULD KENNY DO? by Chris Baldi
"A seventeen-year-old high school kid meets a 'hologram' of himself at thirty-seven-years-old and benefits from their friendship."
47 RONIN by Chris Morgan
"Forty-seven samurai seek vengeance upon a regional lord who is responsible for the death of their master."
THE ZERO by Stephen Chin
"Based on the novel by Jess Walter. After a New York City policeman shoots himself in the head following the 9/11 terrorist attacks, he is assigned to work for a shadowy agency at 'Ground Zero' and quickly finds himself drawn into a sinister government plot."
BALLAD OF THE WHISKEY ROBBER by Rich Wilkes
"Based on the book by Julian Rubinstein."
THE DEBT by Jane Goldman & Matthew Vaughn
"Based on the Israeli film HaHov. Three Israeli Mossad agents discover that a war criminal is still alive and set out to pursue him."
A BITTERSWEET LIFE by Mark L Smith
"A crime boss asks his trusted lieutenant to determine if his young mistress is having an affair (and to kill her and her lover if she is.) The lieutenant confirms the affair but, entranced by the girl, chooses to let them live. Discovering this, the crime boss orders the lieutenant killed, only he escapes and seeks vengeance."
BOBISM by Ben Wexler
"A shy college student discovers that life in one thousand years will be based on his blog — and he has to stop aliens from the future who want him dead."
DEADLINE by Soo Hugh
"A discredited journalist navigates dangerous politics to find a missing aid worker."
BOBBIE SUE by Russell Sharman, Owen Egerton, & Chris Mass
"A hard charging female ambulance chaser becomes the face of a prestigious law firm when an important client is sued for sexual discrimination."
A LITTLE SOMETHING FOR YOUR BIRTHDAY by Susan Walter
"A female clothing designer struggles to find love and success after turning thirty."
THE ENDS OF THE EARTH by Chris Terrio
"Based on a true story. The controversial love affair between an oil baron and his adopted daughter destroys the empire they built together."
THE HOW-TO GUIDE FOR SAVING THE WORLD by BenDavid Grabinski
"A loser discovers a book on how to stop an alien invasion and is thrust into action to stop a real one."
I KILLED BUDDY CLOY by Nick Garrison & Chase Pletts
"When a terrible act of violence shatters Ray's hum-drum existence, his sociopath uncle lures him down an absurd, vengeful path."
HEARTSTOPPER by Dan Antoniazzi & Ben Shiffrin
"A romantic comedy, with a serial killer."
JAR CITY by Michael Ross
"Based on the film by Baltasar Kormakur. A police detective's investigation of a murder leads to the uncovering of secrets in a small town."
SAMURAI by Fernley Phillips
"Set in Japan during the 150 Year War, a ronin out for justice teams up with a ninja and a green-eyed English boy to rid Japan of an evil Lord. Their partnership becomes the stuff of myth."
THE MOST ANNOYING MAN IN THE WORLD by Kevin Kopelow & Heath Seifert
"A man travels across the country with his annoying brother in order to get to his own wedding."
THE MURDERER AMONG US by Lori Gambino
"Based on true events. Legendary filmmaker Fritz Lang contends with a mounting police investigation into the death of his first wife, the growing threat of the Third Reich, and a caustic relationship with his female collaborator; all leading to the production of the film M."
MOTORCADE by Billy Ray
"The President of the United States and his motorcade are attacked during a visit to Los Angeles."
ONCE UPON A TIME IN HELL by Brian McGreevy & Lee Shipman
"A gritty, contemporary retelling of THE COUNT OF MONTE CRISTO set in the underworld of the Hell's Kitchen Irish mob."
'TIL BETH DO US PART by Jon Hurwitz & Hayden Schlossberg
"The friendship of two twentysomething men is put to the test when one of them becomes engaged."
THE SCAVENGERS by Nate Edelman
"Based on the play Playboy of the Western World by J.M. Synge. A ne'er-do-well Irish twentysomething becomes infamous when he commits a haphazard murder and catches the fancy of a brazen barmaid who, bored with her small town existence, sees him as the rebel he always wanted to be and follows him on the run."
SHERLOCK HOLMES by Tony Peckham
"A dark, sophisticated take on Sherlock Holmes and his trusted number two, Dr. Watson."
SERIAL KILLER DAYS by Mark Carter
"A dark comedy blending stories of teen love and municipal corruption set against the backdrop of a town plagued by a serial killer that decides to profit the only way it can — by creating a festival and economy around the fact that they have a serial killer."
SWINGLES by Jeff Roda
"After their best friends get engaged, a dedicated bachelor and a high-strung lawyer team up to help each other get dates by giving revealing insights into the opposite sex (thus inventing 'swingling') but complications ensue when they fall for each other."
UNTITLED CHANNING TATUM PROJECT by Doug Jung
"A Los Angeles cop escorts a Korean gang leader back to South Korea. When the gang leader escapes, killing the cop's partner in the process, he teams with a young Korean gangster in a bloody pursuit of revenge that takes them through the dangerous and exotic underworld of Seoul."