Geek Deal: Band Of Brothers For $26!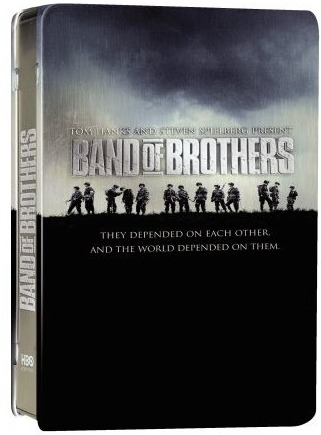 We may receive a commission on purchases made from links.
Amazon's 24 hour-only Gold Box Deal of the Day is the DVD Box Set of Band of Brothers for only $25.99, 68% off the $80 MSRP!
Based on the bestseller by Stephen E. Ambrose, the epic 10-part miniseries Band of Brothers tells the story of Easy Company, 506th Regiment of the 101st Airborne Division, U.S. Army. Drawn from interviews with survivors of Easy Company, as well as soldiers' journals and letters, Band of Brothers chronicles the experiences of these men who knew extraordinary bravery and extraordinary fear. They were an elete rifle company parachuting into France early on D-Day morning, fighting in the Battle of the Bulge and capturing Hitler's Eagle's Nest at Berchtesgaden. They were also a unit that suffered 150 percent casualties, and whose lives became legend.
Previous (Still Valid) Geek Deals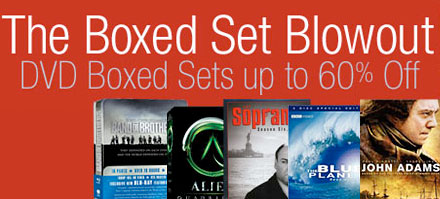 Amazon is also having a Box Set Blow-out with Movie and Television box sets for up to 60% Off. Here are some highlights:
$34.99 – Gilligan's Island – The Complete Series Collection
$39.99 – Mel Brooks Collection (Blazing Saddles / Young Frankenstein / Silent Movie / Robin Hood: Men in Tights / To Be or Not to Be / History of the World, Part 1 / The Twelve Chairs / High Anxiety)$43.99 – Band of Brothers Blu-Ray$46.49 – The Alfred Hitchcock Signature Collection (Strangers on a Train Two-Disc Edition / North by Northwest / Dial M for Murder / Foreign Correspondent / Suspicion / The Wrong Man / Stage Fright / I Confess / Mr. and Mrs. Smith)
$48.49 – The Woody Allen Collection, Set 1 (Annie Hall/Manhattan/Sleeper/Bananas/Interiors/Stardust Memories/Love and Death/Everything You Always Wanted to Know About Sex But Were Afraid to Ask)
$50.49 each – Doctor Who Complete First and Second Series$52.99 – The Prisoner – Complete Series Megaset (40th Anniversary Edition) $59.99 – Alfred Hitchcock Premiere Collection (Lifeboat / Spellbound / Notorious / The Paradine Case / Sabotage / Young and Innocent / Rebecca / The Lodger)
$99.99 – Sex and the City Complete Series
$143.99 – Friends Complete Series$137.49 – United Artists 30-Film Deluxe Giftset$433.99 – United Artists 90-Film Prestige Collection

Amazon also has a killer deal on the Panasonic DMP-BD35K 1080p Blu-ray Player. Normally priced $299.99, on sale for $239.36 with a $100 instant rebate when you purchase 4 eligible Warner Bros Blu-ray discs. So basically, you can get the DMP-BD35K for $139.36, but you need to buy four movies. Some of the qualifying Blu-ray discs are priced $16-$18, like Batman Begins, Goodfellas, Blood Diamond, Corpse Bride, and Full Metal Jacket. Point is, the selection is neither bad nor expensive. You just add the player and the qualifying movies into your Shopping Cart. At checkout, enter the code BLUWA100 to receive your discount. Offer good until the end of the month.
Also, remember that Amazon's 50% off Movies and TV Sale is good until December 18th. Here are some of the highlights: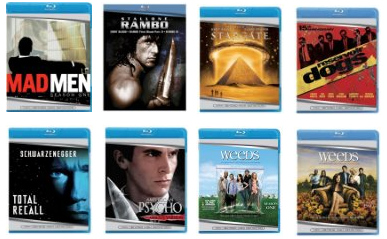 Rambo 1-3 Boxset – $24.99
Weeds Season 1 and 2 – $13.99 each
Mad Men Season One – $24.99
Stargate (Extended Cut) – $9.99
Reservoir Dogs (15th Anniversary) – $12.49
American Psycho – $12.49
Total Recall – $9.99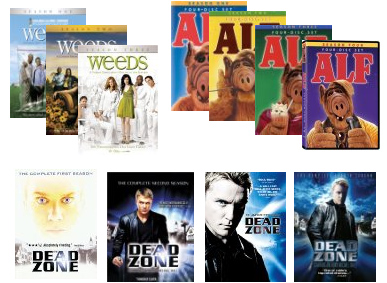 Weeds Season 1-2 $14.49 each
Weeds Season 3 – $18.99
Alf Season 1 – 4 – $12.49 each
The Dead Zone Season 1-4 – $9.49 each