Cool Stuff: Retro-Styled Hot-Oil Popcorn Maker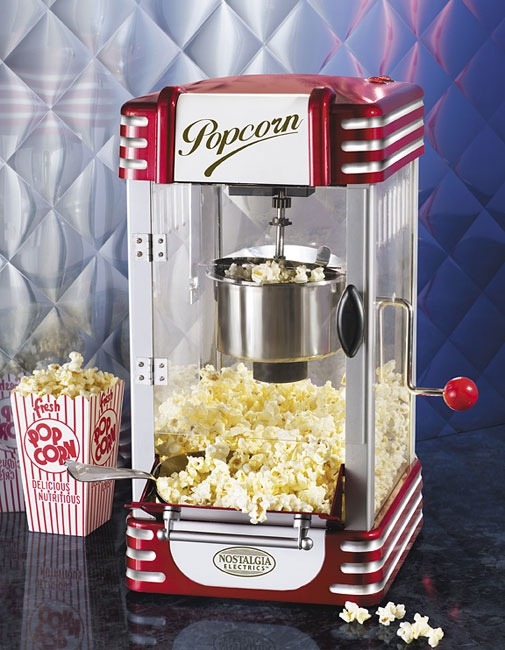 In the perfect world, I would have a screening room in my house complete with a High definition 1080p projector, comfortable leather stadium seating and a retro-styled Kettle Popcorn maker. But instead I live in a small San Francisco apartment (my experience is that SF apartments are rarely "large"). One day I will be in a house where I can build this dream home theater, and I will install a replica popcorn machine that I remember from my childhood (before movie theaters would buy huge bags of popcorn). Until then, I'll be eyeing this scaled sixe Retro Hot-Oil Popcorn Maker I saw in the Sky Mall catalogue.
"

Now you can enjoy fresh, fluffy, delicious popcorn without going to the movies. Just fill this old-fashioned, stainless-steel kettle with kernels and oil and in minutes you'll hear the pop and smell the goodness. The secret is the built-in stirring system, plus a warming light. Makes up to one gallon popcorn per batch; cleans up easily. Great for family room, birthday parties, barbecues, carnivals. 20 1/2" H x 11 1/2" W x 10 1/2" D. 90-day warranty. $99.99"
My experience with stuff like this in the past tells me that it probably doesn't work as advertised, and probably is more of a fun prop to have on the bar of your home theater room than anything else. And as much as I like Kettle popped popcorn, the microwave is just so much easier.
Cool Stuff is a daily feature of slashfilm.com. Know of any geekarific creations or cool products which should be featured on Cool Stuff? E-Mail us at orfilms@gmail.com.